Getting away from the daily grind as a couple can deepen your relationship, rekindle the "spark," and provide an opportunity for you to enjoy one-on-one time. Here is a list of great romantic hotel packages from top hotels as inspiration to add a few romantic amenities to your getaway with someone special.
Many hotels offer Romance Packages that help make your getaway special.
This post may contain affiliate links. Please see my disclosure for more information. As an affiliate, I earn a small commission every time you make a qualifying purchase through one of my affiliate links (if applicable).
What is a Romance Package?
Oftentimes, hotels offer Romance Packages which are specials that help make your getaway special and save you some planning time.
They might include amenities such as chilled champagne, chocolates and flowers.
Whether for Valentine's Day, your anniversary or even a wedding proposal, adding a few of these romantic touches can help make your time together all the more memorable.
Are Romantic Amenities Worth the Cost?
Romance packages are generally add ons to your bill, so be sure to compare the extra cost of the package to standard room rates before you commit.
Of course, you don't need a special occasion to make a getaway more romantic. Just imagine, would you and your partner enjoy one or more of these popular romantic hotel packages?
Wine and cheese welcome
A dozen red roses in the room
Chocolate covered cherries
Rose petal turn-down service
(I know I would!)
So, let's get started.
How to Plan a Romantic Getaway
Step 1: Plan Romance Ahead
First, ask the concierge for a special room, perhaps one with a balcony, or a romantic water view. Or, maybe they offer a honeymoon suite or one with a whirlpool tub for two.
Ideally, the room is secluded from busier areas.
Remember they the concierge will be a wealth of information. They can offer suggestions based on their experience, their expertise about the local area, and your preferences. If possible, let them help you plan and set things up in advance, like one of these Italy Private Tours.
Some hotels even have romance coordinators whose specialty is arranging to make your experience romantic. 
Bonus Points if You Book Luxury Transportation
To really make someone feel important, you might consider arriving in style to start things off on the right foot.
That might mean booking first-class airline tickets or renting an upscale car for the trip.
Heading to a winter wonderland? How about a horse-drawn sleigh ride?
Better yet, use a trusted limo service (like Limo Find) to get to and from the airport and to deliver you in luxury to your dinner reservations.
Even if you're traveling to a city nearby, you'll get bonus points if you splurge on transportation.
It's a great way to build excitement and enhance your romance!
Step 2: Add Personal Touches
Sometimes small gestures can have a big impact. So plan to add your own personal touches, like a handwritten love note, a favorite playlist or music, and something romantic to slip into.
And don't forget a thoughtful gift as a keepsake remembrance of your getaway.
Step 3: Select Romance Packages
Take a cue from these 51 steamy romance packages offered by top hotels to dial up the romance.
If you find something in this list your hotel doesn't offer, simply ask if they can or provide a similar luxury romance package.
Most hotels are happy to work with you to create a special romance package with romantic amenities.
Who knows, it might become their new signature romance package.
Another great resource when you're selecting romance packages is to get luxury hotel deals by PrivateUpgrades that include these options. You'll find some amazing 5-star luxury promotions and romance upgrades, like a free massage, free night and meals, and other complimentary experiences.
You and your special someone will be delighted.
51 Romantic Hotel Packages for Inspiration
[You can Download this full list for later.]
Include one or more of these options to help romantify your hotel stay:
Concierge pre-call to arrange romantic details
Chilled champaign and elegant flutes on arrival
Various massage lotions

A

n assortment of gourmet chocolates
Complimentary dessert for the special occasion
Couples massage at the hotel spa
Complimentary bottle of wine
Rose petal turndown service
Delivery of a dozen red roses
Breakfast in bed with Mimosas
A horse-drawn carriage ride
Late checkout, as late as 3 pm so you can sleep in and linger
A "Do not disturb" sign for the door
Complimentary valet parking service
A tray of sumptuous chocolate covered cherries
A sleigh ride through the village (if it's snowing, even better!)
A dining table beside a roaring fireplace
An in-room soaking tub or private hot tub for two
A balcony with breathtaking views
Pack a picnic lunch to go
A soaking tub with bath oils, bath salts, or aromatherapy
A steamy sauna to yourselves
A nap in a hammock that fits two
An evening by the fire pit
A sunset horse ride on the beach
Movie or theatre tickets
Limo service to/from events
A welcome basket with regional gifts
Hot tub cocktails and apps
Complimentary dinner at an exclusive restaurant
Sunset cocktails on the beach
A king-sized bed with plush linens
Room-service dinner by candlelight
A two-person walk-in shower
A sunset sailing excursion
A couples intimacy kit
A generous spa credit to feel your very best
A box of chocolate truffles
A canopy bed draped with sheer fabric
A wine-and-cheese welcome to your room
A bouquet of favorite fresh flowers
Complimentary champagne flutes to keep as a mimento
A ride on a bicycle built for two
Egyptian cotton or satin sheets
A starlight stroll on the boardwalk
A cooking class or other culinary experience together
Private butler service
Matching plush bathrobes
A staged photograph capturing a special moment, like a proposal
Heart-shaped pastries or breakfast eggs
A handwritten love note
A romantic playlist or soft music
Step 4: Recreate the Romance At Home
If you want to bring the romance home with you, look for opportunities to recreate the experience at home.
Maybe you'll invest in some luxury massage oils from the hotel spa. Or maybe you'll add a few candles in the bedroom.
Another good way to keep the romance flowing is to sign up for the California Wine Club so you can look forward to enjoying a special evening together each month.This exclusive, top-rated, wine of the month club has a wide selection of hand-selected, premiere, award-winning wines to choose from. You'll find quality bottles sure to satisfy all tastes. Each and every vintage that this wine club offers is not only conveniently delivered, each and every month, right to your doorstep, but it is also an utterly delicious way to plan for date night at home.
Members can choose from a variety of wine of the month club levels, with monthly membership fees that start for as little as $40.95 per month and go all the way up to $231 for their divine, aged cabernet series.
Plus, every wine the California Wine Club sells is also 100% guaranteed. Therefore, it should come as no surprise that this is the highest rated wine club out there. Because this isn't just another, average, run of the mill wine club. No, this is THE California Wine Club.
Other Romance Packages that you can enjoy at home include the following:
Final Thoughts on Romance Packages for Couples
Shulemin Bath Bomb Gift Set – This reasonably priced set of 6 all-natural bath bombs can help recreate the ultimate romantic experience right at home. Just choose between scents like green tea, ocean breeze, lavender, and lemon and allow the soothing, intensely nourishing ingredients to soothe your body like nothing else. You'll also love all the essential oils and the abundance of bubbles that each bath bomb creates, making this an ideal way to relax and unwind with the one you love.
Woody Essential Oils Aromatherapy Set – This wonderfully aromatic set contains the soothing scents of Pine, Camphor, Vetiver, Agarwood, Juniper Berry, and Douglas Fir – allowing you to savor the sweet smell of nature without leaving your home. They are also made with high-quality, premium ingredients that are sourced from around the world and contain no fillers of any kind. So, if you're looking for something that will quickly and easily reduce stress, calm your mood, and boost your energy, then this is the ideal gift set for you.
The Kama Sutra Intimate Gift Set – This essential romantic gift set allows you to travel to an exotic beachside paradise with the one you love. Simply purchase this fantastic array of romantically themed items and enjoy a selection of petite, sensual products that also happen to meet TSA size requirements for your carry on. This perfectly priced getaway kit also includes oil of love vanilla cream body oil, sweet honeysuckle kissable body powder, a feather tickler, a body souffle body cream, love liquid lubricant, a tealight candle, and a toiletry bag to neatly organize all of your items. Therefore, if you want to quickly and easily recreate the perfect romantic getaway, then this is the gift set for you.
Lavender Spa Getaway Gift ($131.99) – Brought to you by the gift experts at JustFlowers.com, this luxurious, lavender-scented spa gift set is perfect if you want to create the ultimate romantic getaway at home. Brimming over with lavender lotion, body butter, a candle, a bath bomb, and plush slippers, this is the ultimate romantic package for anyone needing a quiet night in. All of these items are also presented to you inside a wonderfully rustic wicker basket – something that can easily be reused after your gift basket is delivered.
Mrs. Field's Signature Heritage Pail ($87.99) – Nothing says romance like a decadent selection of delicious bite-size pieces of crumb cake, brownies, and premium homemade cookies. However, these aren't just any confectionary delights. The delicious desserts featured here are brought to you by Mrs. Field's, a fine purveyor of baked goods that are all stored inside a fantastic, reusable, red, vintage Mrs. Field's keepsake bucket.
Fine and Fancy Gourmet Gift Set ($144.99) – Packaged in a chic black tray, this exquisite gift set features an assortment of both salty and sweet treats that are sure to be the ideal precursor to a relaxing weekend at home. Delicious items included with this package are chocolate-covered pretzels, Lindt chocolate truffles, chocolate chip cookies, Almond Roca, truffle cookies, smoked almonds, Ghirardelli chocolate, rolled pastry cookies, cheese and crackers, biscotti, gourmet butter toffee pretzels, and more. So, if you want to spoil the one you love with a bit of gastronomic decadence, then this is the ideal romance package for you.
Well, it's really that easy. With a little planning and forethought, your romantic getaway will become an unforgettable experience–in just 4 easy steps.
Pin it for later…
51 Steamy Romance Package Ideas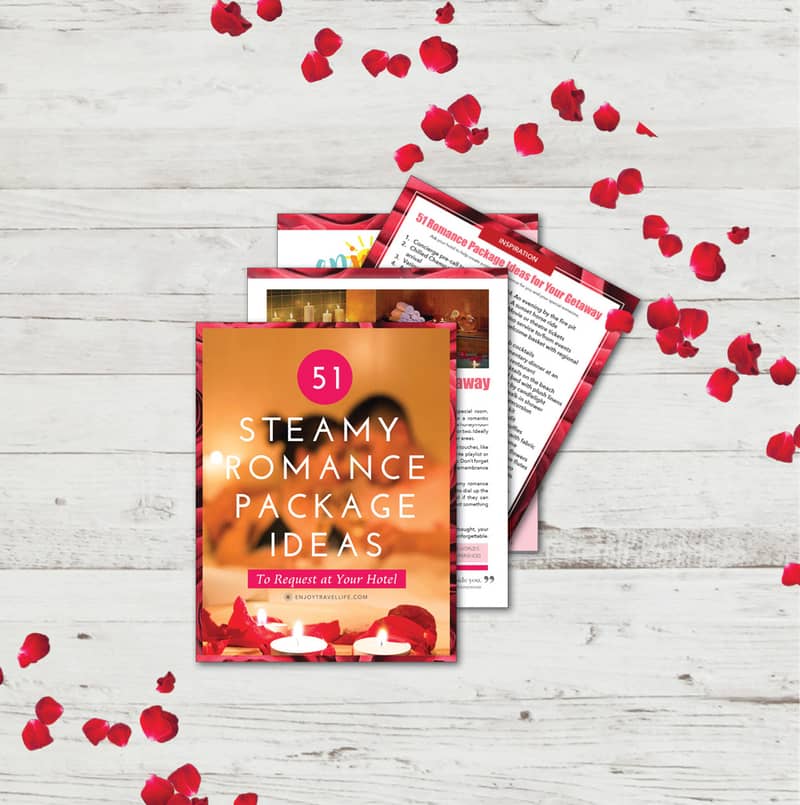 WARNING! These 51 Steamy Romance Package Ideas from top hotels may inspire you to spice up your romantic getaway. (Don't say we didn't warn you!)
Download your FREE Printable Today.