Getting away from the daily grind as a couple can deepen your relationship, rekindle the "spark," and provide an opportunity for you to enjoy one-on-one time. Here is a list of great romantic hotel packages from top hotels as inspiration to add a few romantic amenities to your getaway with someone special.
Many hotels offer Romance Packages that help make your getaway special.
What is a Romance Package?
Oftentimes, hotels offer Romance Packages which are specials that help make your getaway special and save you some planning time.
They might include amenities such as chilled champagne, chocolates and flowers.
Whether for Valentine's Day, your anniversary or even a wedding proposal, adding a few of these romantic touches can help make your time together all the more memorable.
Are Romantic Amenities Worth the Cost?
Romance packages are generally add ons to your bill, so be sure to compare the extra cost of the package to standard room rates before you commit.
Of course, you don't need a special occasion to make a getaway more romantic. Just imagine, would you and your partner enjoy one or more of these popular romantic hotel packages?
Wine and cheese welcome
A dozen red roses in the room
Chocolate covered cherries
Rose petal turn-down service
(I know I would!)
So, let's get started.
How to Plan a Romantic Getaway
Step 1
First, ask the concierge for a special room, perhaps one with a balcony, or a romantic water view. Or, maybe they offer a honeymoon suite or one with a whirlpool tub for two.
Ideally, the room is secluded from busier areas.
Remember they the concierge will be a wealth of information. They can offer suggestions based on their experience, their expertise about the local area, and your preferences. If possible, let them help you plan and set things up in advance.
Some hotels even have romance coordinators whose specialty is arranging to make your experience romantic. 
Step 2
Plan to add your own personal touches, like a handwritten love note, a favorite playlist or music, and something to slip into.
And don't forget a thoughtful gift as a keepsake remembrance of your getaway.
Step 3
Take a cue from these 51 steamy romance packages offered by top hotels to dial up the romance.
If you find something in this list your hotel doesn't offer, simply ask if they can or provid a similar luxury romance package.
Most hotels ware happy to work with you to create a special romance package with romantic amenities.
Who knows, it might become their new signature romance package.
51 Romantic Hotel Packages for Inspiration
[You can Download this full list for later.]
Include one or more of these options to help romantify your hotel stay:
Concierge pre-call to arrange romantic details
Chilled champaign and elegant flutes on arrival
Various massage lotions

A

n assortment of gourmet chocolates
Complimentary dessert for the special occasion
Couples massage at the hotel spa
Complimentary bottle of wine
Rose petal turndown service
Delivery of a dozen red roses
Breakfast in bed with Mimosas
A horse-drawn carriage ride
Late checkout, as late as 3 pm so you can sleep in and linger
A "Do not disturb" sign for the door
Complimentary valet parking service
A tray of sumptuous chocolate covered cherries
A sleigh ride through the village (if it's snowing, even better!)
An in-room soaking tub or private hot tub for two
A balcony with breathtaking views
A picnic lunch to go
A soaking tub with bath oils, bath salts, or aromatherapy
A steamy sauna to yourselves
A nap in a hammock that fits two
An evening by the fire pit
A sunset horse ride on the beach
Movie or theatre tickets
Limo service to/from events
A welcome basket with regional gifts
Hot tub cocktails and apps
Complimentary dinner at an exclusive restaurant
Sunset cocktails on the beach
A king-sized bed with plush linens
Room-service dinner by candlelight
A two-person walk-in shower
A sunset sailing excursion
A couples intimacy kit
A generous spa credit to feel your very best

Oils and aromatherapy add a sensual element to couples' massages.

A box of chocolate truffles
A canopy bed draped with sheer fabric
A wine-and-cheese welcome to your room
A bouquet of favorite fresh flowers
Complimentary champagne flutes to keep as a mimento
A ride on a bicycle built for two
Egyptian cotton or satin sheets
A starlight stroll on the boardwalk
A cooking class or other culinary

 

experience together
Private butler service
Matching plush bathrobes
Heart-shaped pastries or eggs
A handwritten love note
A romantic playlist or soft music
It's that easy.
With a little planning and forethought, your romantic getaway will become an unforgettable experience.
Click To Tweet
51 Steamy Romance Package Ideas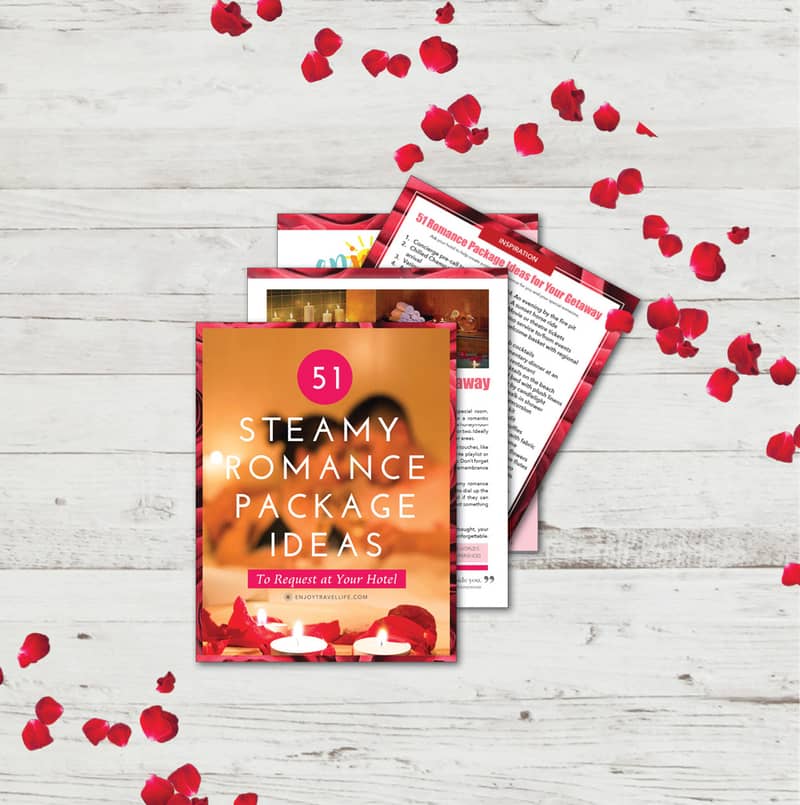 WARNING! These 51 Steamy Romance Package Ideas from top hotels may inspire you to spice up your romantic getaway. (Don't say we didn't warn you!)
Download your FREE Printable Today.
Pin it for later…
When to Visit 36 Dreamy Destinations
You will instantly receive the FREE Month-by-Month Destination Guide