Everyone wants to feel special once in a while, especially when it comes to Valentine's Day and other special occasions.
Read on to discover the most romantic hotel experiences around the world as remembered by expert travelers.
Would one of them be a good fit for you and your special someone?
CONTENTS: In this article, you will discover
10 Romantic Hotel Experiences
Whether it's on Valentine's Day, a special occasion, or "just because," any one of these 10 romantic hotels in faraway places is sure to please. These destinations are the types of places that inspire television dating shows.
See for yourself, below.
1. Kaya Mawa on Likoma Island, Malawi
My most romantic hotel experience was during our honeymoon in July 2016, when we visited the unique paradise of Kaya Mawa, a luxury boutique hotel located on Likoma Island in the middle of Lake Malawi.
This hotel has been voted the top ten 'Most Romantic Places in the World' by Conde Nast and it's not hard to see why.
Kaya Mawa means 'maybe tomorrow', and from the moment you arrive at the island's tiny airstrip, you are immediately relaxed, presented with all the time in the world to enjoy this special place with a loved one.
With just 12 luxurious chalets and houses all with fantastic views of the beach, you're guaranteed privacy.
Upon arrival, we were given a complimentary upgrade to a premium chalet to wish us well in our married life together, which included a secluded plunge pool and deck leading into the lake.
During lazy days at Kaya Mawa, you can do as little or as much as you want; choose from
water sports
spa treatments
guided quad bike tours of the island's local villages, population just 9,000
a visit to one of the largest churches in Africa.
The most romantic highlight of our visit to Kaya Mawa had to be when we were taken to a secluded private lookout for sundowners with stunning views over the beach. There, a local singing group performed for us accompanied by an acoustic guitar, whilst the sunset in the distance.
2. Ajit Bhawan in Jodhpur, India
Many people have heard about the famous palace hotels of India synonymous with Jodhpur's Umaid Bhavan, the Royal household that also houses the famous five-star hotel.
I'll let you in on a little secret: the first palace hotel of Jodhpur is not the Umaid Bhavan.
The first palace hotel in India was Ajit Bhawan, home to a brother of the king. It too is a royal residence with a section setup up as a hotel/resort.
The suites at Ajit Bhawan are like palace rooms, each unique.
Our suite had a lounge, a bedroom with a sitting area with a large luxurious swing, a small room for a dressing room and a large bathroom. The dining and hospitality are fit for royalty.
An elaborate breakfast is included along with the royal Rajasthani treatment. The pool by the dining area is the perfect place to chill, outdoors or in the attached lounges.
We celebrated our anniversary at Ajit Bhawan. They made our anniversary more memorable by decorating the suite with rose petals and balloons. They also made us a delicious cake. We cut the cake after dinner with a backdrop of traditional Rajasthani live music and dance performance. It's a memory etched in my mind forever.
It's perfect for a romantic getaway and royal treatment in a real palace of India. Click here to check out a great Rajasthan package.
3. JW Marriott Resort & Spa in Cancun, Mexico
One of the most romantic hotel experiences I have had was at the JW Marriott Resort & Spa in Cancun, Mexico.
The resort is situated right on the beach in Cancun, and the sound of the ocean was a constant backdrop to our stay.  We loved opening our balcony door each morning to hear the sound of the surf and the waves crashing nearby.
The spa at the resort had a Valentine's Day special for couples and we were excited to try it out. It was my partner Ross' first spa experience so I hoped it would be really special for him.
We were treated to a couple's massage, facial and hand/foot scrub. It was very romantic to have the experience in the same room.
Ross loved the spa treatment, even the facial! I was concerned that he wouldn't get the full benefit of it because of his facial hair but the spa staff clearly knew how to make both the men and women feel special.
Following our treatment, we were told there was a surprise waiting for us, and we were led downstairs to the pool area. We arrived to find two pool lounges strewn with rose petals together with hand-dipped chocolate strawberries and champagne waiting for us!
The spa staff discretely left us alone to enjoy this romantic feast. It was such a memorable experience to enjoy such a pleasurable experience with my partner, and a real highlight of our trip to Cancun.
4. Nihi Sumba Hotel in Bali, Indonesia
by Mar Pages
It's not every day you get to stay at the best hotel in the world, as voted by Travel + Leisure on multiple occasions. Every year, I splurge a little for my birthday, and NIhi Sumba Hotel on Sumba Island under the Tenggara Islands in Indonesia did not disappoint.
The island is remote, so the infrastructure is minimal and activities are limited to what the hotel has to offer. It's a place for a digital detox among lush and untouched jungle combined with a dose of vitamin sea.
You can go fishing with the locals, surf one of the world's most exclusive breaks, or learn how to weave baskets from the Sumbanese.
Yet the star of all the things to do at Nihi Sumba is visiting the Nihi Oka Spa and taking part in the Safari experience.
Nihi Oka is a short 15-minute drive from the main resort, but to get the complete experience, taking the 90-minute trek through the rice paddies and jungle is by far the most beautiful experience.
The safari starts at sunrise where after the trek you are welcomed with a fresh local breakfast in your own private oceanside room with no one else in sight other than the staff.
After chowing down on Sumbanese fare there is one of the most relaxing massages you'll ever have. The cliffside massages are bottomless, so you could have a few hours of kneading, scrubbing and wrapping for the full day spa trek (there is also a half-day one).
For the most romantic choice, you could also opt to sleep at the spa, spending the night under the stars.
It was so amazing that I swear I forgot my phone even existed!
This is just one of many beautiful destinations in Bali. Click here to see incredible places to stay Ubud Bali.
And if you're inspired to explore more of Bali while you visit, you might also want to check out these things to do in Sanur.
You'll also want to check out the breathtaking views along the Campuhan Ridge!
5. Fernandez Bay Village on Cat Island, Bahamas
We slipped away to a remote tropical island in the outer Bahamas for a special birthday, just the two of us.
It was a great escape from the hustle of single-parenthood which took some doing; we left our combined four kids, four pets, and two homes behind for eight days in November.
On Cat Island, we found soft-as-sugar sand, the aqua Caribbean, and delicious fruity drinks. Fernandez Bay Village Resort was exactly the kind of paradise we were looking for.
Just steps from the water, we stayed a well-appointed suite called the "Royal Palm Cottage." We lingered on the wraparound porch, napped in the hammock, and took breakfast in the room. The en suite bathroom even had an open-air ceiling, so it was like showering outside.
The long stretch of beach at the resort was almost deserted, save for a few other couples enjoying the quietude of this peaceful retreat. It was perfect for unscheduled time to unwind.
Island Activities
One day, we kayaked through the placid mangroves, a nursery for stingrays and turtles.
Another day, we took out the motorboat with another couple for a more extensive exploration of the area.
The kayaks, motorboat, and bicycles are all complimentary for guests of Fernandez Bay Village Resort to use.
I looked forward to mingling with a handful of resort friends over appetizers and a signature rum punch during the daily Happy Hour. (We had the BEST lobster dip made with fresh lime!)
We watched in awe as each sunset blossomed with a new color palette.
Later, we dined on Bahamian dishes, including grouper and fried plantains, at a table for two under the stars.
I'll never forget this romantic experience at Fernandez Bay Village, where we were free to enjoy one magical moment after another on a faraway island.
And if you can't find a room at this amazing hotel, then check out the Fountain Bay Resort and Marina instead! Rooms at this exclusive hotel start at $150 per night and are nestled along 38 acres of the island's last remaining unspoiled beachfront property – a mere five minutes from the airport.
Just choose between a luxurious one or two-bedroom studio, a 900 square foot beach bungalow, and an ocean view condo – all of which are bright and airy accommodations that come fully outfitted with a 40-inch flat-screen TV, a sitting table with two chairs, a mini-fridge, a microwave, a Kruger coffee pot, reusable dishes, glasses, a stand-up shower, a queen-size posture-pedic bed, and more.
6. Locanda Palazzone in Umbria, Italy
Perched on a hill surrounded by vineyards and with far-reaching views towards Orvieto, the Locanda Palazzone is the perfect base from which to enjoy Umbria.
The Locanda is a small boutique hotel that manages to successfully merge its medieval heritage with an understated contemporary style. There are just seven suites, all beautifully furnished.
It is the setting of the Locanda which makes it such a romantic place to stay. The stately building is surrounded by lush gardens and the swimming pool, set amid glorious flowerbeds of lavender and roses, is the perfect place to while away a few hours.
The position of the hotel is perfect for couples looking for a peaceful retreat in Umbria. Although many of the region's highlights are close by (it's just a 10-minute drive to Orvieto), the hotel has an air of tranquility.
The highlight for us was taking dinner on the hotel terrace overlooking the twinkling lights of the valley below. The cuisine is excellent and the hotel produces its own wine so we enjoyed a variety of wines with the meal as well as taking part in a tasting session at the vineyard.
7. Mandina Lodges in the Gambia, West Africa
I'll never forget my husband's smile as a troop of baboons walked by him, close enough for him to reach out and touch them.
I don't think when I suggested The Gambia in West Africa for our honeymoon, he ever thought he'd be getting that close to the wildlife!
We'd just arrived at Mandina Lodges in Makasutu Forest. We were walking to our floating river lodge when we heard a rustling in the mangroves by the water's edge, and the baboons appeared – mother's with youngsters on their backs, juveniles skipping along and the impressive males striding by as if they owned the place.
Inside our lodge, a large four-poster bed was the centerpiece of the room. From here, we could look out through the full-length windows across the river.
Each morning a flask of coffee was left outside our door, and we'd sit on our verandah watching the river and listening to the forest awake. I've never heard so many birds.
We'd go for a guided walk or canoe ride before breakfast, then spend the day relaxing by the beautiful freeform swimming pool. The jungle surrounds it, and many different birds visit every day.
Nearby, bats slept the day away under the frond of a palm tree.
And the baboons made several more appearances.
This was my third visit to Mandina Lodges in Makasutu Forest. It's my favorite corner of the world, and it was a joy to finally share it with my husband.
It was the perfect start to our West African honeymoon.
And if you can't find a room at this fantastic resort, then make a reservation at the Senegambia Beach Hotel instead! It's an enchanting little resort that sits on the beach and that is a short 10-minute walk from Bijilo Forest Park and Tanji River Reserve.
Rooms here start at $85 per night and offer visitors standard amenities like TVs, air-conditioning, and minifridges. Upgrade to a suite and you'll enjoy a spacious living room, a kitchenette, and a private balcony.
As part of your stay, you can also participate in free guided garden walks with live vulture feedings, enjoy a complimentary breakfast buffet, use the outdoor pool, make use of the tennis courts, play a game of mini-golf, check out one of three bars. and visit the property's on-site pizzeria.
51 Steamy Romance Package Ideas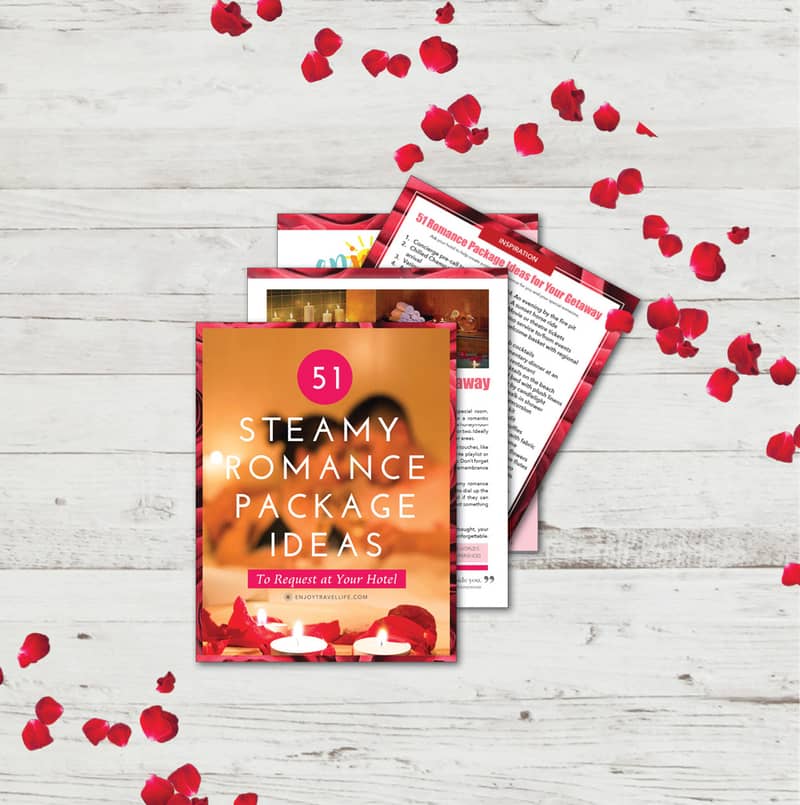 WARNING! These 51 Steamy Romance Package Ideas from top hotels may inspire you to spice up your romantic getaway. (Don't say we didn't warn you!)
Download your FREE Printable Today.
8. Marina Bay Sands Hotel in Singapore
One of my most romantic hotel experiences was staying at the Marina Bay Sands Hotel in Singapore last year.
Although I had traveled to Singapore before (it is one of my favorite cities), this was my first time visiting with my husband so we decided to splurge and stay at the Marina Bay Sands.
This bucket list-worthy hotel is famous for having the world's largest rooftop infinity pool with amazing city views. It was very romantic and relaxing hanging out together for hours in the pool.
The water was pretty warm so we were able to just float by the edge of the pool while admiring the incredible view of the city skyline. The pool is open extended hours so we were able to enjoy it both in the day and in the evening.
We could have easily spent the entire two days of our stay at the pool but we didn't.
In addition to the incredible infinity pool, we found this luxurious hotel to be perfect for a romantic getaway.
We also had great views of the beautiful Gardens of the Bay from our room and even had a balcony if we wanted to sit outside.
We found our brief stay at the Marina Bay Sands worth it and would definitely love to return in the future.
9. Westin Lagunamar in Cancun, Mexico
For my husband's birthday and also Valentine's Day (he was born in February), we went to the Westin Lagunamar in Cancun. While it was part of a timeshare presentation at first, we really enjoyed the resort since we got upgraded to a beachfront room.
Our hotel had a jet tub that can fit two, and there were blinds that opened out from the bathroom so you can get a full view of the beach through the room while soaking in the tub.
The pool was amazing. It was heated to really warm temperatures and was huge enough to do so many laps on it.
We swam up to the edge just so we can gaze at the ocean.
While the resort is not all-inclusive, it is luxurious and comfortable enough that we ended up staying most of the time in the resort: hanging out by the pool, the beach, our room, and just spending quality time together.
10. Gabriel's Resort in Mozambique
Whilst there are many beautiful island and beach resorts dotted around the world, from the Maldives to Bora Bora, many are well-trodden and famous throughout.
One spot that you may not expect to be a luxury, white sand, and turquoise blue type is that of the Mozambican coastline. More specifically, the archipelago of Bazaruto, where we found the stunning Azura at Gabriel's resort, a wonderful challenger to some of the better-known places in the world.
Azura is dotted along the island's beautiful beach, with private bungalows throughout, peaking with its Presidential Villa, with several rooms, a private pool, and jacuzzi, an ideal option for an ultimate romantic escapade.
Each villa even comes with its own host who is around whenever you need something– even to blow up your lilo for the pool!
At the resort, you can join one of its many daily activities, from climbing the islands' dunes, fishing for barracuda, picnicking on the beach or diving the famous Two Mile Reef.
After a day of adventures, head back to your villa for a private beach BBQ, with a chef cooking fresh lobster over the coals–a perfect end to a romantic day in Mozambique!
Otherwise, you could always plan a wonderfully romantic stay at the Polana Serena Hotel, a historic, 1920's era, Palazzo style building that is home to a wealth of elegant rooms that are priced at $130 per night (and up).
All well-decorated suites here include chic, Indo-Portuguese style furnishings, free WIFI, satellite TV, tea/coffee makers, mini-bars, and in-room safes. ,
Other amenities visitors will love include 27/7 room service, complimentary daily breakfast in one of three on-site restaurants, access to a bar overlooking the outdoor pool, use of an on-site gym, and access to a refreshing sauna.
RELATED:  Look for low-cost flights in your inbox when you subscribe to this FREE or premium newsletter. 
Conclusion
I know I would be happy at any one of these resorts. Each offers its own unique opportunity for romance and memory-making.
Which hotel do you think you and your special someone would enjoy the most? Let me know in the comments below. 
Additional Resources
(listed alphabetically)
Ajit Bhawan
Circuit House Road
Jodhpur 342006 – India
Phone: +91-2912513333
Email: [email protected]
Fernandez Bay Village Resort
New Bight
Cat Island – Bahamas
Phone: 1-954-302-7422
Email: [email protected]
Gabriel's Resort
Benguerra Island – Mozambique
Phone: +27 83 299 4321 (SA)   +44 77 545 25724 (UK)
Email: [email protected]
JW Marriott Resort & Spa
Blvd. Kukulcan, Km 14.5, Lote 40-A,
Zona Hotelera, Cancun  77500 – Mexico
Phone: +52 998 848 9600
Kaya Mawa
Likoma Island
Lake Malawi, Malawi – Tanzania
Phone: +44(0) 203 287 7937
Email: [email protected]
Locanda Palazzone
Loc. Rocca Ripesena, 67
Orvieto (TR) Umbria – Italy
Phone: +39 0763 393614
Email: [email protected]
Mandina Lodges
The Gambia, West Africa
Phone: 01489 0866 939 (UK)  4463867 (The Gambia)
Email: [email protected]
Marina Bay Sands Hotel
10 Bayfront Avenue
Singapore
Phone: +65 6688 8888
Email: [email protected]
Nihi Sumba Hotel
Kuta Poleng Complex Block C/2,
Kuta 80361 Bali – Indonesia
Phone: (+62) 811 3978 550
Email: [email protected]
Westin Lagunamar
Boulevard Kukulcán Km 12.5, Lt 18
Zona Hotelera, Cancun  77500 – Mexico
Phone: +52 998 891 4200
Next Steps
For more on romantic getaways and inspiration, read these articles next:
---
Don't forget to save this article on Pinterest for later!
When to Visit 36 Dreamy Destinations
You will instantly receive the FREE Month-by-Month Destination Guide