Before you book an expensive flight to anywhere, do yourself a favor and learn where to find flight deals online. It's easy when you know how to do it. And, it just got easier by using the tools I'm about to tell you about.
Everybody Wants to Fly
Have you ever heard the old folk song, I'll Fly Away?
The version I remember is a tune sung in perfect harmony by the Kosoy Sisters (1956), but there are other versions produced by the likes of Johnny Cash, Alison Krauss, and other artists over the years. It's based on a 1929 hymn.
I grew up to Peter, Paul and Mary's melancholic Leaving on a Jet Plane. Written by John Denver, the song shares the lament, "All my bags are packed / I'm ready to go…'Cause I'm leavin' on a jet plane / Don't know when I'll be back again."
Lenny Kravitz brought a little more raw excitement to the trip in Fly Away (2007). He sings, "Oh, I want to get away / I want to fly away / Yeah yeah yeah…"
Whether metaphoric or literal, excited or wistful about the journey ahead, the message in each of these songs is the same: It's time to take off, folks.
And why not?
There's no better time than now, with loads of bargain flights online waiting to be scooped up whenever you want to "fly away."
The trick is knowing where to find them.
Where to Find Flight Deals Online
We've put together this list of the best online resources for cheap flights to help you. In it, you'll find a variety of online flight resources including:
Newsletters: Periodic email notifications of flight deals, fare mistakes, and special offers. These are sometimes based on an airport of your choice.
Flight Aggregators: A search tool that crawls multiple flight sources based on your query and presents the results from each, usually in separate pages.
Booking Engines: Search tools specific to a certain airline or third party booking resource that allows you to search and then book flights.
Vacation Clubs: Low fares or exclusive flight arrangements offered only in conjunction with membership to a certain vacation club.
Price Tracking Apps: Apps in which flights for a certain destination and/or dates are tracked for you, alerting you of decreases or increases in fares. Some even recommend the best time to travel.
Expert Forums: online forums for expert flight advice.
Each resource in the list is a clickable link, putting the power of finding cheap flights right at your fingertips, all in one convenient location.
Tools That Make Finding Affordable Flights Easy
We recommend you get familiar with all the tools in this list.
But here are a few examples to get you started.
If you have a certain dream destination in mind, set up flight alerts using Hopper. It will tell you when prices are expected to rise or fall. It will even go as far as predicting the best time to buy!
Get personal service by sending an email request directly to Matt at Matt's Cheap Flights. If you're a premium subscriber, he'll do the searching for you and recommend the best prices.
Don't have a particular destination in mind a certain budget to spend? Use the Skyscanner Everywhere Search. Simply enter "Everywhere" as your destination and see the opportunities sorted by price.
These are just the beginning.
Here are more than 27 great tools for you to explore so you don't ever overpay for airfare again.
One (or more) of them might just become your new favorite travel planning tool.
And don't forget to make sure you get a great airport parking deal while you're at it.
So, if money were no issue, where would your next flight take you?
Download your free resource list here:
27+ Best Online Resources for finding CHEAP FLIGHTS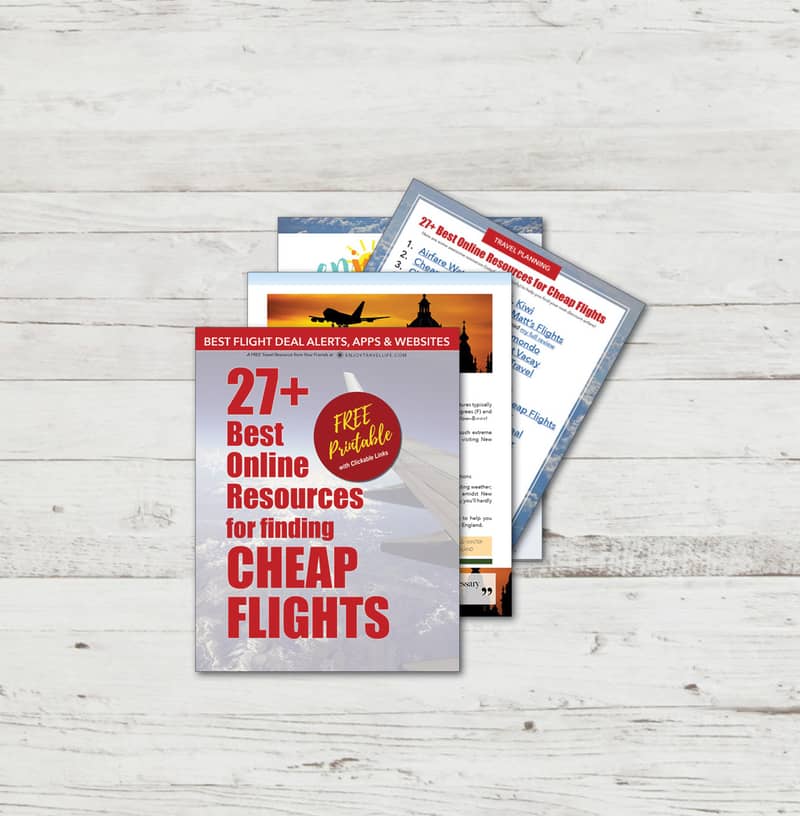 Discover the BEST Online Resources expert travelers use when searching for cheap flights. Download your FREE Guide today!