Bringing winter interest plants into your design key to landscaping in the winter. First, you need to know what they are. Then, there are other easy tips to make your backyard a winter wonderland. Keep reading to find out how you can design a beautiful winter garden.
CONTENTS – In this article, you will learn about creating a winter garden using winter interest plants and other easy tips, including:
How To Design A Beautiful Winter Garden
You might assume you can't make your garden look pretty in the colder winter months, but the fact is that isn't true. 
If you're wondering, "how can I make my yard pretty in the winter?" it's easier than you think.
You can easily create a gorgeous winter garden. It's simply a case of knowing what steps to take in order to do that. With the right approach, winter garden flowers and shrubs, and intentional hardscaping, you can transform your outdoor space into the most amazing winter wonderland. 
The idea of planning a winter garden isn't any more complex than planning a garden for any other time of year. You just need to know what will work in your hardiness zone. It's far more achievable than you might think to keep your backyard looking smart and well kept throughout the winter. 
Wondering what the best steps are for creating a beautiful winter garden? Below is a guide to how you can design and create a space that works wonderfully in colder weather conditions. Read on for everything that you need to know! 
Landscaping in the Winter | Why Maintenance is Vital 
In a winter garden, maintenance is a priority. You need to be willing to put enough time into maintaining your outdoor space in order to be able to create somewhere that will last throughout the winter months. 
For any seasonal plants that won't survive the winter, it's worth taking the time to dig them out and move them indoors. Geraniums, for instance, will do well over the winter cared for in a sunny window. And you can always snip a few stems from vibrant Coleus before the first frost to root it in water.
Then there are some plants will survive outdoors better in winter if you cover them over with a layer of mulch. That will help keep them safe from the elements, and is especially important for newly planted perennials.
Finally, you'll want to dig up any summer bulbs that need protecting, like dahlias and gladiolas and store them safely in a cool basement or garage. That will save them from the colder winter weather so you can replant them next year.
But there are those plants that will do well in the winter garden. That's what we want to talk about here. 
How to Keep It Growing 
Winter—and the associated cold weather—doesn't have to mean that it's the end of the growing season. Believe it or not, you can still keep growing your own plants, fruits and vegetables, even in the colder winter months. 
Of course, it depends on what zone you're in. It's a little trickier for climates like the northeast that get a deep freeze. That said, there are lots of plants, bushes, and trees that thrive in the colder winter weather. 
Winter Garden Flowers
Ornamental plants with winter interest for your region may include evergreens and those with berries as well as winer garden flowers that bloom even before the snow has melted. Those include: 
Cyclamen (Cyclamen persicum)
Heath (Ericaceae)
Heather (Calluna)
Lenten Rose (Helleborus)
Snowdrops (Galanthus)
Snow Crocus (Crocus Chrysanthus) 
Winter Jasmine (Jasminum nudiflorum)
With some covering, you can also plant cold-weather crops, like broccoli, lettuce, spinach, brussels sprouts, and others. Garlic, overwintered, will produce a bountiful harvest the following season.
Should You Invest in Winter-Proof Pots? 
Whether you're planting an individual plant pot or you're arranging window planter boxes, make sure to invest in pots that can stand the colder winter weather. Lots of planters are designed to sustain colder winter temperatures, so choosing high-quality designs is important. 
That way, you don't have to worry about taking them down or bringing them in when the temperature drops, and you can fill them with late-season plants, like ornamental cabbage, or decorate with gourds and pumpkins or holiday props and lights.
But if your planters are not cold-hardy, you'll want to empty them out and store them safely. Ceramic, terra cotta, and other clay pots will crack if soil or water freeze. Plastic shatters easily when frozen, too. 
To prevent that, empty any remaining soil into your compost pile, and tuck those planters away for winter in a garage or shed. After all, who wants to buy new planter pots each season? Ugh.
Easy Winter Gardening Ideas & Tips
Follow these easy tips below to create a beautiful winter garden.
1. Add Color with Winter Interest Plants 
In addition to winter blooming flowers, look to plants with colorful stems, bright bark, and berries in the winter months. That's a time when can come into their own, having a big impact on the look and feel of the space. 
Some good examples winter interest shrubs and trees include: 
Lacebark Pine (Pinus bungeana)
Red-Stemmed Dogwood (Cornus sericea)
River Birth (Betula nigra)
Winterberry (Ilex verticillata)
Plant these bright, bold specimens in spots where the sun will catch them, and they will make an even bigger impact on the look of your winter garden. 
Related Article: These 7 hardy succulents belong in your landscape.
2. Hardscaping Takes on Prominence in the Winter Garden
When you incorporate hardscaping, like fences and stonework into your garden, it takes on added prominence in your winter landscape.  to add structural interest when the landscape might otherwise be bare.
Think of how a bare field covered in snow looks, compared to one with a rambling stone wall or wattle fence. Even a bare trellis or arbor will add architectural interest when the temperatures drop.
So when you're planning your summer landscape, think ahead to the backyard visage you will create in winter, too. It's amazing the beauty hardscaping can add to your landscape.
Also read: What are retaining walls?
3. Leave Perennial Stems for Structure and Seeds
Rather than cut back (deadhead) all your perennials after they bloom, leave some stems and flower heads to winter over. That way, they'll add structural interest to the garden. Plus, the seeds and stems will continue to attract wildlife as a food source and perch throughout the winter. 
So, you might leaving in place the seed heads of coneflowers (Echinacea), ornamental grasses, and of course, berry-producing plants. 
This is a good way to support local ecosystems, even in the colder winter months. It's important that you take the time to think about how you can encourage wildlife to come into your garden in the colder weather. 
Related Post: What are the best fall and winter plants for your garden?
Final Thoughts on Winter Gardens
There you have it, a few simple tips for how you can design a beautiful winter garden that will thrive in the colder weather and provide you with the earliest blooms to herald spring. 
If you can't take a winter getaway this year, then take comfort in look forward to the plethora of garden supply catalogs that will arrive in January, and encouraging your Amaryllis and Paper Whites (Narcissus) to bloom. And, you can enjoy the beauty of your winter garden in the comfort of your warm home.
To continue learning, read this article about preparing your garden for winter. 

Photo credits: window box – Rebecca Matthews, crocus in snow – jplenio  (Pixabay), all others courtesy of Canva Pro.
Ultimate Checklist for Winterizing Your Home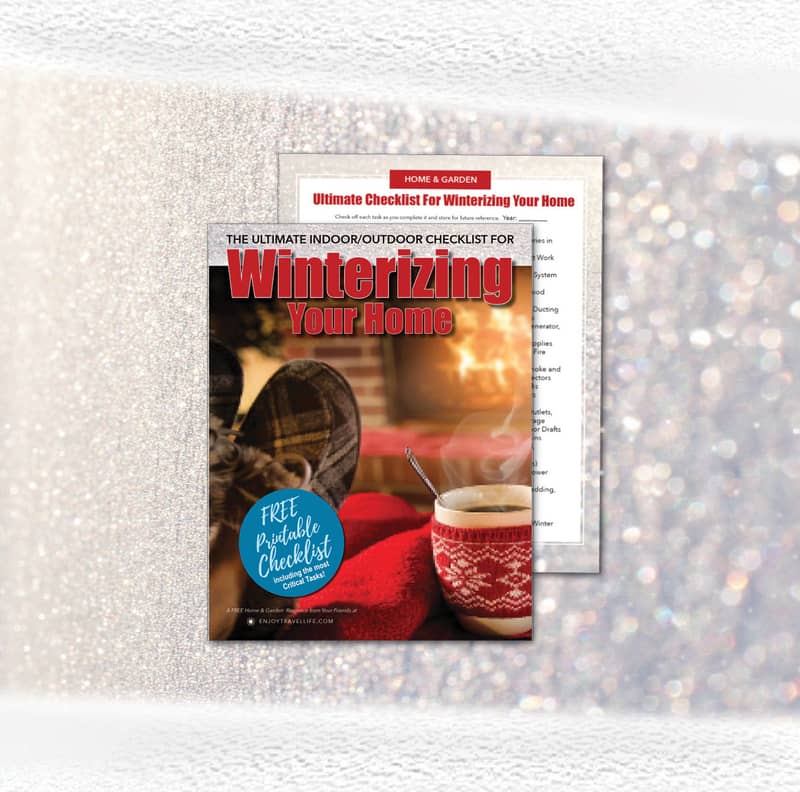 Prepare your home for winter using this comprehensive checklist covering both indoor and outdoor tasks that will make your home cozy and warm!
Download your FREE Printable Today.