Where are the most romantic places in Ireland? You'll find quite a few couples' getaway spots in this magical destination filled with breathtaking natural scenes, castles, and picturesque towns.
In fact, we've put together this list of 19 romantic things to do when you visit Ireland.
We've even recommended romantic places to can stay nearby.
Whether you add one or two of these experiences to your Ireland itinerary or visit them all, they'll surely make you and your special someone swoon. So, have a look below.
CONTENTS – In this article, you will discover the most romantic places in Ireland you'll want to visit, including:
To compare the available romantic lodging options, you can use the Cozycozy accommodation comparison site where you can find all of the different places to stay.
Take A Romantic Hike Up the Great Sugar Loaf at Sunrise/Sunset
by Laura Barton of Live Adventure Travel | YouTube
If you are looking for something fun and romantic to do in Ireland, then consider going on a sunrise or sunset walk up the Great Sugar Loaf.
The Sugar Loaf is one of the most iconic mountains in County Wicklow, often spotted as far as Dublin. 
The hike up to the top of the Sugar Loaf takes around 30 to 40 minutes.
While the hike is rather short, don't let that fool you.
It can be extremely steep in places, especially in the final 10 minutes before reaching the summit. 
However, the breathtaking views from the top make the climb completely worth it. Once you arrive at the summit you will enjoy 360 views of County Wicklow and Dublin.
Sunrise or sunset is the perfect time to visit the Sugar Loaf.
You and your significant other to watch the sun rays hit the beautiful Irish backdrop down below. Take some time to enjoy the romantic setting together.
Maybe even consider bringing along some fresh pastries for a treat up top! 
Just make sure to bring a head torch and comfortable footwear for walking in the dark.
Wicklow is known as the garden of Ireland. There are many other walks in Wicklow just a short distance from the Great Sugar Loaf, too.
Where to Stay Near Great Sugar Loaf – Druid's Glen Hotel and Golf Resort is a short drive from Great Sugar Loaf.
You'll find this five-star hideaway on a beautiful 400 acre grounds where you can experience utter tranquility.
Stroll along the Famous Dark Hedges
By Kathryn Burrington of Travel With Kat  | Instagram
This atmospheric row of beech trees lining a scenic lane in Ballymoney 50 miles north of Belfast, is the most photographed natural phenomenon in Northern Ireland.
And with good reason.
It's pure magic and makes a wonderful backdrop for a romantic walk.
Known as the Dark Hedges, the trees were planted in the eighteenth century by the Stuart family. They wanted to create an imposing first impression for any visitors arriving at their Georgian mansion, Gracehill House.
Always a popular location, this scenic spot was made even more famous after appearing in Game of Thrones.
In the episode of the second season of the HBO series, Dark Hedges was the setting for Kingsroad. You'll recognize it as Arya Stark fled from King's Landing.
Since then, it has become so popular that the road itself has been closed to cars.
Arrive early in the day, out of season, when the low sun shines through the trees. You will likely have it all to yourself, then.
It is worth visiting the Dark Hedges any time of year, though.
On a chilly winter's day, the trees covered are in a sprinkling of snow. And on a sunny summer's morn, sunlight filters through the leaves casting a golden glow over the magnificent trees.
Where to Stay Near Dark Hedges – The historic Bushmills Inn about a 20-minute drive away. It's the perfect place to stay for exploring the scenic Causeway Coast and visiting The Dark Hedges.
This charming boutique hotel dates back over 400 years.
It offers old world charm combined with a touch of luxury and excellent service.
Wandering around Charming Galway
By Christina Pfeiffer of Travel2next.com | Facebook
A great place to spend a romantic time away in Ireland is the beautiful city of Galway.
With its ancient stone walls, cobbled streets and medieval atmosphere, this is a must-visit place.
That's especially true for couples looking to spend a romantic time together. 
Galway's Latin Quarter is an area of the city that you'll fall in love with.
You'll wander its charming cobblestone streets to find fabulous restaurants, atmospheric Irish pubs, cafes and boutique shops.
The main street in the Latin Quarter has an exciting vibe, filled with music and street performances.
If you can go in September, Galway is a lively spot.
That's when the Galway Oyster Festival is in full swing, and the Guinness is flowing freely.
Going to the festival is a bonus if you like seafood. That's because the oysters are so fresh and the oyster-shucking competition is fun to watch.
Another area that is excellent for couples is The Front Wall (Ceann an Bhalla).
It was built in 1584 to protect ships docked at the quays.
Walk hand in hand under the Spanish Arch or the Caoċ Arch, two 500-year-old arches that are a wonder to see.
The grassy area near the arches is an excellent place to sit and drink in the sun by the river. 
Galway is one of the places along the Wild Atlantic Way, which has several famous landmarks in Ireland you'll want to see.
Where to Stay in Galway – You'll find amazing boutique hotels in Galway to book for a couple's getaway. Treat yourselves to a stay at The Hardiman (formerly Hotel Meyrick).
It's in a building that dates back to 1852.
Horse Rides at Castle Leslie Estate, County Monaghan
by Charles McCool of McCool Travel | Twitter 
Castle Leslie Estate is one of the rare Irish castles still owned by the original family.
Queen Elizabeth I granted the original 50,000 acres to the Leslie family.
The current property of 1,000 acres has miles of fantastic wooded trails that are perfect for romantic strolls and horse rides.
You'll find this romantic destination in County Monaghan, about an hour from Dublin and Belfast.
Castle Leslie is a top choice for Ireland luxury lodging.
In fact, they hosted the 2002 wedding of Heather Mills and Sir Paul McCartney.
White Castle Leslie's equestrian trails and activities are intended for intermediate riders and above, you can still savor a romantic experience as a novice or first-time rider.
A horse-drawn carriage ride might be a perfect activity to ignite your romantic flame.
Or, for a mild adventure, try a guide-led trail ride.
Plenty of non-equestrian activities are ideal for creating romantic memories:
While hiking the estate grounds, savor time in the 19th century Walled Garden and among the ruins.
Pack your own picnic lunch or allow Castle Leslie to prepare a basket featuring local products.
Hire a boat to spend time on one of Ireland's best preserved lakes, Glaslough Lake.
Inside this Romantic Castle
You can create countless romantic moments within the castle itself.
Most castle rooms feature period furnishings and bath fixtures.
The Red Room has the first bath installed in Ireland (still in use today) along with a throne toilet. This was the room Sir Paul himself stayed in prior to the wedding.
Read the history descriptions of each room of the website and choose your favorite to stay in.
Dozens of public rooms throughout the castle offer opportunities for activities. Some include Afternoon Tea, lavish meals, library time, or grand piano sessions.
Or, you can discover empty alcoves or small rooms for your own private moments.
Where to Stay in County Monaghan – As you can imagine, a 5-star stay at Castle Leslie is about as close as you'll get to an invitation to stay in an aristocratic family home within the Co. Monaghan countryside.
Book a room for an unforgettable experience!
Dine at the Lady Helen
by Amber Hoffman of Food and Drink Destinations | Twitter
Food often plays an important role in romantic encounters.
After all, what's a romantic Valentine's without champagne, caviar, or chocolate-covered strawberries? 
If you are heading to Ireland, there's one culinary-focused romantic experience not to be missed is dinner at the Lady Helen.
Located in Thomastown, Co. Kilkenny, the Lady Helen is a one-star Michelin restaurant led by chef John Kelly. While you come for the food at the Lady Helen, you stay for the setting. 
The restaurant is a part of the Mount Juliet Estate. A five-star Marriott Autograph Collect property, the estate dates back to 1757.
Surrounded by the rolling hills of the Kilkenny countryside, Mount Juliet Estate is dedicated to offering you a stay full of relaxation and romance.
To prepare for your romantic dinner, you can enjoy horseback riding around the estate or take in a couples massage. 
The estate also features a championship-caliber 18-hole golf course.
Set inside a Georgian Manor House, the Lady Helen is exquisitely appointed with period artwork and the finest Irish ceramics. The interior of the Lady Helen sets the stage for an intimate evening of Michelin dining. 
In terms of the food, Chef Kelly is dedicated to using only locally sourced Irish food products.
Diners at the Lady Helen can choose from a 3, 7, or 9-course Tasting Menu. 
Chef Kelly's dedication to using and serving only the finest ingredients has allowed him to maintain his Michelin star since 2013. 
If you are looking for a little romance during your trip to Ireland, an evening at the Lady Helen is a must.
Where to Stay Near The Lady Helen – Why, The Mount Juliet Estate, of course! Click here to check today's rates.
Stroll the Pristine Connemara Beaches
By Sinead of Map Made Memories | Facebook
Ireland is a country packed with romantic destinations.
But one of the best – and the quietest – has to be the pristine beaches and rugged coastline of Connemara.
You'll find it in County Galway in the west of Ireland.
Visitors to this wild, windswept landscape can immerse themselves in the Irish language.
That's because large sections of Connemara are 'gaeltacht'. This means Irish is the primary language you will hear (and read on signs).
Connemara's beaches are sweeping swathes of sand lapped by crystal clear water with a Caribbean hue.
Some Connemara beaches appear to be white sand. However, they are actually made from crushed seashells and tiny sea animals called foraminifera.
Here, you can enjoy a romantic beach sunset against a mountain backdrop Or, take a tranquil coastal walk or discover a secluded bay with only seals for company.
Visit the back-to-back, one-mile-long Dog's Bay and Gurteen Beaches near Roundstone. These form an unusual tombolo into the Atlantic.
You can also walk the coastal path from expansive Moyrus Beach (follow signs for Tra Mhairois). If you love history, visit its 6th century church.
Or, drive along the deserted, narrow, winding lanes of Mweenish Island to arrive at isolated Mweenish Beach.
Where to Stay Near Connemera – Carna Bay Hotel is a friendly, Irish speaking hotel in the small down of Carna. It's ideally placed to explore the area's beaches.
Related: Essentials for a UK Driving Tour
Visit Yeats Grave in Sligo
by Faith Coats of XYUandBEYOND | Facebook
W.B. Yeats was considered to be the greatest poet of the 20th century.
He was the first Irish writer to receive a Nobel Prize for Literature.
As he requested, Yeats was laid to rest in Sligo under the shadow of Ben Bulben Mountain in Drumcliffe Cemetary. An unassuming grave holds his remains by St. Columba's Church.
This is a place of quiet beauty, with stunning mountain views and outstanding natural beauty.
The graveyard has the remains of a round tower and a high cross from an 11th century monastery.
Yeats grave faces an unparalleled view of the mountains in their many colours, washed by sunshine and cloud. 
When you visit, peace settles into your bones and you can hear Yeats poetry in your ears. Words cannot convey the romance and quiet beauty of this place.
Especially when you know this story.
Yeats was in love with Maud Gonne, an English born Irish revolutionary, and suffragette.
She turned down his marriage proposals four times.
So he wrote his famous poem When You are Old about his unrequited love for her.
Yeats adored Sligo where he spent many happy summers growing up. His famous poem The Lake Isle of Innisfree is about an uninhabited island in Lough Gill.
Visiting Drumcliffe cemetery is free. You can visit Yeats' grave and the Church where his uncle was the pastor for many years.
Where to Stay in Sligo – If you want to stay in the area, escape away to Katie Ann's Cottage. This 150-year-old cottage is nestled along the magnificent Sligo coast of the Wild Atlantic Way.
Row Out to the Pastoral Isle of Innisfree
by Tom of Travel Past 50 | Instagram
The Isle of Innisfree is an uninhabited island within Lough Gill, in County Sligo, Ireland.
Here, the Irish Nobel Prize-winning poet William Butler Yeats spent his summers as a child.
Yeats never actually lived on Innisfree.
Nor does anyone else.
But it sits as a landmark of 20th Century poetry, nevertheless.
The Lake Isle of Innisfree is one of Yeats' most famous poems.
It exults the peaceful pastoral scene of the island that you can see from the shore of Lough Gill.
It's easy to imagine the heartfelt longing of such a scene for someone whose daily life is full of noise.
If you want romance, hire a small boat and row your love out to the island.
And, having memorized the twelve-line poem, recite it to her as you approach.
If you're lucky, you'll be accompanied by the "bee-loud glade" and the "water lapping with low sounds by the shore" of the poem.
Or, you could declaim any of the other love poems of Yeats, such as The Lover Tells of the Rose in His Heart, or The White Birds. If your lover happens to be blonde, try For Anne Gregory.
The possibilities are endless.
Where to Stay Near the Isle of Innisfree – Stay at Castledale, a genteel guesthouse in a stone mansion. It's surrounded by beautiful gardens and a pond. When you stay here, you'll find a lagoon offering boat tours as well as hiking trails. How romantic!
Explore Historic Cahir Castle in Tipperary
by Emer and Nils of Let's Go Ireland  | Pinterest
Ireland is the land of saints and scholars.
It's also the home to many marvelous myths and legends.
You'll admire its rich culture through the centuries in the remains of the past that are still evident in the landscape.
Romantic ruins of castles, forts, and stately houses dot the country.
Did you know there are as many as 30,000 castles in Ireland?
But one castle stands out more than others.
In fact, so much so that it has been the filming location of choice for several television shows and movies.
This includes the 2021 movie The Green Knight with Dev Patel and Alicia Vikander.
Cahir Castle, originally dating back to the 12th century, stands proudly as one of the National Monuments of Ireland.
This is one of the largest castles in the country and certainly one of the best preserved.
You and your loved one can step back in time to climb spiral staircases, explore dungeons, and walk over the drawbridge.
After visiting the castle, you could also take a lovely walk along the river to the picturesque Swiss Cottage which completes this fairy tale trip.
In the evening, when it is dark, don't forget to view the illuminated outer walls of the castle.
The reflections in the River Suir that flows alongside it are stunning.
Where to Stay Near Cahir Castle – The Cahir House Hotel is just a few minutes' walk from the castle.
This makes it the ideal spot to visit this romantic location both during the day and after dark.
Giant's Causeway
By Nicole Hunter of Go Far Grow Close | Facebook
One of the most romantic places in the United Kingdom is Giant's Causeway in Northern Ireland.
Only 67 miles or 109 km from Belfast (or just over 1½ hours' drive), it is an easy destination to reach. 
You drive along beautiful country roads with beautiful green vistas until you reach the coast.
Then, you will enjoy the spectacularly beautiful and majestic scenes of craggy cliffs dropping dramatically into the Irish Sea.
What is Giant's Causeway?
Giant's Causeway is made up of about 40,000 interlocking basalt columns. They are the result of an ancient volcanic eruption.
The columns form stepping stones from the shore that ultimately submerge into the North Atlantic Ocean. 
Most of the columns are hexagonal. But, you'll also find four-, five-, or even seven-sided columns. 
In 1986, Giant's Causeway became a World UNESCO Heritage Site. Then in 1987, it was named a national nature reserve.
You'll find many ways you can experience the Giant's Causeway. 
The easiest is to walk together from the Visitor's Centre down the paved road to the shore.
Once there, you can climb or jump on the columns. Or, simply sit together looking out into the sea while the waves splash at your feet. 
If you enjoy a good hike, you can walk together along the upper cliffs above the beach.
If you do, you'll enjoy even more awe-inspiring views!
The best time to go during the summer season is before 10:00 am or after 4:00 pm.
That's before or after all the crowds and bus tours.
You don't need to purchase a ticket to see it, only to go into the Visitor's Centre or park in the upper lot.
There are many incredible things to do in Belfast.
Som it would be well worth your time to set aside a couple of days either before or after visiting Giant's Causeway to explore.
Where to Stay Near Giants Causeway – Check out Tara Lodge in Belfast. It's a stylish place to stay that is just a 10-minute walk from the city center, where you'll find restaurants, shopping, and the Hop on Hop off Open-top Bus Tours operating nearby!
Plus, you'll have free parking.
Taking a Jaunting Car through Killarney National Park
by Olivia from the Girl With Blue Sails | Instagram
When visiting the charming Irish town of Killarney, take a horse and buggy through Killarney National Park.
This is something you cannot miss!
The park is full of winding pathways, dense trees, and an old castle on the banks of a lake.
Passing by in a horse-drawn carriage while the swans peacefully swim in the lake is such a romantic experience.
Also called jaunting cars, these horse-drawn carriages have expert drivers.
They take pride in carrying on the local jaunting car tradition.
They also love making their riders feel more than welcome, telling jokes and facts about the park throughout the ride.
You'll even be given blankets for cozying up with your loved ones on the ride.
Tip: For an added comfort, bring yourselves some hot chocolate or other warm beverage to enjoy on the ride.
The highlight of the ride is seeing Ross Castle.
The drivers always stop in front of the castle, which overlooks the lake, to allow their riders to get plenty of photos.
This view is beautiful at any time of year.
Some jaunting car companies also offer packages that combine with a small lake cruise.
Where to Stay Near Killarney National Park – Killarney is a great town if you're planning to stay near the National park. The Killarney Plaza Hotel and Spa would make a wonderful addition to your romantic retreat.
Take some time to relax is this friendly town.
The city itself is beautiful, and contains plenty of restaurants, bars, and stores within walking distance.
Cobh Co. Cork – A Colorful Fishing Village
by Missy of Travels with Missy 
Cobh (pronounced "Cove") is a small, quaint port town outside the city of Cork.
With its multicolored 'deck of cards' houses that slope towards the sea, Cobh is one of the prettiest towns in Ireland. 
As you make your way around the town, the importance of the town will soon strike you. 
Cobh was the gateway to a new life between the years of 1848 and 1950. That was when about 6 million people emigrating from Ireland to North America.
This port town was also that last port that the infamous ship – the Titanic, stopped at before its untimely demise. 
A fun thing to do here is to have your photograph taken in Cobh Pastimes. They'll outfit you with props and costumes that beckon to a period long forgotten.
The Titanic Experience is another worthwhile experience.
It gives you the opportunity to learn more about the boat's last port of call visit, and the role Cobh played in sea travel.
When planning your visit to Cobh, make sure you visit Spike Island. This was once the world's largest prison.
This incredible island has over 1300 years of history and is not to be missed!
You should avail of a tour guide when visiting the island.
Otherwise, you can also use an app created by the island that will take visitors on an unforgettable journey. 
Cobh offers you a trip back in time and allows you to see a truly special place in Irish history.
Where to Stay Near Cobh – Fota Island Hotel and Spa, Cork is about 3 miles (4.9 km) from Cobh and a magical place to stay! It has its own wildlife park on the grounds.
Or, stay right in Cobh town when you book at the Commodore Hotel.
Lord and Lady of the Manor, Bunratty Medieval Banquet
by Cath of Travel Around Ireland | Facebook
One of the most romantic things you can do in Ireland is to attend the Medieval Banquet in Bunratty Castle. 
Located in County Clare, Bunratty Castle is a medieval castle dating from the 15th century.
It is a Tower House whose floors, which you'll find are open to the public and decorated with furniture and tapestries of the time. 
You can visit the castle throughout the day and explore the Folk Park attached to it.
However, one of the best things to do at Bunratty Castle is to attend one of the Medieval Banquets. 
Held each evening in the castle itself, guests enjoy a four-course, medieval-inspired meal accompanied by fine wine and honey mead. The Earl of Thomond, singers, dancers, and storytellers also entertain the guests.
If you happen to be on honeymoon or celebrating something special, then make sure to mention this when you book the meal.
You could be lucky enough to be asked to become Lord and Lady of Bunratty Castle for the evening. This comes complete with crowns, to preside over the festivities of the night!
You will be seated at the Lord's table and may even be involved in some of the entertainment. 
If you are shy, perhaps don't mention it. But, it does make the experience romantic and fun.
Where to Stay Near Bunratty Castle – If you are looking to stay near Bunratty Castle, book into Bunratty Castle Hotel. It's just across the road from the medieval castle tower.
It is the ideal place to stay during a 5-day Wild Atlantic Way road trip and for visiting the castle itself.
Hike Lough Ouler 
by Mary of BRbyMary | Instagram
Lough Ouler is a lake located in the Wicklow Mountains National Park on the side of the Tonelagee Mountain.
But it's not just a regular lake.
Lough Ouler is a heart-shaped lake.
This makes it the perfect place to pledge your love to your partner!
To see Lough Ouler, you will need to hike all the way to the top. Expect this to take about 3 to 4 hours, round trip.
How to Get to Lough Ouler
There are two ways to access Lough Ouler.
You will find a first small parking near Glenmacnass Waterfall.
From there, you will need to cross the river at the very beginning and make up your way to the top.
The trail isn't always straightforward, but you should be able to follow other people visiting.
From this side, you will be able to see the heart right side up.
You can find another bigger parking lot at Turlough Hill Car Park.
The trail from there is a bit more straightforward.
However, once at the top, you will see the heart upside down.
You should wear good hiking shoes and come prepared for the rain.
The trails are also quite a big bumpy, so you'll be happy to have your partner around to help out, if necessary.
While going up, enjoy the silence and the breathtaking views on the Wicklow Mountains National Park.
You might even encounter a couple of sheep on your way.
Once at the top, your team playing skills will be rewarded by the spectacular view on Lough Ouler.
Where to Stay in Wicklow Mountains National Park: If you are too tired to go home afterwards, you can enjoy a night at the Lynhams Hotel in the heart of the Wicklow Mountains National Park.
It has its own traditional Irish Pub on site, an open fire, and panoramic views of the region.
Doesn't that sound perfect?
Visit the Beautiful Dublin Castle
by John from Your Destination is Everywhere
The historic Dublin Castle is one of the best attractions in all of Ireland.
It is a great destination for couples who are interested in history, art, architecture, or just sightseeing in general.
The Dublin Castle was the seat of the English rule in Ireland for centuries.
Nowadays, it's open to visitors with lots of exhibitions showcasing Ireland's rich history.
Although much of the medieval buildings were destroyed by the 1684 fire, you can still explore the more side of the castle. It features an impressive collection of paintings, sculptures, antique furniture, and stained glass!
You can book a guided tour of the castle (offered daily) so that you're accompanied by a knowledgeable guide.
You will be taken through:
The original Viking excavation site
Several remains of the medieval buildings
The Gothic Revival style Chapel Royal
The chapel is a spectacular architectural work.
It's complete with towering arches, stained glass windows, and numerous intricate carvings.
Be sure to stop by the Terrace Café, located within the castle for a quick meal.
It's the perfect spot to enjoy some beverages, have lunch, or just relax and take in the stunning views of the Castle Garden.
The café's slogan is "promoting Ireland on a plate." It surely delivers.
You'll find loads of delicious dishes made from local ingredients, including gluten-free and vegan options.
Where to Stay Near Dublin Castle – Castle Hotel is a charming Georgian-style hotel situated right in downtown Dublin that comes highly recommended.
It has an on-site restaurant/bar, a fitness center, and very friendly staff.
The Wild Atlantic Way Road Trip
by Allan Wilson of It's Sometimes Sunny in Bangor | YouTube
The Wild Atlantic Way is not just a romantic experience, but a whole combo of romantic experiences all rolled into one incredible road trip.
It's a road trip that features Ireland's most beguiling landscapes, and also many of the emerald isle's most charming towns and villages.
The route itself follows the rugged west coast of Ireland.
You can go from north to south, starting at the most northerly point of Malin Head.
Or, travel south to north, starting southerly at Mizen Head.
Some of the more iconic destinations along the way include:
The towering cliffs of Slieve League (Donegal)
The cobbled streets of Galway (Galway)
The Cliffs of Moher (Clare)
The Ring of Kerry (Kerry)
Killarney National Park (Kerry)
Although, a lot of the romance comes in the journey itself with the sheer remoteness of destinations and surrounding sheep-speckled scenery along the way.
Where to Stay along The Wild Atlantic Road Trip – Many visitors opt for the camping experience with easy to find camper vans and camp and caravan sites found throughout the journey.
Although the charm in local B&Bs or, for the larger budget, period homes and even castles make for an unforgettable experience.
At the end of it all, after reaching the furthest reaches of Cork, the perfect place to celebrate is at the Cliff House Hotel and Spa (Waterford).
The Seaside Village of Portrush
By Jackie Gately at Enjoy Travel Life | Instagram
Portrush in Northern Ireland is a beautiful seaside town.
When you visit, you'll find beautiful sandy beaches and the region's trademark natural beauty.
Here, both the locals and international travelers in this fishing village turned resort.
But don't worry, it won't be nearly as crowded as you might think since it's still something of a hidden gem.
Take some time to enjoy the quaint shops, dinner and a pint, and strolling the beach.
While you're in Portrush, be sure to check out the scenic walking areas in Ramore Head.
You might also take a visit to the Dunluce Castle, one of the most picturesque and romantic of the Irish castles.
Its medieval ruins were once the seat of the Clan McDonnell. It sits on the edge of a crumbling Northern Irish cliff overlooking the Sea of Moyle.
In fact, legend says the castle kitchen once fell into the sea during a storm. According to the story, the only survivor was a kitchen boy.
Another legend speaks to the daughter of Lord McQuillan, Maeve.
She was imprisoned in one of the castle's towers because she refused an arranged marriage.
Instead, she wanted to marry her true love.
One night, the lovers tried to escape by boat.
Sadly, they drowned.
Some say her spirit haunts Dunluce castle, awaiting her lover's return.
Where to Stay in Portrush – Set by the sea, the Royal Court Hotel overlooks the coastal town of Portrush and the Royal Golf Club.
For the royal treatment, ask for one of the rooms with a spa and a balcony with a sea view.
It's perfect for a romantic couples getaway!
Related Article: Click here to read more about planning a visit Portrush.
Visit Kylemore Abbey in Connemara
by Haley of Haley Blackall Travels | Pinterest
On top of most Ireland Bucket Lists is a visit to the romantic and iconic Kylemore Castle. 
Located in the wild and rolling hills of the Connemara, the castle is a sight to behold.
Inspired by his love for his wife Margeret, politician and wealthy businessman Mitchel Henry built Kylemore in the late 1800s.
Not the only love that inspired him, Henry also believed in a bright future for his beloved Ireland.
Kylemore Castle was created featuring all the modern-age innovations of the time. He wanted to showcase what could be achieved in the wilds of Connemara.
The castle was later passed over to the Benedictine community in 1920. They have been in residence at Kylemore Abbey ever since.
The estate itself is located on a calm and beautiful lake.
It boasts expansive gardens for a stroll with your loved one.
After you've mused at the many flowers, it's time to sip tea at the Garden Tea House.
You can visit Kylemore Abbey June to October from 10 am – 6 pm. Note the the last admission is at 5 pm.
The ticket price for Kylemore Abbey is 15 euros for this affordable, romantic excursion in Ireland.
Where to Stay in Connemara – Stay a 30-minute drive away from the Kylemore Abbey at the top-rated Ballynahinch Castle Hotel & Estate.
You can sit by the fire with a glass of wine in hand or enjoy a picnic outdoors in finer weather.
Experience Outstanding Sunset View from The Cliffs of Moher
by Ruma Dey Baidya | Facebook
The magnificent Cliffs of Moher stand high on the west coast of Ireland and tower over the Atlantic Ocean.
They are in the Munster province near the Liscannor village in County Clare.
The name Moher comes from the ancient ruins of a promontory fort on this cliff named 'Mothar.'
These cliffs run for 5 miles (8 km) along the coastal line. Its highest elevation reaches more than 700 feet up (214 m.)!
The spectacular natural view from these cliffs has attracted visitors for decades.
It's said to have inspired many generations of artists as well as scientists.
You may have noticed the Cliffs of Moher used as a backdrop for intense scenes in a movie or story because of their mysterious outlook.
In fact, The Princess Bride and Harry Potter and the Half-Blood Prince are two such movies which showed the cliffs.
The Burren and Cliffs of Moher UNESCO Global Geopark are built around these Cliffs of Moher. It's a conservation center for 30+ species of birds.
For all these above reasons, many suggest these cliffs as the best tourist destination in the entire Ireland tour.
Best Time to Visit the Cliffs of Moher
The area on top has paved pathways and waist-high walls for the safety of visitors.
Bring a raincoat and waterproof shoes when visiting as weather conditions are quite unpredictable.
If possible, you'll want to visit between April – May. That way, you'll enjoy the spring weather with a lesser crowd.
The geological park remains open from 8 am to 9 pm. But try to visit in the early morning or after 3 pm to avoid crowds.
You'll discover a visitor center on the cliffs camouflaged well within the highlands. There, you can learn more about the cliffs and also to buy souvenirs.
Where to Stay Near the Cliffs of Moher – Fiddle + Bow Hotel in the center of Doolin makes for a great place to stay near the Cliffs of Moher.
Not only do they have great cocktails and live Irish music at night, but an excellent breakfast and friendly staff.
Final Thoughts on Romantic Ireland
No matter where you go in Ireland, you'll likely feel a little romantic, with all the fresh air, castles, enchanting sea views, and rolling hills.
But if you want to make certain to have the visit the most romantic places in Ireland, you won't have to look further than this list.
Sláinte!
If your trip across the pond goes beyond Ireland, check out these great self-guided walking tours in the UK.
Next Steps
Read these helpful articles about exploring Ireland and the UK, next:
---
Don't forget to save this article on Pinterest for later!
Click here to read about the most romantic hotels in the world.
51 Steamy Romance Package Ideas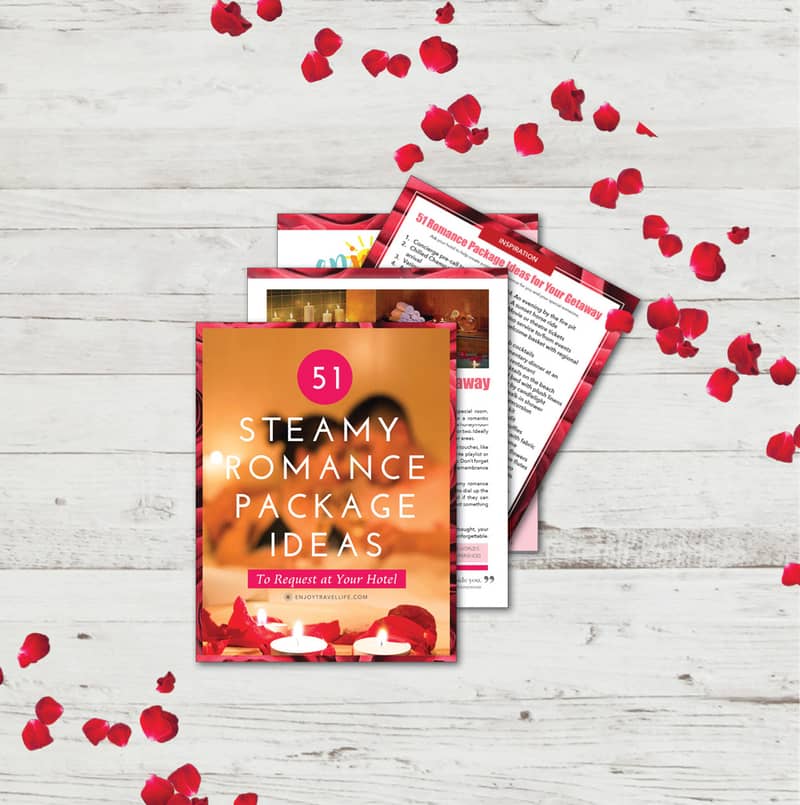 WARNING! These 51 Steamy Romance Package Ideas from top hotels may inspire you to spice up your romantic getaway. (Don't say we didn't warn you!)
Download your FREE Printable Today.