Traveling as a couple isn't always easy – but it can be. That is, when you know the most important strategies to maximize your trip together. Whether this is your first trip as a couple or your thirty-first, follow these 5 easy tips. That way, when you're planning your vacation as a couple, you'll be on the right track to having a successful couples getaway.
CONTENTS – In this article, you will learn important travel tips couples, including:
Tips for Traveling Together on Your Couple's Adventure
When you're traveling with your partner, you want to make the most of your trip. 
Weekend getaways and exotic vacations give couples travelling together the chance to escape the monotony of everyday schedules and routines. Instead, you'll be spending quality time together making new memories. 
However, it's important to realize that vacations for couples don't always go accordingly. What's worse than coming back from vacation after having had a luck luster time or a big fight with your special someone? Even seasoned travel couples can experience this belly-drop.
So, read these vacation tips for couples to ensure that your next adventure trip with your significant other is a success. Then, you can look forward to enjoying the next opportunity to be together on vacation.
Leave Work Behind
While leaving work behind might not be an absolute for everyone, it's definitely something worth considering. 
The point of a couple's vacation is to get away so that you can bond and enjoy new experiences together. The ideal is to have a strategy for work, and to let your superiors and subordinates know that you'll be away and for how long. 
Here are some ways you can ensure your work doesn't encroach on your couples getaway:
Allow plenty of time before your vacation to create a strategy that will work while you're away
Designate a point person for calls or emails and set your auto-responders accordingly
Reach out to your highest maintenance and most profitable clients well ahead of time to let them know you'll be unreachable. Then, sew up (or delegate) their important business before you go
Put tasks that can wait 'on hold' until after you return from vacation
Disperse or delegate those tasks that can't wait to colleagues or staff
Create a prioritized to-do list for when you return so you can be the most efficient when you return to work
If you must take your laptop and maintain some sort of connection to work during your vacation, make sure to implement boundaries and a timeline.
For example, you can plan to work very early in the morning for one hour to address urgent matters, and then close up shop for the rest of the day. 
Try to disconnect from business as much as possible for the time that you are away. Remember, the whole point of this adventure is to make new memories. Work will be waiting when you get home. 
Plus, it's important to get some distance from your job from time to time so you come back to work anew. 
Find the Right Phone Plan
It's a must to research your mobile carrier and phone plan before taking any kind of trip. 
You will want to make sure that you are equipped to navigate any and all situations that come up during your travels, even those times when you require actual navigation. 
When you are in a new location, you want to be confident that your phone plan will be able to provide you with the necessary data to easily access your mobile's GPS application. 
If your trip requires you to leave the country, learn about your carrier's unlimited cell phone plans so you can use data while abroad without having to worry about any unexpected charges. 
Also, make sure you have multiple phone chargers so you never have to worry about your device dying. A charger designed for the car is a must-have for road trips, and a portable pack comes in handy during walking tours and hiking treks. 
If you are leaving the country, you'll want to make sure you have the right adapters, as well. Consider whether it's better to keep your current phone plan while you travel, or buy a SIM card online or at your destination and use the local network to save money. 
Plan an Itinerary
You've probably heard of the infamous role of preparation when it comes to success. The same is true when it comes to travel planning.
In order to maximize your adventure and time, you will want to have an established itinerary before your trip even begins. 
By putting together a set agenda, you are able to better manage your budget. This also ensures that you will be able to include all the interests and activities you and your partner are looking forward to. 
That said, there's nothing more stressful than an overscheduled vacation. The trick is to create an itinerary with the perfect blend of planned and unplanned time. 
Use your itinerary as a starting point, but don't be too tied to the outcomes if you find it needs to be adjusted once you're on your trip. When you build in some down time for spontaneous activities, unplanned opportunities, and relaxation, you're more likely to be open to fun.
Related Article: Check out these Top Sailing Vacations for Couples
Schedule Some Alone Time
Speaking of relaxation, believe it or not, you will want to schedule some alone time when traveling with your partner. That's because friction can often ensue while taking a trip with your significant other. 
Travelling can even create unexpected problems for couples who have been in relationships for years or have been actively living together. 
But don't worry. 
You will be better prepared to bypass this potential bump in the road when you:
Manage your expectations of each other
Respect each other's personal needs (and that includes space)
Don't underestimate the importance of sleep, hunger, comfort
Keep lines of communication open
These strategies are key in any relationship, whether you're traveling together or not. But if you keep them in mind when you're traveling, you're both bound to have a better experience.
Take Advantage of Travel Apps
One of the best tools to start planning your next couple's trip is probably already in the palm of your hands. You can use your phone to download a plethora of mobile applications that will assist and inspire you as you devise your next journey. 
For instance:
If your adventure requires flying, you can use Hopper to monitor and search for the cheapest flights to your dream destination 
Mobile applications like Hotels.com allows you to search for accommodations that fit your needs and budget 
LocalEats is the ultimate investment for making sure you experience the culture of the place you are visiting through tasty, quality food that is beloved by the locals and representative of the community. 
There are plenty more apps you can choose from to make your travel planning easier. You'll find everything from gas station finders to itinerary trackers to plant identification and star-gazing apps. Many are free, too! 
Final Thoughts on Travelling Together as a Couple
There's good reasons why couples should travel together. Take the quote, "Couples who travel together, stay together." The U.S. Travel Association claims that traveling will spark romance and strengthen relationships.
So, don't miss out on traveling with your significant other just because it may force you to think and plan outside of your comfort zone. It can be a rewarding part of your relationship.
Just use these tips when you travel as a couple when you organize your next romantic getaway. 
Keep reading to discover the Top 5 Romantic Getaways for Couples.
Author Bio
Michael Longsdon writes for Elder Freedom as an advocate for older adults in his community. Through his site, he provides tips to seniors on how to downsize and age in place.

Photo credit – Clarisse Meyer (Unsplash)
51 Steamy Romance Package Ideas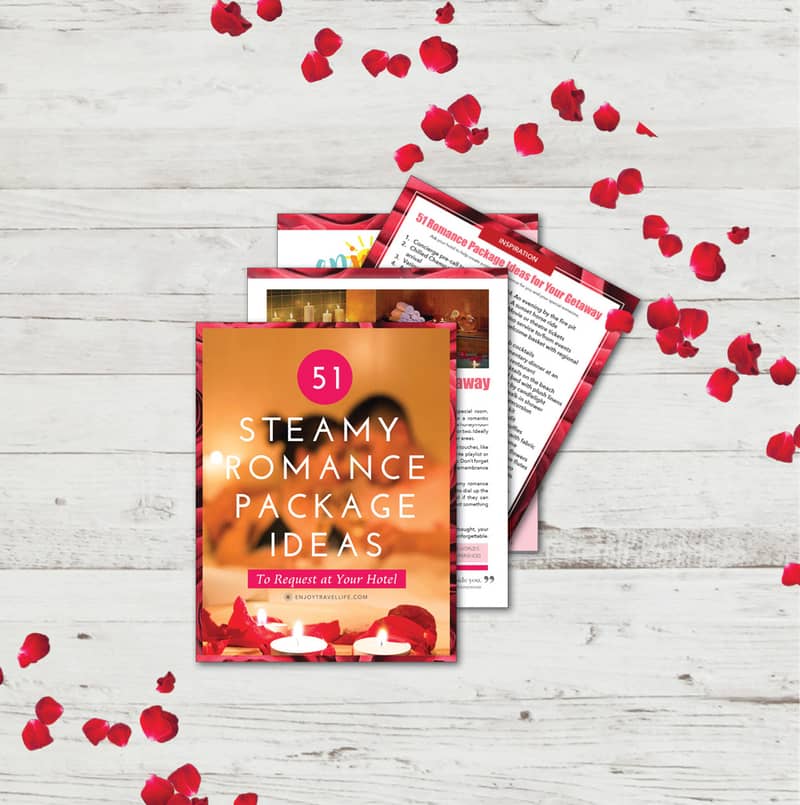 WARNING! These 51 Steamy Romance Package Ideas from top hotels may inspire you to spice up your romantic getaway. (Don't say we didn't warn you!)
Download your FREE Printable Today.