Duty-Free airport retail stores offer you the opportunity to enjoy tax-free shopping while you're at the airport. If you have time to kill as you await or depart your flight, or want to pick up a few remembrances for someone at home, look to retail shops at the airport. Not only will they potentially save you money, but they offer some amazing experiences as well.
We've rounded up 7 world-class airports that provide the best bargains and shopping experiences, below. 
Editor's Note: This article was updated in September of 2023 to keep it fresh and up to date.
CONTENTS – In this article, you will learn where to shop duty-free around the world in these 7 world-class airports. This includes:
About Duty Free Airport Retail Stores
Before we share the best airports for duty-free shopping with exceptional experiences, let's make sure you understand the basics.
What are Duty-Free Airports?
Duty-free airports are airports that provide a tax-free shopping experience, usually after you've cleared customs on departure or arrival. "Duty-free" means you won't be charged the tax, or duty, levied on certain imported goods.  
What are the Benefits of Airport Shopping?
In a word, bargains. And on good stuff, too!
At duty-free airport retail stores, you'll usually find items like:
cosmetics
fragrances
liquor
luxury goods
and tobacco
They will most likely be offered at discounted price, since the import/export taxes are not applied.
Bear in mind that the price may vary from airport to airport and even within airlines in the same airport. Either way, it still may be less expensive than purchasing the item outside the airport. 
Before buying, be sure to compare prices with those outside the airport to be certain it's a bargain.
Now, there's more to shopping than getting a bargain. Let's get on to the airports that offer the best shopping experiences, and what they offer, duty-free.
---
Download your FREE Guide to Getting Cheap Flights (below)
so you start saving money today!
27+ Best Online Resources for finding CHEAP FLIGHTS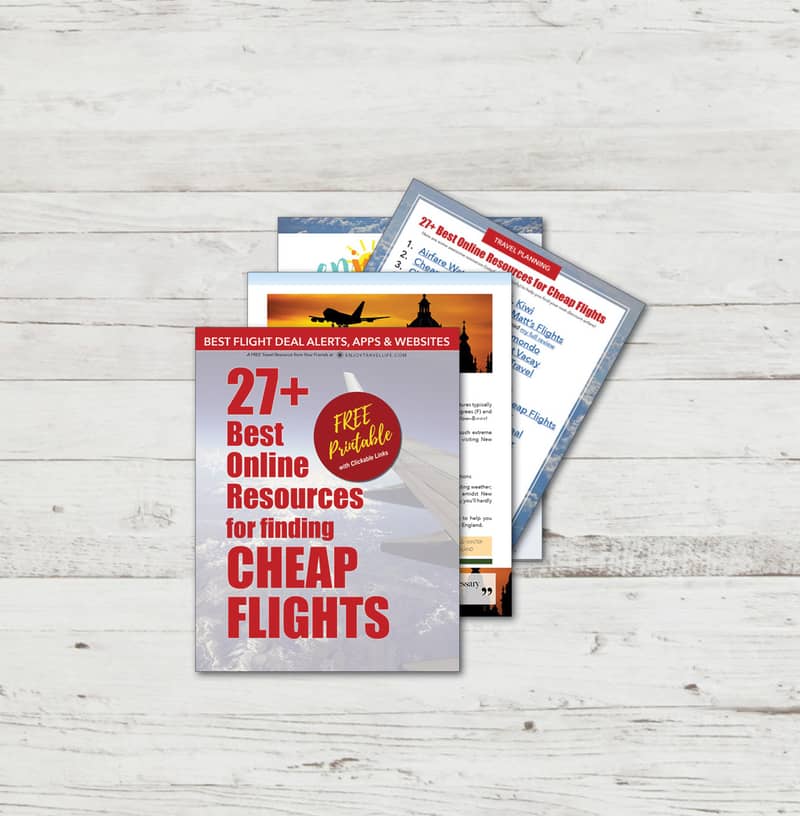 Discover the BEST Online Resources expert travelers use when searching for cheap flights. Download your FREE Guide today!
---
7 Airports with the Best Shopping Experiences
The modern aviation experience is no longer just about the flight. Many airports have evolved from being mere gateways into countries to becoming iconic travel destinations in and of themselves. 
Nowadays, many travellers actually look forward to going to the airport so that they can dine in world-class restaurants, relax in upscale lounges, or even discover unique airport features such as art installations, indoor swimming pools, movie theatres, and spa facilities. 
One of the biggest highlights of a trip to the airport these days is retail therapy, as the world's most famous aviation hubs now also offer shopping experiences unlike any other. 
But which airports in the world are best known for being a shoppers' paradise? 
Here's a quick list of aviation hubs that are world-renowned for being shopping meccas, plus a glimpse into the retail offerings you can find in each airport destination. 
1. Changi Airport in Singapore
Changi Airport has earned the top distinction in Skytrax's World Airport Awards multiple times. Its wealth of retail options surely factors into its rankings. 
In the Jewel Changi Airport alone, you can shop for gadgets, clothing, jewelry, toys, and cosmetics that you'd be hard-pressed to get anywhere else. 
Highlights of this Changi Airport shopping mall include:
The Pokémon Center for merchandise related to the beloved anime
Make Hero for high quality Japanese beauty products
In Good Company for Singaporean couture
Sift and Pick for fashion items that are all the rage in the K-fashion scene. 
If you have the chance to go around the Jewel complex, you'll be sure to enjoy its repertoire of retail shops as well as its green spaces, cafés, restaurants, and tourist attractions. This includes the HSBC Rain Vortex, the world's tallest indoor waterfall. 
Related: You'l love these Luxury Hotels in Southeast Asia.
2. Heathrow International Airport in the United Kingdom
Another world-class airport with superb retail offerings is Heathrow International Airport in London. 
Here among the airport retail stores, you'll find the Heathrow branch of Harrods, the iconic British luxury retailer. So, duty free shopping at Heathrow covers brands like:
Burberry
Bottega Veneta
Dior
Hermès
Fans of the Harry Potter franchise can also live out their Hogwarts dreams by visiting The Harry Potter Shop and buying exclusive Harry Potter merchandise like sweaters, scarves, and wands. 
And if you want to be even more at ease while shopping at Heathrow, there's even a personal shopping service that's free of charge and that can be booked ahead. 
Related: While you're in the UK, check out these self-guided UK walking tours.
3. Dubai International Airport in the United Arab Emirates
Even if a shopper isn't due to spend a lot of time in the so-called City of Gold, they'll be treated to a royal shopping experience in Dubai International Airport. 
Top luxury brands like Versace, Jean Paul Gaultier, Montblanc, and BULGARI are well-represented in this large airport, which is as big as 297 football fields! You'll find plenty of amazing airport retail stores to love.
But shoppers should also look forward to Dubai Airport's exceptional catalogue of duty free airport stores that specialize in electronics offerings, which include:
Smartphones
High-end cameras
Laptops 
Other electronics, duty-free
Dubai Duty Free has become one of the biggest stores in the travel retail industry worldwide! Suffice it to say, if your goal is to get a good deal on consumer electronics while you're abroad, shopping at Dubai Airport is a good bet. 
Related Article: Find out the best way you can spend 2 days in Dubai.
4. Hong Kong International Airport in Hong Kong
The cultural melting pot of Hong Kong is also home to an airport that's won the title of Best Airport for Transit from Skytrax. The airport's 24-hour retail experience likely figures into this distinction. 
HKIA's airport complex houses two shopping malls and a variety of retail outlets. Their airport retails stores include popular consumer brands like Bose, Zara, and Calvin Klein, and luxury brands like Armani and Chanel. 
But it is just as fun to go bargain hunting in the airport for items like leather goods and souvenirs, and to shop for goodies like Cantonese pastries.  
Related: 5 Important Loan Steps for Buying a Flat in Singapore You'll Love
5. Paris Charles de Gaulle Airport in France
Paris is known as the fashion capital of the world, and shoppers will be able to understand why from the fashion offerings available at the Paris Charles de Gaulle Airport. 
Fashion stalwarts that can be found in CDG include:
Gucci
Guerlain
Longchamp
Prada
On top of fashion finds, you can also look forward to getting excellent deals on duty free perfume and fragrances, gift sets, artisanal chocolates and cheeses, wines, and electronics. 
You will be able to get a quick taste of France's signature cosmopolitanism even after a couple of hours shopping at CDG. 
Paris' Charles de Gaulle Airport has an outstanding collection of airport retail stores for your shopping fix.
6. Amsterdam Airport Schiphol in the Netherlands
Airport shoppers looking for awesome duty-free deals will have great luck in Amsterdam Schiphol, which is also one of the most scenic airports in Europe. 
In addition to items like watches, cosmetics, gadgets, and clothing, Schiphol is also a shopping haven for those who love books, art souvenirs, bonbons, coffee, cheeses, and liquors. 
Duty-free airport retail stores that are worth a peep in Schiphol include:
Dutch department store HEMA
Suit shop Suitsupply
Statement jeweller GASSAN
Enjoy the hours that you have in Schiphol with an unforgettable airport shopping experience. 
Related: Plan a lovely day trip from Amsterdam to Geithoorn.
7. Narita International Airport in Japan
When in Narita International Airport, you can do as the Japanese do and shop for a variety of omiyage, or souvenir gifts to take home to loved ones. 
Narita duty free airport finds that shoppers should get excited about are:
Banana custard-filled pastries from Tokyo Banana
Uniquely flavored snacks from KitKat and Pocky
Confections from chocolatiers Godiva and ROYCE'
Traditional Japanese sweets from Hiyoko
Stationery from Traveller's Factory. 
These items will have you looking forward to your airport shopping, as well as surprising family and friends with your travel haul. 
Related: Visit Setouchi Japan for an off-the-beaten path island experience.
Final Thoughts on Duty-Free Airport Retail Stores
This article is just a teaser for all the unique retail experiences that await you the next time you go traveling.
Airport retailers can be your one-stop shop, offering local products, high-end brands, and unique experiences. Better yet, their hours of operation make duty-free shops the perfect stop at the airport terminal. When you visit a destination-themed specialty retailer, you can find the perfect gift that reflects the regional sense of place.
Not only that, visiting a gift shop or retail spaces at the airport are a great way to pass the extra time at your flight stop. Whether you want to pick up an international magazine at a convenience store like Hudson News, purchase your favorite Estée Lauder product tax-free, or browse the latest athleisure apparel at trendy concept stores, you'll enjoy a wide selection of choices. 
So check your flight schedules. In addition to figuring out your gates, departure times, and dining options, have a look into the best new stores at the airport and take a retail dive while your traveling. They give the weary traveler a good reason to skip the nap and instead, scour the airport shops!
Which airport retail stores are you the most excited to visit, and what items do you want to add to your duty free airport shopping cart?
Before you take your next trip, make sure you research the best parking deals at the airport or hire a reliable airport transfer service ahead of time. Next, keep planning your travels and check out these comfy travel outfits for your flight.
Frequently Asked Questions (FAQs) | Airport Retail Stores
Here are answers to some of the most popular questions you may have about shopping in duty-free airport retail stores.
Can US citizens shop at duty-free?
Yes, US citizens can shop at duty-free stores when traveling internationally. However, you want to be aware of any age restrictions (usually 18 or older), quantity limits, and customs declarations required when you return to the United States. So, be sure to take note of the rules so you have a smooth duty-free shopping experience.
Do you really save money at an airport duty-free shop?
Airport duty-free shops do provide you with some savings when compared to regular retail businesses. This is primarily on items like alcohol, tobacco, and luxury goods, because of the reduced taxes and tariffs. Not all products are cheaper, though, so you should compare prices beforehand so you can make more informed shopping decisions.
What happens if I open my duty-free bag?
If you open your duty-free bag before reaching your final destination, it may void the duty-free status of your items. That means you may be required to pay taxes and duties upon arrival. Instead, keep your duty-free purchases sealed until you clear customs at your destination. It's important that you follow the regulations of your home country, too.
Why is duty free so cheap?
Duty-free products are free of added import taxes, duties, and tarifs. That typically makes them cheaper for you to buy. Not all items are significantly cheaper though. Location, brand, and local taxes affect the degree of savings. To get the best deals, be sure to compare prices beforehand, or look online at the time purchase before making an impulse buy.
What's best to buy duty free?
The best items to purchase duty-free are usually: alcohol, cosmetics, luxury goods, perfumes, and tobacco. This is because these products are usually highly taxed, which makes them appealing as duty-free purchases. You'll want to research prices and consider your individual needs to find the latest bestsellers and the best deals at duty-free shops.
What are the benefits of buying duty free?
The biggest benefits of buying duty-free products are the potential savings (due to tax exemptions) and access to exclusive items. Duty-free shopping is often considered a highlight of the tourism industry. A lot of people think it's the best experience because it allows you to enjoy tax-free shopping, explore a variety of products, and bring home unique souvenirs or luxury goods at more affordable prices.
Who are key players in the duty-free and airport retail industry?
​Key players in the duty-free and airport retail industry include: Aer Rianta International; Airport Retail Group, LLC; China Duty Free Group Co., Ltd; DFS Group Ltd.; Dubai Duty Free; Dufry AG; Duty Free Americas; Gebr. Heinemann SE & Co. KG; Heinemann SE; KING POWER International; Lagardère Travel Retail; Lotte Duty Free; LVMH; Shinsegae Duty Free; and The Shilla Duty Free.
Next Steps
​For more airport travel tips beyond the airport retail stores, read these articles next:
When to Visit 36 Dreamy Destinations
You will instantly receive the FREE Month-by-Month Destination Guide