Northern Pacific Airways revealed their freshly branded Boeing 757-200 in a media preview held in San Bernardino, California. With proper fanfare and suspense, this livery unveiling showcased their plans to introduce non-stop flights to Anchorage, Alaska and Asia. Find out why you'll want to fly Northern Pacific Airways if you're planning a trip to Alaska and beyond.
CONTENTS – In this article, you will learn about Northern Pacific Airways, a new airline bringing service from the continental US to Anchorage, Alaska and Asia, including:
Northern Pacific Airways Aircraft Livery Unveiling
What is aircraft livery, exactly? The term refers to the branding or insignia placed on an aircraft. Aircraft livery means the colors, graphics, type, and other distinctive branding elements that make the airline uniquely recognizable.
Attending this media event gave me a chance to see firsthand just how exciting it is when a new airline livery comes together. It was fun to be among the first to see the reveal of signature branding displayed on the body of the airplane.
You can catch a glimpse of what the media event was like in this short video.
Leading up to and during the media event, I had opportunities to mingle with various players in the airline and travel spaces who were also guests of Northern Pacific Airways. It quickly became clear that this new venture has assembled all the right players to champion the launch of a new airline, including:
Airline industry leaders
Savvy investors
Aircraft creative designers
Destination partners
Media partners
and many others in and behind the scenes
The outcome is an innovative airline that provides affordable, non-stop flights to Anchorage, Alaska and beyond.
Look for this service to begin in the third of fourth quarter of 2022, as we all await it with great anticipation!
Here's why.
About Northern Pacific Airways
Northern Pacific Airways is a new long-haul airline with its hub in Anchorage, Alaska. The airline is launching direct flights to Anchorage from the continental US at an affordable price point. Passengers will fly into Ted Stevens Anchorage International Airport in Anchorage.
From Anchorage, you may decide to travel further throughout Alaska. (For more about that, check out this Visitor's Guide and Ravn Alaska airlines.)
Or, you can travel onward to select cities in East Asia on a transpacific route. This essentially connects the east and west by way of Alaska. Of course, it makes good sense to extend your stopover in Anchorage for at least a few days while you're there.
Before the end of 2023, Northern Pacific Airways will offer service from continental US hubs, including new routes from California, Florida, Nevada, New York, and Texas. More specifically, watch for service in cities such as:
Los Angeles, CA
San Francisco, CA
Las Vegas, NV
New York, NY
Orlando, FL
After the stopover in Anchorage, Alaska, this new, attractive route to Asia plans to fly into destination cities that include Tokyo, Nagoya, and Osaka, Japan and Seoul, Korea.
Northern Pacific Airways is a subsidiary of FLOAT Alaska, a group of airline connections encompassing Ravn Alaska (AK) and other airline partners. That means that while this airline may be new, it's backed by seasoned airline professionals. 
Related Article: If you'll be visiting Korea, look into these travel tips for South Korea first.
---
Download your FREE Guide to Getting Cheap Flights (below)
so you start saving money today!
27+ Best Online Resources for finding CHEAP FLIGHTS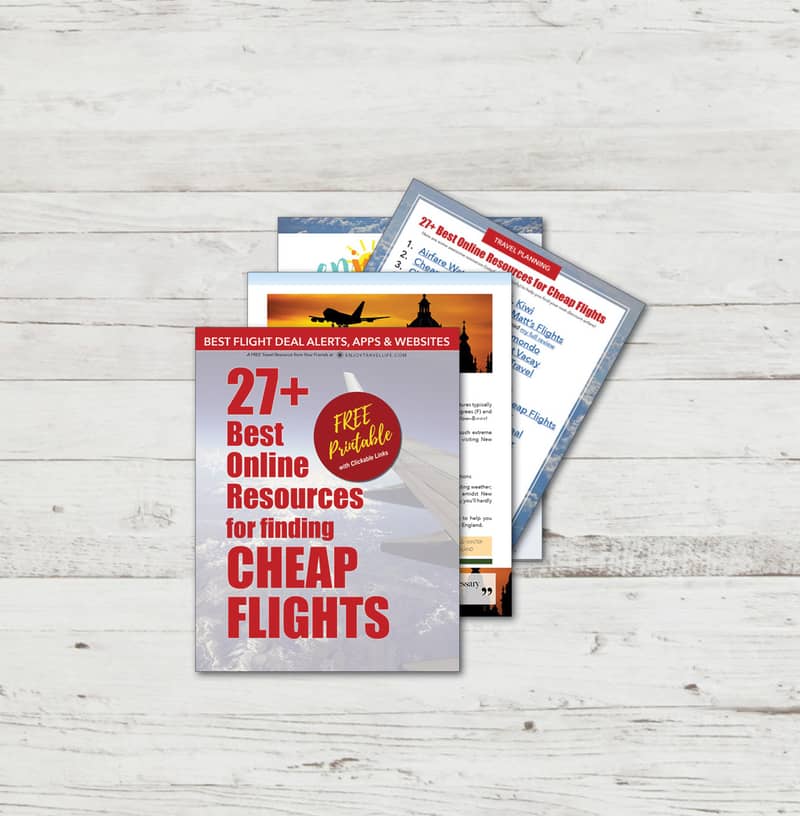 Discover the BEST Online Resources expert travelers use when searching for cheap flights. Download your FREE Guide today!
---
Who Should Travel Northern Pacific Airways?
Northern Pacific Airways' non-stop route to Anchorage, Alaska and from Alaska to Asia is ideal for many reasons. It will definitely appeal to you if you:
Have Alaska on your bucket list so you can see the Northern Lights (and so much more!) in Alaska
Are waiting for an affordable opportunity to visit Alaska
Plan to travel to Asia for leisure and/or business and would enjoy adding a scenic Alaskan stopover to your itinerary to maximize your trip
Would like an affordable 1-stop route to Asia for business or pleasure travel
Finally feel ready to travel again and are open to taking fresh adventures and travel in the new year
For any of these reasons and others, you'll find that Northern Pacific Airways is a great option.
Continental US to Anchorage Alaska and Asia
Remember when it seemed like everyone was traveling to and from Reykjavik with Iceland Air for a quick weekend trip or trans-Atlantic stopover between the US and Europe? 
Well, Northern Pacific Airways is leveraging a similar model with Anchorage as the connecting point. This makes it workable for you to:
Make a convenient stopover in Alaska on the way to Asia
Extend the stop over in Anchorage for a few days en route to Asia
Fly direct to Alaska
It's a proven model that allows you to use Anchorage's geographic location to your best advantage.
Maybe you've heard about the new "bleisure travel" trend. If not, bleisure travel is when you add in a few extra days before or after your business trip. That way, you can enjoy your destination further or just have a few days for downtime to recharge, relax, and/or catch up on work.
(In fact, I did this myself on this business trip to San Bernardino by spending a few days visiting with my daughter in LA before heading back to the east coast.)
This stopover in Alaska en route to Asia could be the perfect opportunity to add some sightseeing and bleisure travel to your own itinerary.
Related: 7 Important Things to Do on Long Flights You Need to Know
Why Fly Northern Pacific Airways
Perhaps you're wondering why you should fly Northern Pacific Airways beyond the reasons above. So, let's look a bit more in-depth at several benefits of flying this airline brand. Consider their:
Seasoned teams committed to excellence
Fleet of 757-200s
Brand values
Interior cabin design
Seasoned Teams Committed to Excellence
Even though Northern Pacific Airways itself is a new airline, those involved in this innovative initiative are seasoned aviation industry professionals. They are repeating a successful industry model, and the players that senior management has brought on board include business partners, industry experts, and executives with proven track records.
For instance, the Chief Executive Officer (CEO), Rob McKinney, also leads Ravn Alaska, a regional airline that serves communities in Alaska. Ravn Alaska includes routes between Anchorage, Kenai, Dutch Harbor, Unalakleet, and others. The airline's veteran team focuses on safety and customer service for those traveling within Alaska—as will Northern Pacific Airways.
McKinney and Northern Pacific are building solid teams with aviation industry veterans. They have courted prime talent and capable leaders from Boeing, Rolls Royce, and other world-class brands.
No doubt, these seasoned teams are committed to excellence.
Northern Pacific Airways 757-200 | The Fleet
On this new route from the United States to Alaska and Asia, Northern Pacific Airways pilots will fly 757-200 aircraft. These are American narrow-body, twin-engine airliners that can transport about 180 passengers. The seat configuration is a center aisle with two or three seats on each side, depending on seating class. About 12 seats will be first class, and the rest will be premium economy or economy.
The fleet currently numbers nine 757s, with plans to gain three more aircraft prior to launch. Rolls-Royce engines power half of the fleet; the remaining half have Pratt & Whitney engines.
Each of these planes has undergone extensive aviation quality checks, brand renovation, and interior design changes to deliver sleek, safe, modern appeal. Well-respected maintenance teams ensure excellence to ensure the aircraft is ready to fly you safely in comfort to your destination. 
What Goes into a Livery Design?
When you step into any airplane as you prepare for takeoff, you may not even stop to consider all that has gone into the airline's branding and interior design. But the livery can subtly affect the quality of your experience. The fact is, that when you pay close attention to a company's logo and image, you'll learn more about what the company is all about.
Let's inspect Northern Pacific Airways in this regard.
Northern Pacific Airways Livery Design
When you approach the aircraft, you'll notice the "N" logo behind the letter type on the side of the plane. It's a clean and easy-to-read design that's contemporary and friendly. This embodies exactly what the company stands for.
Creative Director, Edmond Huot, was instrumental in designing an image that truly reflects the values and theme this airline represents.
That's an important factor in design, which often gets taken for granted, even if you appreciate the visual appeal of the Northern Pacific Airways logo.
Keep reading to learn more about the livery design process from Edmond Huet, below.
Meet the Designer | What Goes Into a Livery Design?
Edmond Huot is not new to design work, or even to airline livery design work. In fact, he's been passionate about "all things jetliner" since he was a child.
He loved to build model airplanes and create imaginative stories and drawings about airplanes as a child, as well as working in the airline industry in various capacities as an adult. Huot presently indulges his passion for the airline industry as the Creative Director at Forward Studio.
When I spoke with Huot, he described the multi-step process of bringing the livery to life on the 155-foot airline canvas. He says it began with various points of research or "homework," from the client's requirements, to understanding cultural nuances and sensitivity to both Alaska and Asia, to appealing to fun, friendly, travel, as well as accounting for other stakeholder perspectives.
That blending of needs translated into abstract concepts and a brand narrative with thematic language. The imagery then became represented by a mood board, which ultimately "crystalizes into an inspired idea," says Huot.
The final execution is when they paint the artwork on the aircraft. "You've got one shot to get that right," according to Huot.
If the process sounds both logical and magical, it's because in some regard, it is. For instance, Huot's livery design captures the "pristine, beautiful, rugged" nature of Alaska – a juxtaposition that he expressed beautifully in the translation. "It's a place of scale and sheer beauty," says Huot.
The resulting livery speaks for itself. It is a tasteful design with a nod to Alaskan and Asian cultures, and a travel-friendly appeal.
Design Elements of Northern Pacific Airways' Livery
Here are other branding components you can look forward to recognizing when you travel with Northern Pacific Airways or see them fly overhead:
The brand letter logo "N" and long-form logotype are a forward-trending, modern typography
Dramatic black hues and soft gray tones symbolize Alaska's mountainous terrain, ice, and snow
Around the windshield of the aircraft, the bold, black masking adds distinctive, modern charm
Pops of sharp turquoise and neutrals on the (fuel-saving) winglets are reminiscent of Alaska's Northern Lights
Vibrant, elegant line motif with an organic flair on the tail contrast the sleek jet-black tail
Elements of flight, such as stylized bird wings and airflow, show up on the engine and tail
Rob McKinney, CEO of Northern Pacific Airways, shares his perspective on the design when he described the thoughtful curation that went into the livery design. He says it "carefully captures the Northern Pacific brand and our affection for our Alaskan home."
McKinney adds that the design echoes the airline's values of "elevated customer service, an esteemed point of view, and an innovative route strategy designed to connect passengers from east to west."
Interior Design of Airplane
Unlike other budget airlines, Northern Pacific Airways will offer a limited number of business class seats. But whether you're up front or in any seat in this aircraft, you'll notice the livery themes carry through to the interior. The gray tone color scheme, subtle aqua pops, and line motifs offer a familiar repetition of the company messaging and values.
The interior design and availability of business class seats are not the only innovative part of this venture. McKinney envisions a system in which they will pay loyalty points in crypto-currency. FlyCoin (FLY) is the world's first crypto frequent flier program, championed by Ravn Alaska. This is further proof that Northern Pacific Airways aims to appeal to modern-thinking, money-smart passengers by issuing awards loyalty points in FlyCoin.
When Will Northern Pacific Airways Service Begin?
Northern Pacific Airways is scheduled to launch service in the fall of 2022, dependent on receiving timely certifications from the US Department of Transportation (DOT), Federal Aviation Association (FAA), and other key governing bodies.
Look for the direct flights to Alaska to begin in Q3/Q4 of this year. It's an opportunity to be a part of something really exciting!
Final Thoughts on Flights to Alaska & Beyond
According to this "2022 Travel Trends" 70% of consumers surveyed plan to travel more in 2022. If you're thinking the same way, the good news is that it just got easier, thanks to Northern Pacific Airways. Now, you'll be able to affordably get to Alaska and East Asia from the continental US on this great new airline.
Get ready to fasten your seatbelts and enjoy the ride!
---
Special thanks to Forward Media for organizing and sponsoring this media trip.
When to Visit 36 Dreamy Destinations
You will instantly receive the FREE Month-by-Month Destination Guide