Planning a Paris Trip? Discover how to book the 3 best flights to Paris, the City of Love.
If you're dreaming of strolling along the romantic streets of Paris, exploring its iconic landmarks, and immersing yourself in its rich culture, you're in for a treat.
This guide to planning a Paris trip will provide you with invaluable tips and insights on planning your perfect Parisian adventure.
From the top attractions to see, to when to book your flights, and on which airlines, we've got you covered.
So read more below and head to Paris to create some memories of a lifetime.
CONTENTS – In this article, you will learn about the best flights and must visit places if you are planning a Paris trip this summer, including:
Flights to Paris: Discover the City of Love and Romance
Paris, the capital city of France, is one of the world's most iconic and romantic destinations.
Whether you are visiting for a romantic getaway or exploring the city's rich culture and history, there is something for everyone in Paris.
However, before you can enjoy all the city offers, you must find the perfect flight to get you there.
Let's explore everything you need to know about flights to Paris if you are planning a Paris trip, including when to book, what airlines to consider, and some of the top attractions to visit once you arrive.
When to Book Your Flight to Paris
If you are looking for the best deals on flights to Paris, booking your flight in advance is essential.
The general rule of thumb is to book your flight at least three months in advance to get the best prices.
However, we recommend you book even earlier, especially if you are traveling during peak season. Summer and Christmas tend to be the time when everyone else wants to go to Paris, too!
Additionally, if you are flexible with your travel dates when planning a Paris trip, you may find cheaper flights by traveling midweek or during the off-peak season.
---
Download your FREE Guide to Getting Cheap Flights (below)
so you start saving money today!
27+ Best Online Resources for finding CHEAP FLIGHTS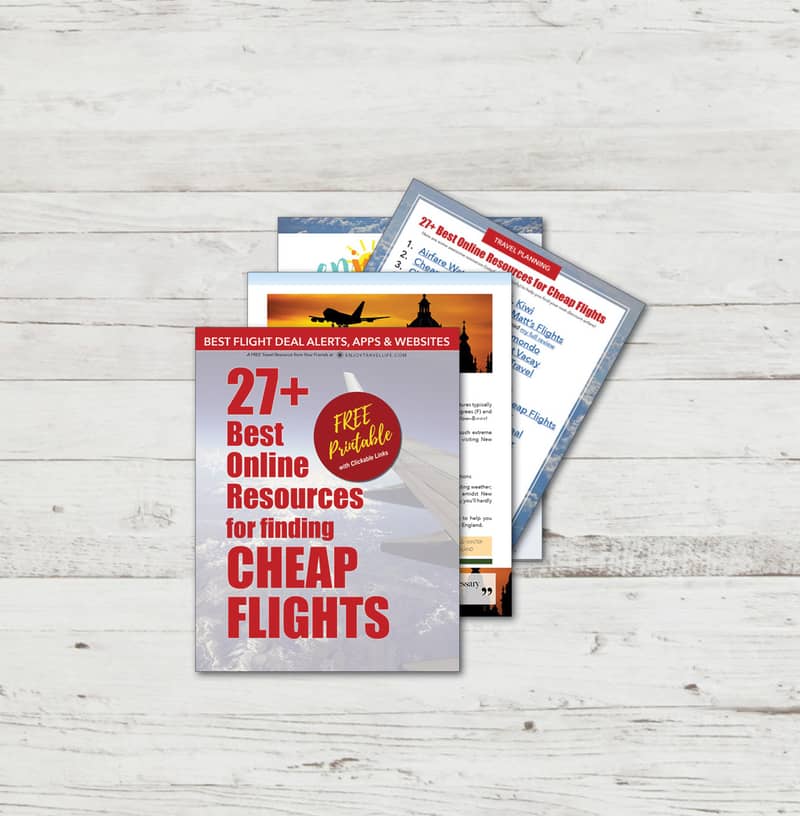 Discover the BEST Online Resources expert travelers use when searching for cheap flights. Download your FREE Guide today!
---
What Airlines to Consider for Flights to Paris
You can choose from several options for finding the best airlines for flights to Paris.
We recommend you look at some of these popular airlines with the help of AirlineInformation.com when planning your trip. They are generally reliable, affordable, and provide quality air transportation.
Air France
Air France is the national airline of France. It's known for its exceptional service and high-quality amenities.
They offer several daily flights to Paris from major airports around the world.
Delta
Delta is one of the largest airlines in the world and as such, it also offers flights to Paris, In fact, they partner with Air France.
You can fly to Paris from several major cities in the United States on Delta.
They also offer various services and amenities to make your flight comfortable and enjoyable. In my experience, Delta is consistently reliable.
United
Another major airline that offers flights to Paris from major cities in the United States is United.
You can choose from several daily flights to Paris on United. And, they offer a range of in-flight entertainment and dining options for this cross-continental trip.
Related: 7 Important Things to Do on Long Flights You Need to Know
5 Top Attractions to Visit in Paris
Once you have booked your flight to Paris, it is time to start planning your itinerary. Paris has world-class museums, historic landmarks, charming neighborhoods, and more.
Here are some of the most popular "must see" tourist destinations in Paris
Eiffel Tower
An excursion to Paris is not considered successful if it does not include a visit to the Eiffel Tower. This iconic landmark offers stunning city views and is a must-visit for anyone traveling to Paris.
Louvre
The Louvre is both one of the largest and most well-known museums in the entire globe. In fact, it is home to thousands of works of art, including the Mona Lisa and the Venus de Milo.
Give yourself plenty of time here because the collection is expansive!
Notre Dame Cathedral
The Notre Dame Cathedral is one of the most famous cathedrals in the world. It's well-known for its stunning Gothic architecture.
Although it suffered extensive damage in a fire in 2019, it is still worth visiting for its historical significance and beauty.
Montmartre
Montmartre is a charming neighborhood in Paris known for its bohemian vibe and stunning city views.
It is home to the famous Sacré-Cœur Basilica and is a great place to wander and explore.
Palace of Versailles
Located just outside of Paris, the Palace of Versailles is a must-visit for anyone interested in French history and architecture.
It was once the home of the French monarchs and is known for its stunning gardens and opulent interiors.
Final Thoughts on Planning a Paris Trip
Flights to Paris are the first step in planning your dream trip to the City of Love and Romance. By booking your flight in advance and considering the best airlines for your needs, you can find the perfect flight to get you to Paris.
That will give you more time to plan out your itinerary so it's you're sure not to miss the top attractions.
Once you arrive, explore some of the city's top attractions, such as the Eiffel Tower, the Louvre, Notre Dame Cathedral, Montmartre, and the Palace of Versailles. Then, you can begin filling in the time between with other attractions on your Paris bucket list.
With so much to see and do in Paris, you will surely have an unforgettable experience!
Next Steps
For more travel tips and tricks, read the articles below, next:
When to Visit 36 Dreamy Destinations
You will instantly receive the FREE Month-by-Month Destination Guide