Denver International Airport parking is often an overlooked aspect of travel planning.
With the rush of excitement before a trip, it's easy to forget about important logistical details like where to park your car while you're away. While taking a taxi or ride-sharing service to the airport may seem like a convenient option, it can quickly add up in cost.
That's why it's essential to explore the various short-term and long-term parking options available at Denver International Airport.
By pre-booking your parking spot in advance, you can ensure that this aspect of your trip is taken care of and focus on enjoying your upcoming adventure without any unnecessary worries.
Read more below to learn more about the perks of Pre Booking Parking.
CONTENTS – In this article, you will learn important benefits of pre-booking at Denver international airport parking, including:
The Benefits of Pre-Booking Airport Parking in Denver: Why It's a Game-Changer
In the hustle and bustle before a trip, it's easy to lose sight of things like parking your car while you take a trip. While it's possible to just take an Uber or a Lyft to the airport, the cost is something to be considered at Denver International Airport parking.
There's options for short-term and long-term parking near Denver Airport, making it easy to pre-book your parking so that portion of traveling logistics is taken care of in advance.
Anything that you can take off your plate prior to your latest and greatest adventure, is one less thing to worry about as you get ready to take to the skies!
Why Pre-Book Airport Parking? 3 Important Reasons
It can seem like a silly thing to pre-book parking. But it's really no different than the advantage of booking a hotel in advance.
That way, you know you'll have a spot at that lot. And with that information, you can better map out how long it'll take you to get from your car to your gate.
Denver International Airport (DIA) is the third-busiest airport in the world! Over 69 million passengers travelled through the airport in the year 2022, alone according to their website's About section.
That's a lot of people to try and navigate around!
Imagine, each with their own cars, Ubers, Lyfts, taxis, and shuttles driving through the airport to get people where they need to go…It's no wonder finding parking near Denver Airport can be challenging!
So, booking a space in advance can help relieve some of the day-of panic that traveling induces. Pre-booking off-site parking can also ensure that your parking needs are met.
You certainly don't want to be left flailing for a free spot when twenty other cars also want that spot.
---
Download your FREE Guide to Getting Cheap Flights (below)
so you start saving money today!
27+ Best Online Resources for finding CHEAP FLIGHTS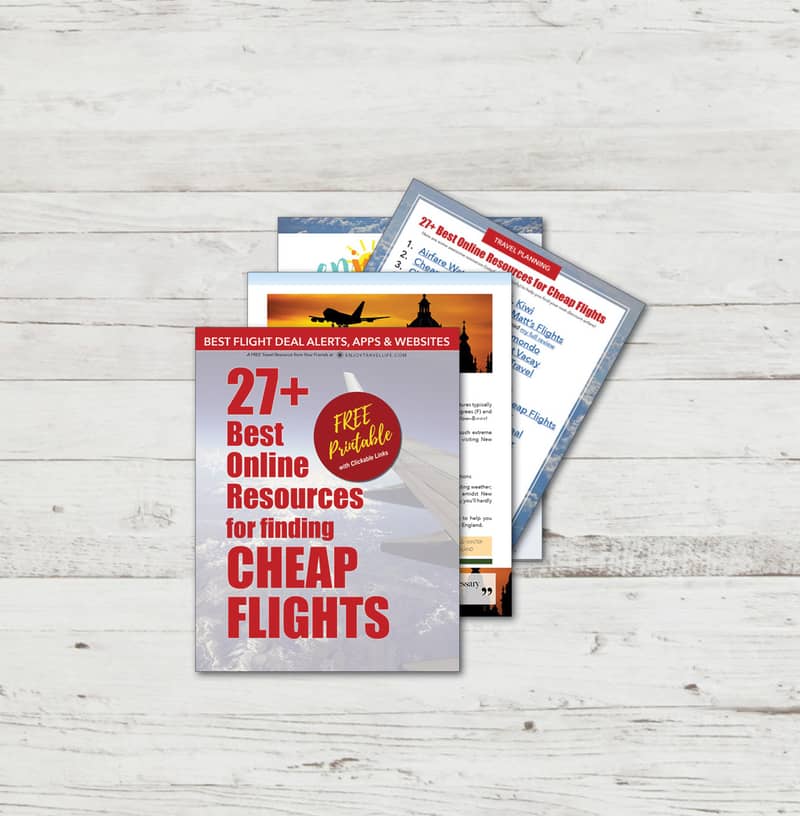 Discover the BEST Online Resources expert travelers use when searching for cheap flights. Download your FREE Guide today!
---
1. Safe, Secure, and Hassle-Free
If you're wondering whether you should pre-book a parking space at the airport vs. off site, here's what you need to know.
Airport parking lots offer a level of security that will leave your car in good care. For one, they're fenced in.
You can feel comfortable leaving certain valuables in your car, including anything you might want when you unload after your flight and look forward to the trip home. (Car snacks, anyone?)
Of course, don't leave anything of significant value in your car. But you can leave small electronics, their associated charging cables, a change of clothes, and more behind to make your trip home more comfortable.
This level of security isn't usually provided by free public parking. Worse, that can be its own hassle to find near airports, especially ones as busy as Denver International Airport.
These fenced-in lots at the airport usually have on-site guards and also include camera security.
For instance, parking at Denver Airport can be a pain-free experience when you book in advance.
That's because you can:
Choose your preferred lot
Pick your check-in and check-out dates and times
Know that your car is left in good hands while you go on your adventure,
It's a great option whether your off for a three-day weekend or if you're leaving for a longer period of time.
2. An Easy Answer to "Where Can I Park?"
This question haunts even the most experienced travelers. Where can I park?
You'll run into this problem when your trying new restaurants, nature preserves, and theme parks. So, why struggle when you're looking for parking at Denver Airport?
You'll discover several, local off-site parking lots available for your use, all within miles of your airport destination. This means you won't get lost, wandering around for thirty minutes trying to find a space and potentially missing your flight.
Also, you can choose from lots of options for third-party, off-site parking at the airport for your car. This includes garages, valets, or fenced lots.
But parking at the airport is the easiest option.
3. Low Cost Alternatives Near the Airport
If you want to avoid a hefty parking expense at Denver Airport, consider those offered by On Air Parking.
Parking at this lot can start as low as $4.50/day, offering a cheap, secure alternative to finding what else to do with your car.
Additionally, this comes with a free shuttle to the airport – no walking at all! Better yet, they offer free cancellations up to the first day of your reservation for parking.
This is a convenient option for people looking to get close to the airport on a budget without having to traverse its traffic.
You'll find there are a few other perks to using On Air Parking, too. You can book online and cancel at any time – right up to the day of your booking! 
Using On Air Parking for parking at DIA also includes access to their wonderful customer service, available from 10am-7pm ET, by phone at 888-487-2754. On Air Parking offers five-star service, and it's a painless process to make your reservation online.
If you don't want to do it online, you're welcome to call them for a more hands-on, assisted experience while booking your parking at DIA in advance.
Final Thoughts on Denver International Airport Parking
In conclusion, taking the time to research and pre-book your Denver International Airport parking can save you time, money, and hassle in the long run.
By having this logistical aspect of your trip taken care of, you can enjoy a stress-free travel experience from start to finish.
So, whether you're embarking on a short getaway or an extended journey, don't forget to include airport parking in your travel plans.
With a little bit of planning, you can ensure a smooth and enjoyable journey ahead. Happy travels!
Don't forget to save this article to Pinterest for later!
Next Steps
For more about travel, parking, and useful airport tips, read the articles below, next:


When to Visit 36 Dreamy Destinations
You will instantly receive the FREE Month-by-Month Destination Guide