If you're a new homeowner or new to a cold-region area, you may not know how to keep home warm in winter. Oh sure, you can bundle up. But it's easier than that. Learn 3 easy steps you should do to make your house winter-ready. Then, you can sit back and enjoy the season!
CONTENTS – In this article, you will learn how to get your home winter-ready with these tips:
Why You Need to Prepare Your Home for Winter
There's a lot involved in owning a home. Part of this is making sure everything is maintained and looks great. You'll also need to think about the changes in seasons.
It's important for you to get your home winter-ready before the cold properly sets in. The benefits are simple but essential: 
You'll feel much warmer in your home
Your energy bills will likely be reduced
You'll protect your home from further damage (and big expenditures)
With those benefits, it's easy to see why you should get your home winter-ready. 
Stress-Free Ways To Get Your Home Winter-Ready | Tips
There are multiple obvious ways to winterize your home, although a few key preparations may be overlooked. 
That's why we urge you to focus on these essential tips to get your home winter-ready. Then, you can cozy up for the season knowing you've looked after the most important points.
Make sure you take care of these three elements each year when you winterize your home.
Tips for Weatherproofing Doors & Windows
Your home's doors and windows will be the first place to look when you want to get your home winter-ready. That's because windows and doors are where the cold gets in. So, put your efforts into making sure it can't. 
One way of getting windows ready for winter is by filling any holes or cracks around the doors and windows. This is a vital step in ensuring you eliminate any drafts or air leaks. 
Storm windows are another way to keep the cold out and the heat in. They create a moisture barrier, retain heat, reduce sound, and protect your home's windows. 
If your double-hung windows and doors have an exterior storm window, make sure it fits snugly in place without leaving any gaps where the cold air can penetrate. 
You can also install interior storm windows, which are usually made with inexpensive lightweight acrylic, glass, or plastic. They are designed to fit tightly within your window frame and will add another level of cold and sound-proofing.
Another alternative to winterize your windows is a temporary insulating films that is applied with tape and then made tight with a hairdryer. This may not be the most attractive option, but if you have drafty windows, it's a welcome solution in the coldest months.
If your budget permits, you should also look at upgrading your doors and windows – especially if they are older. Some windows and doors will be more energy-efficient than others and will keep more of the cold air out. 
This is also a good investment because you are likely to get as much as a 91% return on the money you spend if you plan to sell your home in the future. Not only will you be making your home better for winter, you'll also be improving its curb appeal.
Related Article: Learn about these Affordable, High-Value Upgrades for Your Home
Fix The Air Conditioning & Heating Now
Your home's climate is vital during the winter months. If you want to get your home winter-ready, make sure your air conditioning and heating systems are in good working order. 
Getting your critical HVAC systems looked at and inspected might reveal you need a heating or ac repair. If you do, it's worth getting it done as quickly as possible.
While this would mean having to shell out some money, it'll be more than worth it. You'll not only make sure your home is warm, but you'll prevent any larger issues associated with your boiler.
And, when the hot weather hits again, you'll know your system is in top shape.
Depending on what kind of heating system you have, regular maintenance may include:
Having your ductwork checked for leaks, dust, mold, and rust
Cleaning your heating vents and registers
Removing soot from the furnace and cleaning the filter
Making sure the belts, motor, and other parts are mechanically sound
Repairing or replacing parts that may be close to the end of their useful life
It's always better to be proactive than risk losing your heat on a freezing cold night – which is exactly when it will happen…probably late at night on a holiday eve, in my experience.
Get A Fireplace Inspection & Chimney Sweep
If you have a fireplace, then you'll naturally want to use it during the winter. There's nothing that radiates warmth like a crackling fire. That might mean an open fire, or a wood stove. 
Of course, you'll want to stock up on wood and have it neatly stacked and covered before it gets too cold. You may even want to have a wood box in your living room so you can easily keep the fire stoked.
However, you'll need to do a few things before you can safely run your fireplace this winter.
If not properly maintained, then the chimney could become clogged by:
Birds nests
Foliage
Soot and creosote
Those things could, in turn, lead to carbon monoxide poisoning or a chimney fire.
You'll naturally want to avoid these dangers. You can do so by getting a regular chimney sweep. How often you do this can depend on how often you use the fireplace.
Getting a professional fireplace inspection is also recommended to make sure there aren't any further issues that need to be addressed, like structural issues, cracks, crumbling bricks, or other chimney damage.
And, make sure you've got working fire and carbon monoxide detectors for further protection.
Related Article: Read these 5 important safety tips to prevent fire at home. 
Final Thoughts on How To Winterize Your Home
Of course, you can always add beautiful throw blankets and make sure you have fluffy bathrobes, slippers, and hot-cocoa on hand as the weather turns cold. After all, winter is 'sweater weather.'
But if you want to get your home winter-ready and as warm as it can be, keep these important tips in mind. Addressing them is essential to getting your home ready for the season. Though these 3 things may seem minor, they'll have a big impact on your keeping your home-sweet-home all cozy and warm.
To download a full checklist on winterizing your home, click here.
Photo credit – Image by Couleur (Pixabay)
Ultimate Checklist for Winterizing Your Home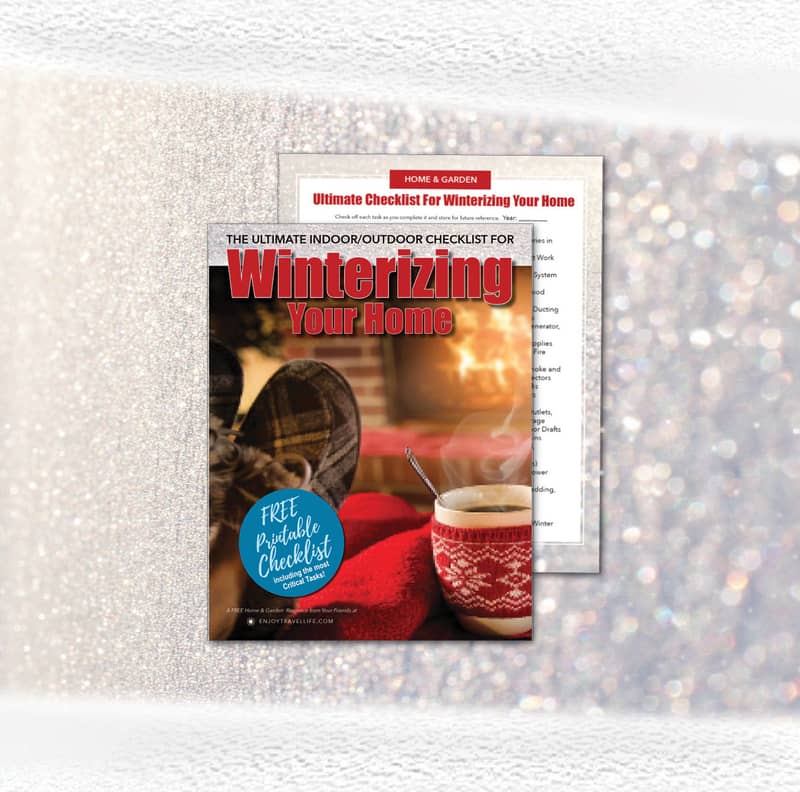 Prepare your home for winter using this comprehensive checklist covering both indoor and outdoor tasks that will make your home cozy and warm!
Download your FREE Printable Today.