Do you want to know how to travel on a budget?
Many people wonder how to keep their travel expenses within reason.
And, it can be easy to overspend when you're planning your vacation.
But this post will help you keep your trip under budget.
Just follow these 5 easy tips, below.
CONTENTS – In this article, you will find a some great tips and tricks about how to travel on a budget, including:
How to Travel on a Budget: Our 5 Best Tips
Traveling is always a fantastic opportunity.
But traveling on a budget is something of an art form.
After all, who wants to be cheap on vacation or miss out on awesome experiences?
The good news is, your travels does not have to break the bank.
You can travel on a budget and relish the finer things in life without digging deep into your pocket.
These budget travel tips will give you the tools to plan your trip and make travel a more noteworthy part of your life.
---
Download your FREE Guide to Getting Cheap Flights (below)
so you start saving money today!
27+ Best Online Resources for finding CHEAP FLIGHTS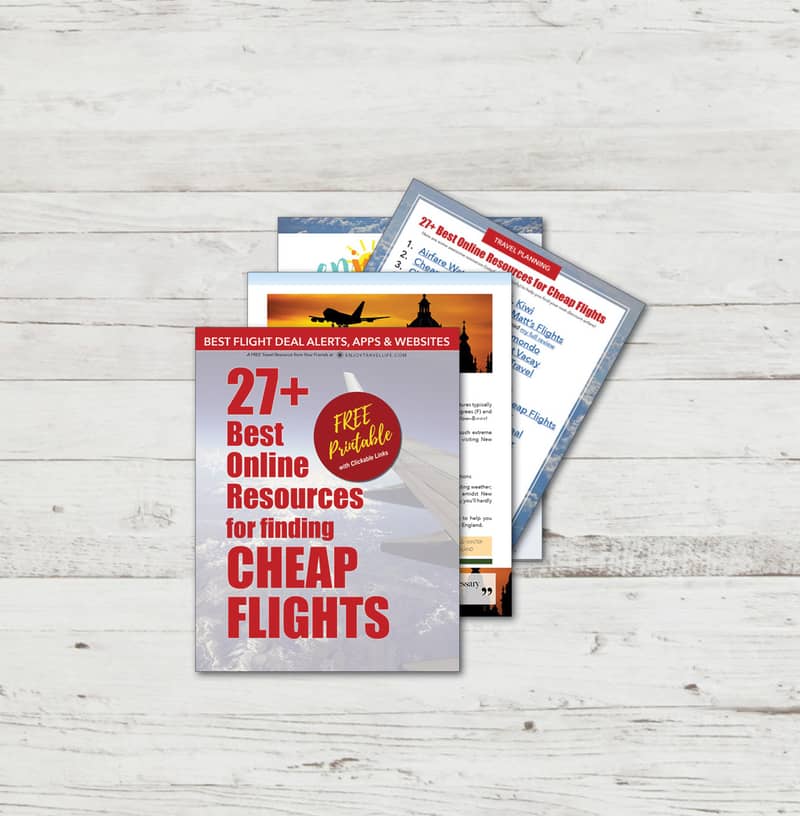 Discover the BEST Online Resources expert travelers use when searching for cheap flights. Download your FREE Guide today!
---
1. Avoid Peak Season
During the peak season, the demand is high.
The travel industry takes advantage of school holidays and peak season to raise the prices of numerous services, products, and activities. It's simple supply-and-demand at play.
They target people who can afford to travel during this period.
The best way to avoid excessive costs is to opt out of this target group if possible.
Travel during the shoulder season.
Due to smaller crowds and shorter airport queues, you're more likely to enjoy your holiday.
More importantly, the prices will be lower at this time of year.
Secondly, the weather is delightful in the shoulder season. Moderate temperatures will allow you to enjoy outdoor activities, even though the high season is over.
Finally, the services you'll find offered during the off-peak season will be high-quality and more personal.
2. Make an Airline Reservation
A last-minute rush can cost you the trip you have been looking forward to. Or, it may force you to extend your vacation by a few days even though you are tight on cash.
To avoid such incidents, it is best to book flights, transportation, accommodation, and other services you want to use during your trip in advance.
Quite simply, booking in advance saves you money.
For example, most airlines offer discounts to people who book flights weeks and months before departure.
Also, you can save money by avoiding high transaction fees and exchange rates associated with peak seasons.
Other benefits of booking in advance include:
Enjoying a hassle-free journey
Saving time by avoiding the long lines that are interchangeable with peak seasons
The opportunity to choose the best deals
3. Buy Travel Insurance
This is one of the most important tips for traveling on a budget.
Travel insurance may seem like an extra expense.
However, it is best to consider it an investment to help you save money in emergencies.
During the trip or before the trip, something unfortunate may happen.
For example, the trip may be canceled, your luggage may be lost during the trip, or you may fall ill.
Travel insurance can take care of many situations and ensure that your beautiful travel venture is not taken away from such things.
4. Use Public Transportation
Using public transportation during your travels can save you a lot of money.
Public transportation is always cheaper than taking a taxi or private ride to take you around town or to your destination.
If you have a rental car for a road trip, you can take advantage of the unoccupied seats by picking up a few people in the direction you are going.
By carpooling, you can save some cash to help you with more adventures during the trip.
5. Choose a Hostel or Apartments
Hotels can be very expensive, and expecting hotels to offer discounts, especially during peak season, can be a big challenge.
So, if you are traveling on a budget, avoid hotels as much as possible.
Instead, choosing a hostel or apartment is a cheaper alternative.
An apartment is a good choice if you are a large family.
But if you are a small group and intend to leave quickly, you can find hostels in the area.
The cost of renting an apartment or staying at a hostel is often a fraction of the price of a hotel room.
If you have friends or relatives in the area you are visiting, you can spend a few nights couch surfing.
In addition, you can stay in public houses for free. However, prioritize your safety when couch surfing in a stranger's home.
And you could also try backpacking on a budget.
Related: 9 Essential Safety Tips for Cheap Hotels in Karachi, Pakistan
Final Thoughts on How to Travel On a Budget
If you plan out things early on, it will be easier to stay on the budget until your head hits the pillow the second you get home.
You may even realize that you have enough unused amount to start planning your next big adventure.
Next Steps
For more information about how to travel on a budget, read the articles below, next:
When to Visit 36 Dreamy Destinations
You will instantly receive the FREE Month-by-Month Destination Guide