When you learn to travel like a pro, suddenly vacation planning doesn't seem so overwhelming (or expensive and stressful!)
We're sharing the 10 best travel tips followed by expert travelers that will save you time, money, and stress.
Try them on your next trip and you'll discover that travel planning can be a breeze!
Find out exactly how, below.
CONTENTS – In this article, you'll find tips to travel like a pro using the 10 best travel hacks to save time, money & stress. They include:
Best Travel Tips to Save Time & Money
1. Bring A Copy of Important Documents
2. Keep Everything Organized
3. Travel Light with Carryon Luggage
4. Get An Annual Travel Insurance Policy
5. Book Your Flights as Early as Possible
6. Book Hotel Rooms Early
7. Pack Your Luggage in Advance
8. The Right Size of Baggage
9. Wake Up Early to Explore the Destination
10. Learn Some Foreign Languages and Phrases
Final Thoughts on How to Travel Like a Pro
Next Steps
Best Travel Tips to Save Money & Travel Like a Pro
Traveling is all money-invested.
But if you want to travel like a pro and be adventurous without investing so much money, you're about to learn how.
It's high time to save money while traveling, especially with costs on the rise.
Each of these tips will help you travel like a pro.
When you're traveling for the first time (or the first time since COVID-19), you might make some mistakes.
And that's ok.
Mishaps happen.
But they can be expensive, not to mention time-wasters and stressful.
To help you travel without any stress, let's dive in to have a look at some amazing tips and tricks.
1. Bring A Copy of Important Documents
First and foremost, the most important things for traveling are important documents.
So, in addition to the original documents you'll need, make sure you have a copy of:
Your passport
Boarding passes
The itinerary
Flight details
Credit card info
Proof of vaccination (depending on country)
That way, if you lose them, you will have a copy ready.
---
Download your FREE Guide to Getting Cheap Flights (below)
so you start saving money today!
27+ Best Online Resources for finding CHEAP FLIGHTS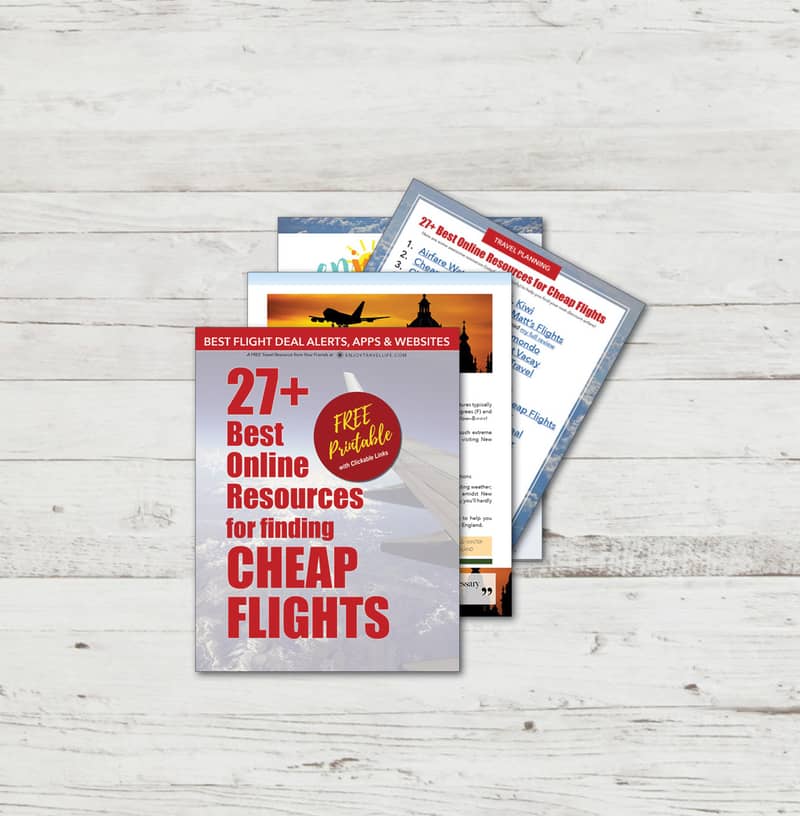 Discover the BEST Online Resources expert travelers use when searching for cheap flights. Download your FREE Guide today!
---
2. Keep Everything Organized (Plus Copies)
Even if you make copies of important documents, you want to be able to easily find it when you need it.
So not only will you want to keep paper documents in light-weight folder, with a copy stored separately, but take digital photos as well.
Then, you can 'favorite' them on your smart phone so you can access them quickly.
That way, if a document goes missing, and you can't find the copy either, you have a digital image handy.
You can also email the digital files to yourself or someone at home, should your phone go missing. That makes it possible to access them via email from any computer.
It sounds like overkill, but pro travelers are organized and prepared!
3. Travel Light with Carryon Luggage
Try being flexible when you're traveling.
That includes traveling with light luggage.
You don't have to bring enough outfits for a 14-day trip. Pack just enough to mix and match, and wash every 5 days or so.
Traveling with smaller luggage is smart for a few reasons.
For one, it is common these days to experience flight delays or cancellations.
When you travel with carryon luggage rather than checking a big bag, you're better able to adapt to the changes.
Another reason is that its easier to freely move around the airport and between destinations when you have a smaller bag in tow.
Then, you can easily take advantage of a tour or other travel opportunity without worry about maneuvering a bohemoth of a bag.
If you're looking for a backpack alternative to carry-on luggage, there are plenty of options available that offer both style and functionality.
Many backpacks designed specifically for travel feature multiple compartments, padded straps, and even built-in charging ports for your devices.
Not only do they make it easy to navigate airports and train stations, but they also offer the flexibility to explore your destination with ease.
If you're in the market for a new backpack, be sure to check out some of the great options available online. Or, you can click here not to miss this luggage sale if you want to score a great deal.
Having light luggage also allows you to navigate efficiently when you want to rent a car, skip the bus queue, navigate crowds vying for taxis lanes, or ascend the bus steps.
You want to be nimble when traveling, and a big suitcase can weigh you down.
4. Get An Annual Travel Insurance Policy
Travel insurance makes sense.
It saves you from unexpected expenses, like having to book a room when your flight is rescheduled, or you find yourself sick in a foreign country.
But if you travel often, make sure you have an annual travel insurance policy.
It will give you peace of mind whenever you travel.
A good policy will cover any unexpected medical emergencies while traveling, lost luggage, travel delays, and so on.
An annual policy for travel insurance may be offered at a cheaper rate.
This approach is highly beneficial if you travel (or want to travel) more frequently. By virtue of the fact that you set it up once, you save time and money on each trip.
You'll find there are certain credit cards that may offer you travel insurance.
Just know that you need to buy them as a separate entity to enjoy the perks.
It is also important to check out the fine print whenever you get a travel insurance policy, especially the exclusions and special circumstances.
And, it's a good idea to get a policy that includes ambulance coverage.
5. Book Your Flights as Early as Possible (and Hunt for Deals!)
Another of best tip for travelers is booking your airline tickets early to get the cheapest flights.
If possible, make sure to book your flights well in advance of planning your trip.
Taking advantage of the use of residential proxies can also be an effective way to save money on plane tickets. By using residential proxies, you can access ticket prices that are typically only available to users in specific geographic locations.
But be very sure you have a valid passport for the destination, first.
That said, great travel opportunities can come up quickly!
If you are a US citizen and want to get your passport fast, here you can find the best passport renewal services in Atlanta.
When you are ready to book your flights, compare rates to make sure you booking your trip at cost-effective prices.
Skyscanner is one of the best places to search for cheap flights. The map feature in this app allows you to choose the cheapest days for flying in your preferred traveling month.
But there are many flight aggregators in addition to Skyscanner you should consider.
Flight aggregators scour different websites to find the best fares for budget and standard airlines.
Then, most pro travelers will then book the flight directly through the airline. That's always the safest option, ensures your seat, and often allows you to cancel your purchase in 24 hours.
You can sign up for flight price drop alerts on farealert.com.
Another great way to get cost-effective plane tickets is to sign for flight-saving newsletters, like Scotts Cheap Flights.
6. Book Hotel Rooms Early
Another in-demand commodity when planning your trip is the accommodations. This is especially true in popular destinations.
Some travelers book hotel rooms in 6 to 7 months in advance of travel!
If you want to travel like a pro, make sure when you do book hotel rooms prior to your trip, they are refundable.
Sometimes, itineraries change or mishaps happen at the last moment.
That's why it's smart to choose a hotel room with a refund policy.
It's all the more important to book early when you're going during the busy season.
That ensures more affordable prices for your accommodations.
Search Booking.com and expedia.com to find great deals, then reach out directly to the hotel to see if they can price-match.
Usually, they'd much rather book you directly than have to pay the booking fee through the 3rd party app.
And, it guarantees your reservation is firm.
If you find yourself in a situation where the room wasn't booked properly, or your itinerary changes, you can always look on HotelTonight to find last minute deals.
Or, if you just need a few hours to shower and rest your head before the next leg of your trip, check out Dayuse.com. This can be a lifesaver!
7. Pack Your Luggage in Advance
Packing at the last minute can be really daunting.
You're more likely to forget something, or worse – overpack in a frenzy.
So, it is important to start packing in advance.
You'll want to make sure that you have interchangeable outfits for the weather at your destination.
And, you want to plan a travel outfit that allows you to be comfortable and sleep lightly as needed.
You can use certain packing cubes available on the market to organizing your suitcase as well.
These maximizing your space while keeping the clothes wrinkle-free.
Space-saving features in a suitcase may allow you to pack easily and plan your outfits accordingly.
Remember, shoes packed at the bottom (and ideally, germ-free within shower caps or plastic bags)!
8. The Right Size of Your Carryon Luggage & Personal Item
When traveling by plane, choose the right luggage for carryon whenever possible. The perfect bag makes a huge difference.
If you're already bringing a small rolling suitcase as your carryon item, then you can usually bring one additional "personal item."
That might be a:
Big purse
Briefcase
Camera bag
Diaper bag
Laptop bag
Saddlebag
Small backpack
Totebage
Similarly sized item
It must be able to fit underneath the seat in front of you.
A traveling backpack is one of the best options as it allows an even distribution of weight.
Plus, you want to keep your hands free.
Alternately, you can bring a big purse or saddlebag with pockets.
You can also go for a Tote bag or a cross-body bag.
Staying organized on the flight is game-changing, especially if you travel a lot and know the essentials to carry on.
Here is the most important thing, though.
Before booking your airline tickets, check the weight and size restrictions and plan your trip accordingly.
Then double check it.
Having an item rejected upon checking in or boarding can be disasterous!
9. Wake Up early To Explore the Destination:
To truly travel like a pro, try waking up early to enjoy the tourist destinations without extreme crowds.
Most popular tourist attractions open early in the morning.
If you can find the will to get up early, it allows you to beat the crowds.
Doing this allows you to be in the best spots and enjoy the quiet side of hustling cities, like those in Mexico, Veneto, and New York.
And, you'll get some great photo opportunities, too!
Once you try the early-bird approach, you'll love taking perfect photos (without photo bombs) on your early morning outings.
10. Learn Some Foreign Languages and Phrases
Another way to travel like a pro is to speak the language. Take some time to learn important words and phrases in the local language.
You can use flashcards, or try language apps like Duolingo and Babbel.
Being able to speak the language helps you communicate and move around easily in a place that's foreign to you.
Plus, locals will appreciate that you have made some effort to learn the basics.
Some of the phrases you will want to master include, "please," "hello," "goodbye," "thank you," "how much?" and "where is…?"
It also doesn't hurt to know the words for numbers and money.
Taking the time to learn the phrases you will likely need allows you to travel like a pro with ease
Final Thoughts on How to Travel Like a Pro
It's one thing to plan your trip. It's another to travel like a pro.
Now that you know these expert tips, you'll be ready to plan a trip that saves you time, money, and stress!
Related: When is the Best Time to Travel?
Next Steps
For more expert travel tips, read these articles, next:
When to Visit 36 Dreamy Destinations
You will instantly receive the FREE Month-by-Month Destination Guide