The idea of visiting Mauritius on a budget may sound far-fetched, but it's a real possibility. While the airfare may set you back depending on where you live, once you arrive, you can easily save money on your Mauritius trip. To discover 7 ways to make Mauritius a more affordable island vacation, see below.
CONTENTS – In this article, you will learn several ways you can save money while vacationing in Mauritius, including:
About Mauritius
Mauritius is a subtropical African country known for its sunny beaches, cool blue waters, and lush rainforests. The eco-rich island is also home to millions of Mauritians who celebrate their diverse culture through their food, architecture, traditions, and way of life. 
Thanks to the country's gorgeous landscapes and warm hospitality, a lot of travelers choose Mauritius as one of their top destinations. However, it's easy to get sucked in by all of the island's offerings that a lot of tourists find themselves strapped for cash during your Mauritius vacation.
7 Money-Saving Tips When Traveling in Mauritius
Fortunately, there are a lot of things travelers can do to help them spend less while still being able to explore all of Mauritius' wonders. From making smart travel preparations to taking advantage of the clearance sale in Mauritius' stores, here are 7 money-saving tips you can use when traveling on the island.
---
Download your FREE Guide to Getting Cheap Flights (below)
so you start saving money today!
27+ Best Online Resources for finding CHEAP FLIGHTS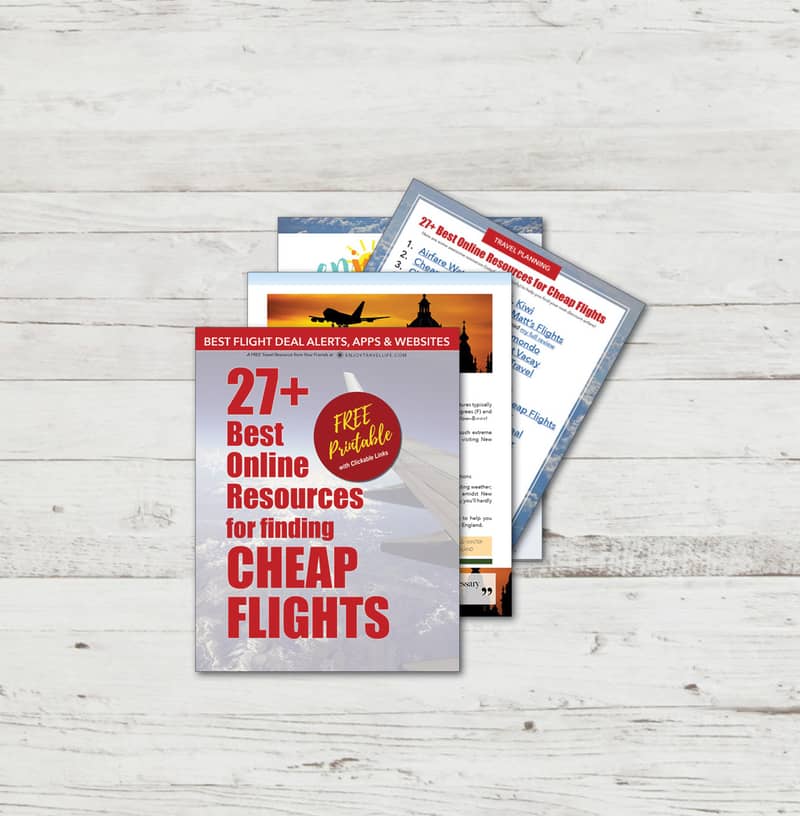 Discover the BEST Online Resources expert travelers use when searching for cheap flights. Download your FREE Guide today!
---
1. Choose the Right Time to Visit
Before you start creating your itinerary, the first thing you have to do is choose the right time to visit the country. Mauritius is a small island in the middle of the Indian Ocean and it can easily be overcrowded with tourists during peak season (Nov. – Apr.)
That's why you should travel to the island around the lean season, which is between May to October. During this time of the year, the weather in Mauritius is cool, dry, and sunny. As a result, airlines entice tourists to visit the country by lowering the price of their tickets.
Related Article: 3 Benefits of Traveling in the Shoulder Season
2. Stay in A Budget-Friendly Accommodation in Mauritius
Even though luxury hotels and resorts promise to give you the island experience from the lobby to your room, staying in one can get pricey. Not only is booking a hotel room expensive, but you'll also be tempted to purchase their in-house food and services. 
Thankfully, there are a lot of affordable hotels in Mauritius and other lodging options that will save you money.
You can find budget hotels, guesthouses, and Airbnbs that are at your price range, and are situated in prime locations. Booking these options can help you save on costs and you'll still be within walking distance of the island's shops, must-see attractions, and beaches.
3. Purchase Some Groceries from the Local Markets
If your lodging comes with a fully equipped kitchen, it's a good idea to buy some groceries. Taking advantage of the space will help you cut down on costs because you'll be able to cook your own meals and store them in the refrigerator to eat later. 
Checking out the island's grocery stores and markets is also an excellent way to explore the country's local flavors. What's more, it's usually cheaper to buy ingredients for your meals than eating at a restaurant. This is especially true if you're traveling in a group. 
You may want to dine out a few nights during your trip, but you don't have to do it every night—especially if you're looking to keep your expenses down.
Apart from food, you can also stock up on water and household necessities, too. This is a great tip if you want to lower your expenses while staying on the island for several days. 
4. Go Bargain Hunting for Souvenirs
Buying souvenirs is a great way to commemorate your amazing trip to Mauritius, and the island isn't short on supply when you're looking for trinkets and goods to bring home. You can find many traditional and popular souvenirs, which range from strong rums to musical instruments.
However, if you're looking for a good bargain, you can check out the local shops that are offering discounts and holding clearance sales, as well as other deals and promos. 
Related Article: 29 Souvenir Ideas You'll Love to Collect 
5. Weigh Out Your Transportation Options
Getting around Mauritius on a budget will depend on the size of your travel group and your itinerary. 
If you're only interested in visiting the beach, you can likely find an affordable lodging option that is walking distance from the shore. However, if you plan to visit a number of locations, you need to think about your transportation options.
The best way to travel around Mauritius on a budget is by bus. It's the cheapest way to get around and the bus network connects you to just about anywhere on the island. Keep in mind that the bus is the slowest means of transport and it comes with a curfew. City buses operate from 5:30 am to 8:30 pm, while countryside buses operate from 6:30 am to 6:30 pm.
Mauritius' Metro Express is another budget-friendly way to travel. However, it only has a limited number of stops and is only available between Quatre Bornes and Port Louis. There are plans to extend its routes, so keep an eye on updates for your future travel plans.
If you're an experienced driver, then renting a car is your best option. You can rent a car for as low as Rs 1,000 (about $13 USD) a day and filling up the tank is cheap. Driving a rental car is also an excellent way to access hard-to-reach attractions. Plus, if you're traveling in a group, you can share the expense.
Alternatively, scooters are available for rent at around Rs 600 ($8 USD) a day. Scooters are more compact than cars and can get you to your destinations fast. This mode of transportation is perfect for solo travelers or duos who want to experience a more exhilarating way to get around the island.
6. Try the Island's Cheap Local Eats
You don't have to go to an expensive restaurant to experience Mauritius' best cuisines. When you want to experience Mauritius on a budget, You can find a lot of cheap eats around the island. In fact, many of them are highly rated by tourists and locals alike. 
Check out the restaurants near your accommodations and you're bound to find places that offer popular, affordable Mauritian dishes bursting with Indian and Creole flavors. 
If you walk down to the beach, you'll be greeted by a train of food trucks, shacks, and stalls where you can get a decent meal inexpensively. 
It's also easy to tell which restaurant offers the best fares. Simply follow your nose and the line of people waiting for their orders to be taken.
To help jumpstart your gastronomic adventure in Mauritius, here are a few popular Mauritian fares you can seek out:
Dholl puri – like a tortilla made with yellow split peas, wrapped around a variety of curries and pickled vegetables
Boulettes – dumplings filled with chayote (a mild-flavored, edible gourd), chicken, pork, beef, shrimp, or vegetables served in either soup or salad
Salade confit –  a fruit salad usually made with cucumber, mango, pineapple, tamarind and red chilies
Alouda – a refreshing cold beverage made with milk, basil seeds, and agar-agar (a plant-based gelatin) 
Mine frites – this fried noodle dish is a stir-fry with toppings such as  shrimp, egg, vegetables, fish sauce, chillies, and other savory ingredients; also known as "Mauritian Chow Mein."
Fresh seafood treats – Since Mauritius is an island, you can enjoy plenty of fresh seafood 
7. Free Activities in Mauritius | Explore the Island for Free
Your trip can't be complete without visiting the island's must-see destinations. After all, exploring the island's gorgeous landscapes and places of interest are some reasons you're taking a trip to Mauritius. 
You'll discover various Mauritian tourist websites that offer reasonably priced group tours. However, if you really want to save money, you can visit many of the country's top attractions for free.
You won't have to pay any entrance fees at areas like:
Le Morne Mountain
Rochester Falls
Black River Gorges National Park 
As long as you can get there via a car or bus, you can hike, swim, and take in the island's lush greenery to your heart's content.
Another location that doesn't have an entrance fee is Ganga Talao. Also known as the Grand Bassin, Ganga Talao is one of the most important Hindu sites in the country. It's a sacred lake located in the southwest region of Mauritius and it is where Hindus meditate, chant, pray, and make offerings. 
During the Maha Shivaratri festival, Ganga Talao serves as an important pilgrimage site for the Hindus. Ganga Talao is open to all, so you can take in the site's stunning views and visit the remarkable temples free of charge. You can, however, make a small donation if you want to offer thanks for your experience.
Final Thoughts on Mauritius on a Budget
Experiencing Mauritius' top destinations and good food is the best way to make your trip to the island memorable. However, it doesn't mean that you have to go all out and blow your entire budget during your visit. With the help of this guide, you'll be able to spend less and still get the full Mauritian experience. So go ahead, book Mauritius!
Next, find out the best way to get notified about affordable flights to Mauritius.
Here are other money-saving travel ideas from an expert.
When to Visit 36 Dreamy Destinations
You will instantly receive the FREE Month-by-Month Destination Guide