Luxury travel on a budget sounds like a contradiction of terms. Luxury vacations are expensive, right?
Most people love the idea of a luxury vacation, but the price tag–not so much.
But it's possible to enjoy a luxury trip that's within your budget.
So, below you'll learn 6 easy tips that will help you plan a decadent vacation without breaking the bank.
Continue reading to find out more.
CONTENTS – In this article, you'll find tips on enjoying luxury travel on a budget, including;
Six Tips For Affordable Luxury Travel
1. Travel in the Off-Season
2. Upgrade to First-Class for Free
3. Be Smart About Your Destination Choice
4. Stay at Your Own Holiday Home
5. Go All-Inclusive
6. Book Well in aAdvance
Final Thoughts on How to Plan Luxury Travel On a Budget
Next Steps
Six Tips For Affordable Luxury Travel
People often equate luxury with paying exorbitant fees for the experience.
But, as we've said, luxury travel doesn't have to break the bank.
Traveling in luxury is much easier to do if you realistically plan the trip with a clear idea about your budget limitations.
If you dream of traveling in style, there are six simple tips you should know about.
They will help you have that luxury getaway experience you've always wanted.
1. Travel in the Off-Season
Traveling outside of peak times can significantly reduce your costs.
This means your budget can stretch much further.
You'll want to avoid the popular summer months like August or traveling around holidays, such as Christmas. That's when the prices soar for airfare, lodging, and other travel expenses.
Instead, consider taking a luxury vacation in the low-season months, such as January and February.
Then, you'll more likely get the most value for your money.
For instance, staying in a 5-star hotel in the quiet season not only makes it more affordable due to cheaper room rates. You'll also have a better choice of rooms and may even be offered an upgrade to a balcony room or suite.
---
Download your FREE Guide to Getting Cheap Flights (below)
so you start saving money today!
27+ Best Online Resources for finding CHEAP FLIGHTS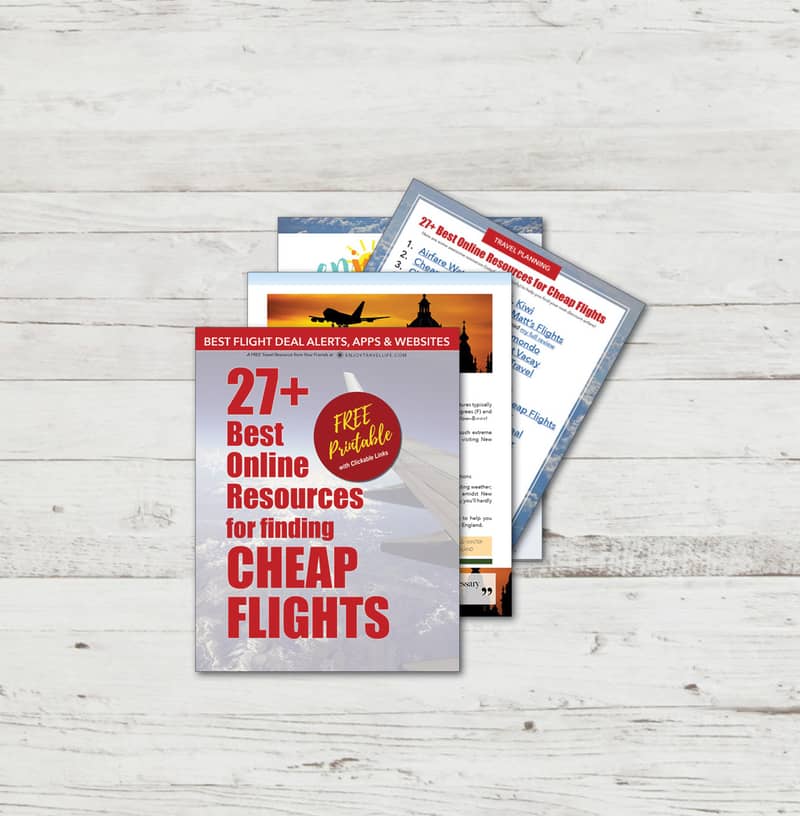 Discover the BEST Online Resources expert travelers use when searching for cheap flights. Download your FREE Guide today!
---
Many destinations around the world offer the same experiences whether you visit them off peak or on peak. But the major difference is the cost you will incurs when you travel in peak season.
So, when you plan a trip to any luxury spot during the off season, you can manage it under budget.
And you won't have to compromise the joy and fun that goes along with luxury travel.
Related: 3 Good Reasons to Travel in the Shoulder Season
2. Upgrade to First-Class for Free
Many airlines offer reward schemes. For instance, frequent flyers earn "air miles" or "points" when you fly with their brand.
Then, you can save these up to exchanged for rewards, such as free flights or upgrades.
There are other ways you can get a free upgrade to first class, too.
One such way is to volunteer to be bumped to another flight if yours is overbooked in exchange for an upgrade.
These are just a few of the ways you can afford luxury travel on a budget when it comes to airlines.
3. Be Smart About Your Destination Choice
Your choice of destination will play a significant role in how much you'll pay during your travels.
It will affect everything from your accommodations, to food, and public transportation. These things will be cheaper in some places compared to others.
For example, western Europe is more expensive than eastern Europe.
So, you'll need to consider whether it's the destination that's important to you or the luxury experiences you'll enjoy once arrive. You can have one or the other on the same budget.
A 5-star hotel in say, Bogota Columbia ($42/night), is a fraction of the cost as compared to a Royal Suite at the Burj Al-Arab in Dubai ($28,000/night).
Of course, there are plenty of options in between those extremes.
Choosing the right destination is the smart thing to if you want to enjoy luxury travel on a budget.
With a little practice, you can put this concept to good use and keep your trip affordable – without sacrificing luxury.
4. Stay at Your Own Holiday Home
A holiday home with its own spa, gym and swimming pool may sound out of reach.
But if you travel often, it could make economic sense, rather than continually paying out for accommodations.
Granted, a holiday home is a big investment.
But if you love where it is, then you know it'll be worth it.
This is especially true if you usually travel with extended family or a large group of friends.
In fact, over time, it may even work out to be cheaper! That will save you money in the long run.
This is a one tip people usually overlook.
Regretfully, it can cost you a lot of money not to consider this option.
In the end, investing in the right property will keep your luxury travel from getting too expensive.
Related: 5 Important Things to Consider Before Buying a Holiday Home
5. Go All-Inclusive
The initial upfront costs of taking an all-inclusive holiday may be higher.
But the savings throughout your stay can be significant!
Plus, it means you can relax knowing that all your essentials, such as accommodations, food, drinks, and entertainment are included.
Definitely consider going all-inclusive if you want to keep your trip under budget.
That way, you can indulge in the best luxury experiences without any unexpected costs.
Related: Best Website to Book Holidays? Look Here to Unlock All-Inclusive Savings
6. Book Well In Advance
Generally speaking, the earlier you book your flights or other transport, the cheaper it will be.
Unless you're happy to snag a last-minute deal, the same is true for accommodations, too.
This rule of thumb can even apply to activities during your travels.
So it's always worth checking online to see if you can book tickets and excursions in advance of your stay.
Another point to consider is whether the flights, accommodations, or tickets are free to cancel.
Then, if you see a better deal, you simply swap them out.
The more organized you are, the greater the savings you'll see.
This is especially the case if you're able to be flexible about the exact dates and times of your trip.
Final Thoughts on Planning Luxury Travel on A Budget
Planning your luxury travel on a budget will make your your trip more joyous and memorable, and of course, more affordable.
Remember that even if you aim to keep your trip under a certain budget, you don't have to compromise on luxury.
Not when you know these 6 easy tips above, anyway.
Next Steps
To learn more about luxury travel on a budget, read the articles below, next:
When to Visit 36 Dreamy Destinations
You will instantly receive the FREE Month-by-Month Destination Guide