Give these 5 home buyer tips some serious thought before you begin looking for a new home. Doing so will help you navigate today's home-buying process, which can be tricky whether you're buying your first home or downsizing. With the tips below, you will be much better prepared to make an offer on your dream house! 
CONTENTS – In this article, you will learn some important steps to consider before you buy a home, including:
A Cause for Celebration!
One of the most common aspirations in life is to become a homeowner. In this day and age—and especially during the housing boom—few fulfil this dream. In part, that's because of:
Rising housing costs
Poor wages
Inability to save a substantial deposit amount
So, if you are among the fortunate few who have reached the point where you are about to become a homeowner (again), congratulations! 
Now comes the hard part. Unfortunately, purchasing your house entails more than just putting down a deposit on a property you like and being approved for a mortgage. So, read on for some things to know before buying a home!
1. Is Now the Time to Buy?
Real estate investors are scooping up homes faster than ever this year, taking advantage of record-low interest rates, according to Seattle-based Redfin Corp. That leaves affordable homes hard to find or entrenched in steep bidding wars with consumers.
If you are downsizing and have sold your family home, you may have made a bundle in profit. But now the question now becomes, "where can I afford to move?"
You may look at all your living options, which may look different from city to city. In some parts of the US, it's more cost effective to rent instead of buying a home; for others, the opposite. This is a home-buyer tip you don't want to overlook.
For instance, this infographic compares buying vs. renting in the US: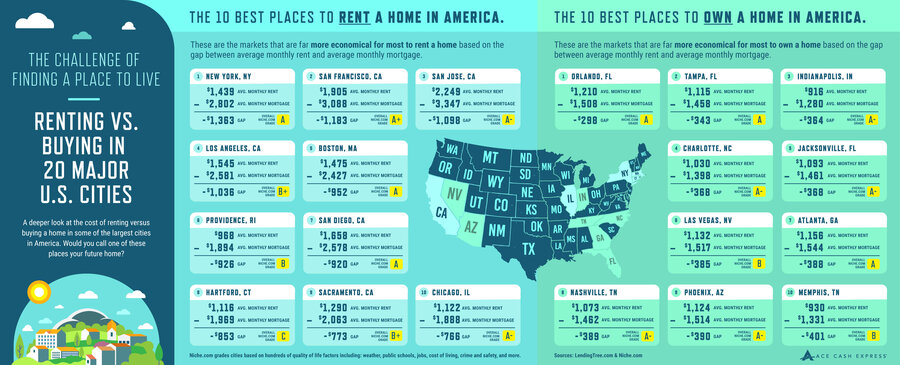 So take a look at the city where you'd like to live and evaluate the best scenario for you.
Of course, there's more than just the cost to consider, so if you're still committed to being a homeowner, continue reading.
2. Look at Ideal Mortgage Rates
The very first thing you should do is look at the average price you can expect to spend for the type of house you want. 
If you're looking for a smaller property, you may expect to pay a significantly lower monthly payment compared to a five-bedroom home in the heart of London. 
But that's not the only thing that dictates what your monthly payment will be. Instead, it depends on the size of your deposit, and the current mortgage rate.
What Affects Your Mortgage Rate?
Mortgage rates fluctuate daily depending on inflation, economy, job growth, the federal reserve, and other economic factors outside your control. 
Some lending products, like adjustable rate mortgages, and properties like second homes, cash-out financing, condominiums, investment properties, and manufactured homes, may also command a higher interest rate. That's because the lender may view them as a riskier investment.
Besides that, there are other things that may be within your control that will cause rising mortgage rates.
Credit Score: The best mortgage rates are offered to those who have the highest credit score.
That means you want to look at your scores well ahead of time, dispute any inaccuracies, pay down credit card balances, and improve your credit-worthiness where possible. This is one of the home-buyer tips that can potentially make or break your loan.
You can request a free annual credit report from the three reporting bureaus (Equifax, TransUnion, and Experian) and also check your FICO score. The best rates go to those whose credit score is 740 or higher.
If you're credit score is below 740, don't worry. Unless your score is rock-bottom, you can usually find a mortgage lender. But you may not get the best interest rate.
Here are tips on how to maintain a good credit score.
Loan-to-Value (LTV) Ratio: This number compares the amount of the loan you're requesting to the home's value.
Therefore, if you make a bigger down-payment, your LTV will be smaller, and vice versa.
This is one of the important home-buyer tips because a lender views a LTV higher than 80% as a high risk, and may raise the mortgage rate, especially if your credit score is on the lower side. 
So, if you can put more money down on a house, you may get a better rate.
And be sure to shop around to find the lender who can offer you the best rate. 
Keep in mind that besides the principal payment on your mortgage, you'll also likely have to add in taxes and insurance.
Then you can decide what you can easily afford—so you're not left regretting your decision and short on cash later on.
3. Know What You Want From a Property
Now that you know what kind of rates and what size mortgage you can afford, envision the kind of house you want.
Maybe this is one of the home buyer tips that sounds like a silly statement, but you must know exactly what you want from a house before even considering viewing it. 
You can search online, browse magazines for inspiration, or drive around looking at houses to discover what features you like and don't like.
If you are working with a real estate agent, develop a list of the many qualities you will need in your new house, ranked from absolutely must to desirable. That could be anything from solar panels to custom plastic tanks for water conservation. 
Sharing these requirements with your realtor enables them to locate ideal homes for you, saving you both time and money. 
Knowing exactly what you want is also vital so that you don't wind up regretting buying the house you're in a few months later. Whether that's a park model cabin or a "McMansion," do some soul-searching and really think about what are non-negotiable and what are "nice to have" features. 
And don't forget to consider the neighborhood, tax rate, local amenities, and planning approval rights if you want to expand in the future.
4. Don't Skip On the Surveyor
One of the most common mistakes people make when purchasing a home is failing to pay for a surveyor on a property they are especially interested in. 
While it's fair that you want to save as much money as possible, it's a good idea to pay for this home inspection out of pocket. By hiring a surveyor, you will be certain the home you're buying will not be a cause for regrets later on. 
The surveyor will be able to tell you everything that needs to be improved in the home you're planning to buy. Then, you can make an educated choice on your purchase. 
5. Size Up The Property
Finally, you don't want to make the mistake of purchasing what you believe is the ideal property, only to discover your furniture doesn't fit comfortably within. 
Sure, you can lose the king-size bed when you downsize and streamline your living room set, but think about your future intentions, too. 
But give some thought to your empty-nest house plans.
Will you be hosting your adult children at the holidays, as well as their spouses and someday your grandbabies? 
Or perhaps you don't need four bedrooms now that the kids have moved out, but you do want to have room for two offices in your empty-nest years: one for you and one for your significant other. 
Maybe you plan on eventually retiring and spending your golden years in this new home. In that case, you'll want to be sure you can live comfortably on one floor, which includes first floor space to sleep and shower.
The key is to downsize without feeling cramped, and with a nod to your future needs.
Final Thoughts on Home Buyer Tips
Buying a home can be an overwhelming task at any stage of life. When you take these things above into consideration before you make an offer, you'll feel more assured that you're making the right choice in buying your property. And that is priceless. 
Photo credit: Signing – Scott Graham (Unsplash)
When to Visit 36 Dreamy Destinations
You will instantly receive the FREE Month-by-Month Destination Guide