Perhaps New England is known best among travelers for its quaint towns, historic charm, and vibrant fall foliage. As if that weren't reason enough to visit, you'll find plenty of local and world-class art in the region.
Here are what we think are the best art museums in New England to round out your itinerary.
CONTENTS: In this article, you will discover the following New England Art Museums:
The Portland Museum of Art in Portland Maine
By Stella Jane of Around the World in 24 Hours | Facebook
Portland, Maine, is one of the most charming places in the US to visit in the summer.
But you can't spend the entire time in Portland eating lobster and enjoying the ocean!
For a little culture, check out the Portland Museum of Art. It's one of the oldest art museums in the United States and an excellent place to spend an afternoon.
You might even consider taking this small group walking tour of Portland, which will give you a great intro to the area. It includes a visit to the museum.
The Portland Museum of Art has an amazing collection of American painters.
They place a special emphasis on artists associated with New England. In fact, the museum features many works by the legendary Wyeth family and Winslow Homer.
Homer spent a great deal of time painting Maine's stunning seascapes at his home in Prouts Neck, Maine. His studio now belongs to the Portland Museum of Art.
Tours of Homer's home leave from the museum in the summer season.
Even travelers who are on a strict budget can enjoy the Portland Museum of Art's sculpture park for free.
If the weather is nice, which happens often in Maine in the summer, you'll be able to enjoy the fascinating sculptures.
Kids can even climb on Play Sculpture by Isamu Noguchi.
Don't Miss the McLellan House in Portland, ME
If you like architecture, don't miss the chance to see the McLellan House while you're visiting Portland, Maine. It used to house the Portland Museum of Art when the collection was smaller.
Admission to the McLellan House is included with the museum ticket.
Keep an eye out for the impressive "floating staircase" inside the McLellan House. It looks precarious, but don't worry. It's safe to walk on.
Some other must-see works at the Portland Museum of Art include:
Winslow Homer's Weatherbeaten
NC Wyeth's Dark Harbor Fishermen
Mary Cassatt's Helene is Restless
The Portland Museum of Art is open every day except for Monday and Tuesday. You might prefer to visit on a Friday when they have free admission.
If you have time, spend a few hours on the water with Lucky Catch Cruises while you're in Maine.
You'll enjoy a fun lobster fishing experience in Portland and get a tour of Portland's scenic coastal beauty.
And if you're looking for a great place to stay in Portland, read this review of the Portland Harbor Hotel.
Peabody Essex Museum in Salem, Massachusetts
By Sue Davies and Regina Ang of Travel For Life Now | Instagram
Who would imagine that one of the oldest art museums in the United States would be located in the small town of Salem, Massachusetts?
Or that Salem is more than the location of the Salem Witch Trials?
Dating to 1799, the Peabody Essex Museum (PEM) in Salem, Massachusetts has its roots in the East India Marine Society and its members.
By 1825, the East India Marine Hall opened with artifacts from Asia, Africa, and many remote corners of the world.
By the late 1860s, the institution had transformed into the Essex Peabody Museum.
You'll find it less than 30 miles from Boston. It is now one of the largest museums in the country.
The Peabody Essex has extensive collections of African, American, Asian, maritime, and Native American art.
Must See Exhibits at Peabody Essex Museum
The must-see's at The Peabody Essex include:
the Gardner-Pingree House, built in Salem in 1804
Yin Yu Tang, a 200-year-old ancestral home of a merchant that was transported from China and re-constructed (permanent display). Visiting requires a separate scheduled timed ticket for entry ($6).
The East India Marine Hall, which contains some of the original artifacts, is now an annex of the Peabody.
Within the museum itself are also hands-on interactive exhibits and performance spaces.
We saw a very interesting exhibit of Hans Hoffman's abstract work when we last visited.
There is a beautiful, airy and light-filled atrium for the break that you will definitely need while visiting the museum.
Currently open from Thursday through Sunday, visits to the Museum are via advance purchase timed tickets.
Adults pay $20, seniors over 65 are $18, and students with ID at $12. Youth under 16 and residents of Salem are free.
Check the website for other complimentary visits. The museum is part of the free museum day, which takes place annually in September.
If you like street art, check out the outdoor gallery at the Punto Urban Art Museum on the other side of town.
To avoid the fall crowds drawn to the area as Halloween nears, you might instead consider visiting Salem in the summertime.
It's a lovely waterfront destination north of Boston.
Rhode Island School of Design (RISD) Museum in Providence, Rhode Island
By Jordan of Inspired By Maps
One of the many fun things to do in Providence is to visit to the Rhode Island School of Design (RISD) Museum.
It's one of the best art museums in New England.
The RISD Museum was founded back in 1877 through an affiliation with the Rhode Island School of Design. It houses about 100,000 pieces of art from around the world.
This collection is displayed across five buildings connected by a stunning glass bridge.
Pritzker Prize-winning Architect Jose Rafael Moneo conceived the current configuration of the complex.
It truly compliments the displays and exhibits within.
Around 3,000 pieces of art are on view in the museum at any time. The diverse collection represents various cultures from ancient times to the present.
More on the RISD Museum Collection
If you're curious about classical art, the accumulation of Greek coins, sculptures, mosaics, and Roman jewelry will intrigue you.
The textiles exhibition is particularly noteworthy, too.
It showcases items demonstrating the evolution of the art form from 1500 BC until now.
Impressionist and Post-Impressionist canvases are other active areas of the collections.
Among the pre-eminent international and American artists featured are
Picasso
Monet
Paul Revere
Andy Warhol
Chanel
As you might expect, the museum also features distinguished works by Rhode Island artists and designers.
This includes 18th-century furniture makers Goddard and Townsend, 19th-century Rhode Island painters John Noble Barlow and Gilbert Stuart.
It also includes the more modern glass artist Dale Chihuly. This is especially relevant as Chihuly studied at RISD.
Three must-see works of art include:
The Dale Chihuly Gilded Frost and Jet Chandelier
The iconic Mid-Century Modern American coffee pot by John Prip
The entire collection of Indian saris and Chinese ceremonial robes
Visiting is surprisingly affordable for a museum of this quality. Entry is $15 for adults.
Still, for those who cannot afford this cost, admission is free every Sunday (10 am–5 pm) and on the third Thursday evening of each month (5–9 pm).
You can spend a whole day here, but around 3 hours is enough to see it all without rushing.
If you plan your day right, you could even add a trip to the Newport Mansions to your itinerary.
Yale Center for British Art in New Haven, Connecticut
By Lyndsay of The Purposely Lost | Pinterest
As one of the best art museums in New England, the Yale Center for British Art is surely not to be missed.
Located in New Haven, Connecticut, the Center holds the most extensive collection of British art outside of the United Kingdom. It is part of Yale University's museums.
This collection includes thousands of pieces during the Center's designated period.
Art from the 1400s through the present day ranges from paintings, sculptures, and photographs, to research volumes on the history of British art.
Included in its numbers are various works by Americans who were living in Britain during this timeframe.
The collection was initially given to Yale by alum Paul Mellon in 1966.
Now, the collection is housed in a sustainable building designed and constructed by Louis I. Kahn in 1977. It sits directly across the street from another of his designs, the Yale University Art Gallery.
The Center offers tours to the public of the collections, special exhibitions, and architecture.
It also promotes a research program that includes lectures, conferences, and workshops.
Finally, you can download an app to view in the museum or at home as a guide to the works.
Notable Works at Yale Center for British Art
Notable works at the Yale Center for British Art include:
Pumpkin with a Stable-lad (1774) by George Stubbs
The Blacksmith's Shop (1771) by Joseph Wright of Derby
Dort or Dordrecht: The Dort packet-boat from Rotterdam becalmed (1818) by J. M. W. Turner
Cloud studies (ca. 1821–25) by John Constable
You can spend a whole day wandering through the Yale Center for British Art. Since admission to the museum is free, it makes for an easy addition to any New Haven itinerary.
Norman Rockwell Museum in Stockbridge, Massachusetts
By Jackie Gately of Enjoy Travel Life | Instagram
At the Norman Rockwell Museum in Stockbridge, Massachusetts, you'll find the world's largest collection of original Norman Rockwell art.
On display are hundreds of Rockwell's original paintings, along with the complete series of Saturday Evening Post covers.
Must-see Rockwell paintings on-site include:
Triple Self-Portrait
Four Freedoms
The Problem We All Live With
The Runaway
Main Street Christmas
You'll also find a grand collection of Rockwell memorabilia at the museum. This includes the artist's sketches and reference photos.
Next, stroll through the artist's studio.
It's been moved from its original location across town to this idyllic spot overlooking the Housatonic River.
One visit to the Normal Rockwell Museum will reveal why this masterful artist and illustrator was considered one of the best-loved U.S. artist.
You can find more details in this in-depth review of the Norman Rockwell Museum.
And if you work up an appetite, stop at the Red Lion Inn for a bite, or even stay overnight in the Berkshires.
The Smith College Museum of Art in Northampton, Massachusetts
Vicky of Buddy The Traveling Monkey | Instagram 
Another one of the best art museums in New England is the Smith College Museum of Art (SCMA) in Northampton, Massachusetts.
With over 27,000 pieces of artwork, it has been recognized as one of the leading academic museums in the US.
The artwork ranges in date from ancient Greek pottery to modern video art. Pieces come from all over the world.
SMCA has both permanent and rotating exhibits.
An exceptional temporary exhibit called Black Refractions highlighted the works of various artists of African descent from the Studio Museum in Harlem.
From their permanent collection, you'll want to take a look at these must-see works of art:
Ornate French reliquary made between 1200-1210
"Orphan Man with Walking Stick" painted by Vincent van Gogh in 1882
"Market Scene" painted by Diego Rivera in 1930
"Buzkashi, from the series Musharaff" painted by Saira Wasim in 2003-2004
Oddly enough, they encourage visitors to check out the bathrooms on the lower level directly next to the exhibition gallery.
That's because they have been designed as functional art and are quite beautiful!
Just be sure to knock before you go in.
Admission to SCMA is $5 for adults and free for kids ages 0 to 18. On the second Friday of the month from 4 to 8 p.m., admission is free to all visitors.
You should plan to spend about two to three hours visiting here.
Should you visit this outstanding art museum, you'll find it's definitely one of the best things to do in Western Massachusetts.
Museum of Fine Arts in Boston, MA
By Krystianna from Volumes & Voyages | Instagram
One of the best art museums in New England is the Museum of Fine Arts (MFA) in Boston.
It is located right next to the famous Fenway neighborhood, across from Northeastern University.
The MFA was first opened to the public in 1870. It has been Boston's best art museum ever since!
The museum holds almost half a million different historical pieces of art and relics. You could honestly visit and find something new every time because it's just so large!
Many of the exhibits in the MFA are permanent collection. However, the museum hosts its fair share of rotating collections as well.
Some of the best permanent pieces in the museum that you won't want to miss are:
Tremont Street Boston by Philip Harry
The Water Lily Pond by Claude Monet
Paul Revere by John Singleton Copley
Madonna of the Clouds by Donatello
In order to fully experience the MFA, it's best to block out 5 to 6 hours of time. You can even spend a whole day here, especially if you're a huge history and art lover!
While you're in the area, be sure to go to some of the best places to eat in Boston. The majority of them are only one T stop away.
To visit the MFA for free, be sure to visit on a Wednesday night past 4 p.m. During this time, donations are accepted, but you can go in for free!
If you're staying overnight, you might even consider staying over at this 5-star Boston hotel in trendy Back Bay.
Bowdoin College Museum of Art in Brunswick, Maine
By Jackie Gately of Enjoy Travel Life | Instagram
Bowdoin College's Museum of Art is an unexpected gem in Brunswick Maine.
It won't take you long to go through, but it's a great take if you're in the area.
The exhibit space is housed in a gorgeous Renaissance-style building with a modern entrance on Bowdoin's bucolic college campus.
Two floors represent an impressive range of art, from antiquities to contemporary work. Some have poignant messaging.
You'll be delighted to find select works by some renown artists in the collection, including:
Andrew Warhol
William Wegman
Alexander Calder
Pablo Picasso
Gilbert Stuart
John Copley
Mary Cassatt
Andrew Wyeth
Bowdoin's robust showing of classic and ancient art is noteworthy, too.
Writers might be interested to know that Henry Wadsworth Longfellow and Nathaniel Hawthorne were Bowdoin graduates.
And, the college recently purchased the Harriet Beecher Stowe House, in which "Uncle Tom's Cabin" was penned over a two-year period.
Admission is free to the public.
Final Thoughts on New England Art Museums to See
A visit to New England might be incomplete without appreciating one of these excellent art museums.
Whether world-famous, like Boston's MFA, or another small but world-class museums, they are an essential stop on any New England itinerary.
Here's another great place to visit that you might be surprised offers a vibrant art scene: Las Vegas!
Have you been or do you plan to visit any of these museums? What other New England museums top your list? Let me know in the comments below.
---
Don't forget to save this list for later on Pinterest!
Resources
Bowdoin College Museum of Art
255 Maine Street
Brunswick, Maine 04011
Website: www.bowdoin.edu/art-museum/
Phone: (207) 725-3000
Email: [email protected]
Museum of Fine Arts 
465 Huntington Avenue
Boston, Massachusetts 02115
Website: mfa.org
Phone: 617-267-9300
Email: [email protected]
Norman Rockwell Museum
9 Glendale Rd / Route 183
Stockbridge MA 01262
Website: nrm.org
Phone: 413-298-4100
Peabody Essex Museum
161 Essex Street
Salem, Massachusetts 01970
Website: pem.org
Phone: 978-745-9500, Toll Free 866-745-1876
Email: [email protected]
Portland Museum of Art
7 Congress Street
Portland, ME 04101
Website: portlandmuseum.org
Phone: (207) 775-6148
Email
RISD Museum
20 N. Main Street
Providence, RI 02903
Website: risdmuseum.org
Phone: 401-454-6500
Email: [email protected]
Smith College Museum of Art
20 Elm Street
Northampton, MA 01063
Website: scma.smith.edu
Phone: (413) 585-2760
Email: [email protected]
Yale Center for British Art
1080 Chapel Street
New Haven, CT 06510
Website: britishart.yale.edu
Phone: (203) 432-2800
Email: [email protected]
"Spring in New England" Packing Checklist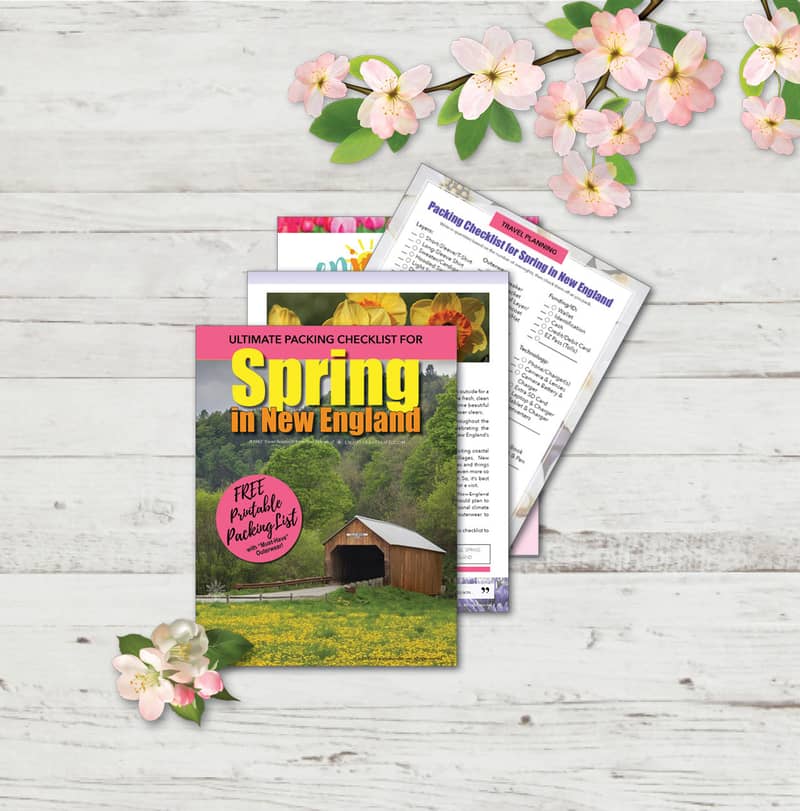 Pack so you're prepared for New England's unpredictable Spring weather.
Download your FREE Printable Today.