The Red Lion Inn restaurant in Stockbridge MA is an excellent choice for fine dining in the Berkshires.
Elegant without being stuffy, it is in the heart of a charming New England downtown alongside interesting little shops full of character and interest.
Read on for a review of our family dining experience at what we think is one of the best places to eat in the Berkshires.
This post may contain affiliate links. Please see my disclosure for more information. As an affiliate, I earn a small commission every time you make a qualifying purchase through one of my affiliate links (if applicable) at no additional cost to you.
CONTENTS: In this article, you're invited to:
RELATED: Learn more about the nearby Norman Rockwell Museum
Where is the Red Lion Inn?
You'll find The Red Lion Inn in Stockbridge, a small town that is part of The Berkshires region of Massachusetts. If you're looking for restaurants near Norman Rockwell Museum, you're in luck. It's about six minutes away (2.7 miles) from the museum.
More specifically, The Red Lion Inn is located at 30 Main Street, Stockbridge MA on the corner of South Street.
It's an easy landmark to recognize by the grand front porch lined with rockers.
Pro Travel Tip: Besides plenty of free on-street parking, you'll find a parking area behind the Inn.
The Red Lion Inn History
This sprawling luxury hotel in the Berkshires, featured in the Norman Rockwell painting, "Home for Christmas," has a rich history.
It is one of a handful of American Inns continuously operated prior to the 1800s. In 1773, a small tavern frequented by stagecoaches traveling between Albany and Boston occupied the space on which The Red Lion Inn now sits.
The Inn expanded and changed hands through the centuries (see lineage), and after a fire in 1986, rebuilt. In 1969, extensive updates to The Red Lion Inn made certain to preserve its historic charm.
Today, The Red Lion Inn remains an iconic stop for travelers in the Berkshires.
In fact, it boasts an impressive list of famed guests over the centuries, including five U.S. presidents, well-known writers, and modern day celebrities; among them, President Franklin Deleanor Roosevelt, Henry Wadsworth Longfellow, and Oprah Winfrey.
Staying at The Red Lion Inn
The Main Inn at Stockbridge offers 82 comfortable and well-appointed rooms, each uniquely decorated with antiques and period objects. Besides the Main Inn, "Red Lion Inn Village" includes Maple Glen, a 17-room modern-country guest house, several nearby Village Houses, and lodging experiences including The Firehouse, Meadowlark, and Quarter Rooms in the Main Inn. The Red Lion Inn's hospitality includes a year-round heated pool and hot tub, and pet-friendly rooms and suites.
We ascended the wraparound porch into the warm lobby and stepped back in time. Vintage couches flank a large roaring fireplace to one side where hotel guests relaxed comfortably in the parlor as though at home.
The working 1897 birdcage elevator in the lobby gave insight to the expert care to which they attend everything at The Red Lion Inn. Like the elevator, our dining experience reflected an establishment steeped in experience, expertly timed with attention to fine details. It was a smooth, quality ride from start to finish.
Pro Travel Tip: You can ask a staff member for a ride on the working birdcage elevator.
Download your FREE New England Packing Guide below
so you know how to pack right for the season!
---
---
The Red Lion Inn Dining Options
The Red Lion Inn hosts four restaurants, from elegant to casual:
The Main Dining Room
The Courtyard, which is open during summer
The Widow Bingham's Tavern, located off the Main Dining Room
The Lion's Den, downstairs
There is no shortage of space for dining at The Red Lion Inn Restaurant, making it as perfect for hosting large groups as it was for our party of five (two adults and three teens/young adults).
We arrived after the lunch crowd and before dinner, so the Main Dining Room easily accommodated us. The restaurant was busy but not at full capacity and we called ahead for reservations.
Pro Travel Tip: Make Red Lion Inn dinner reservations by phone (413.298.5545), online, or at the hotel's reception area in the lobby. Note they do not accept reservations for breakfast or at the Lion's Den.
The Main Dining Room at The Red Lion Inn
The dining room is expansive and tastefully decorated. Accented by soft lighting, crystal chandeliers, antique china, and pewter reminiscent of colonial times, the atmosphere is peaceful and relaxed.
Tables dressed in white linen might have been a reason for concern with our mixed-age party more comfortable at a burger joint. Yet, The Red Lion Inn Restaurant wasn't the least bit highbrow. We joined other families in the dining room, some with small children, and discovered all ages are welcome.
Red Lion Inn Dress Code
The Red lion Inn dress code is smart casual. However, on holidays, jackets and ties are required in the Main Dining Room.
The Red Lion Inn's Wine Menu, Craft Beers & Spirits
Our server, Kathy, made us feel right at home. Even though there were dozens of guests in the dining room, we truly felt as though we had Kathy's full attention.
The Red Lion Inn partners with five craft beer breweries in the Berkshires. My guest ordered a Berkshire Blonde Ale from Berkshire Breweries in Great Barrington. At Kathy's recommendation, I opted for a hot cider spiked with bourbon made by Berkshire Mountain Distillers in nearby Sheffield. We love sampling locally made beverages and both were simply delicious.
In addition, The Red Lion Inn Wine List is robust, featuring 560 wines with recommendations handpicked by the sommelier. Wine lovers will be interested to know The Red Lion Inn received "The Best of Award of Excellence" by Wine Spectator.
Pro Travel Tip: Berkshire Mountain Distillers offers tastings and tours. The New York Times voted their Berkshire Gin the best craft gin in the country.
Red Lion Menu
The Red Lion Inn's lunch menu is concise but well-curated, offering quality choices for a range of tastes. It is also Vegetarian friendly and offers both Vegan and Gluten Free Options.
(Note the Dining Room dinner menu and the Red Lion pub menus feature different offerings.)
We shared a basket of freshly baked bread with whipped butter while anticipating our meals. It was a welcome moment to relax with our drinks and share a conversation with the kids about our visit to the Norman Rockwell Museum.
Lunch Dishes at the Red Lion Inn Restaurant
Our dishes arrived steaming hot and plated on fine china.
Chicken Pot Pie
I opted for The Red Lion Inn Chicken Pot Pie.
It had a flavorful stew broth with generous pieces of tender chicken, carrots, peas, and parsnips. Rather than a pie pastry shell, delicate puff pastry topped the dish. I especially liked the parsnips!
This was the satisfying comfort food I had hoped for, and more than I could eat at one sitting.
Grass-Fed Beef Burger
Two from our party ordered the Grilled Grass-Fed Beef Burger with Cabot Cheddar and Bacon to different levels of doneness: medium and medium-well. The chef cooked both burgers precisely right, served upon grilled brioche. It made for a substantial meal, accompanied by hearty steak fries and a half-sour pickle.
French Dip
A third member of our party ordered the French Dip.
This hearty sandwich of thinly sliced prime rib, sauteed onions, melted Swiss, and horseradish on crusty rustic bread disappeared, despite its large size. That included every drop of the beef Au Jus dipping juice! Served with steak fries, it's safe to say someone thoroughly enjoyed it!
The Red Lion Inn's Vegetarian Patty
Our vegetarian diner opted for the Chickpea & Quinoa Patty, drizzled with Tzatziki sauce and served alongside a mound of savory vegetables and grilled naan bread. I sampled a forkful of the patty, expertly seasoned so as not to overpower the delicate mix.
Yum! This filling dish will please many tastes, Vegetarian or not.
Each of the dishes—in addition to being expertly prepared and delicious—arrived creatively plated, freshly prepared, locally sourced where possible, and substantial.
Red lion prices are very reasonable for the quality and generous portions, in our case $16-$20 per dish. Each was well worth every bite. Soups and salads on the lunch menu started at $9.
Plus, I wouldn't hesitate to return to try the Traditional Turkey Dinner ($25).
Dessert & Coffee
Even though our stomachs were completely full, the dessert menu beckoned with tempting treats like Molton Lava Cakes and Coconut Panna Cotta with Poached Pear and Bola Granola. It took only the slightest persuasion to convince us to share a dessert dish.
We followed Kathy's recommendation and ordered the Warm Brown Sugar Cake with five spoons.
Topped with Coffee Ice Cream from Soco Creamery, drizzled with caramel sauce from Fat Toad Farm, dotted with fresh whipped cream and chocolate-covered coffee beans, it arrived warm from the oven.
At its center was a spoonful of gooey cinnamon. We each had a taste of this warm, tasty goodness while and "mmmm"-ing or silently marveling at its decadence.
Coffee connoisseur that I am, I further indulged in a delicious after-dinner coffee. Served in fine china with fresh cream and raw sugar, it was a delightful finish to our excellent culinary experience at The Red Lion Inn.
Beyond Dining at The Red Lion Inn
Before leaving, I explored the first floor of The Red Lion Inn. With each turn through the various rooms, I encountered beautiful surroundings. I can only imagine the guest rooms would be as lovely.
RELATED: Planning a getaway with someone special? Consider upgrading with one of these hotel romance packages.
On our way out, we gave some love to the "Feline Lobby Ambassador" Norman, a rescue cat who slept warmly in the side parlor. I thought, What a lucky cat to call The Red Lion Inn home. Norman seemed so peaceful and relaxed, showered with attention and enjoying the good life.
And honestly, who wouldn't be as content as Norman at The Red Lion Inn?
We couldn't have been happier with the food, service, and atmosphere ourselves. It might be one of the best restaurants in the Berkshires. We enjoyed every aspect of this outstanding culinary experience at The Red Lion Inn Restaurant. I am certain you will, too.
The Red Lion Inn Address
The Red Lion Inn
30 Main Street
Stockbridge, MA  01262
413.298.5545
redlioninn.com
Check Rates & Availability Now!
The Red Lion Inn Hours
Breakfast
Monday-Friday: 7-10 a.m.
Saturday, Sunday: 7:30-10:30 a.m.
Lunch
Monday–Friday: 12-2:30 p.m.
Saturday & Sunday: 12–4 p.m.
Dinner
Sunday–Thursday 5:30–9 p.m.
Friday & Saturday 5:30–9:30 p.m.
—
Does The Red Lion Inn in Stockbridge, MA look like your kind of place? Share your thoughts in the comments below!
---
This article is part of a sponsored collaboration. Special thanks to The Berkshires of Western Massachusetts, the Norman Rockwell Museum, and The Red Lion Inn for their support on this Press Trip. As always, all opinions expressed are my own. For more information, please see the following Disclosure. 
"Spring in New England" Packing Checklist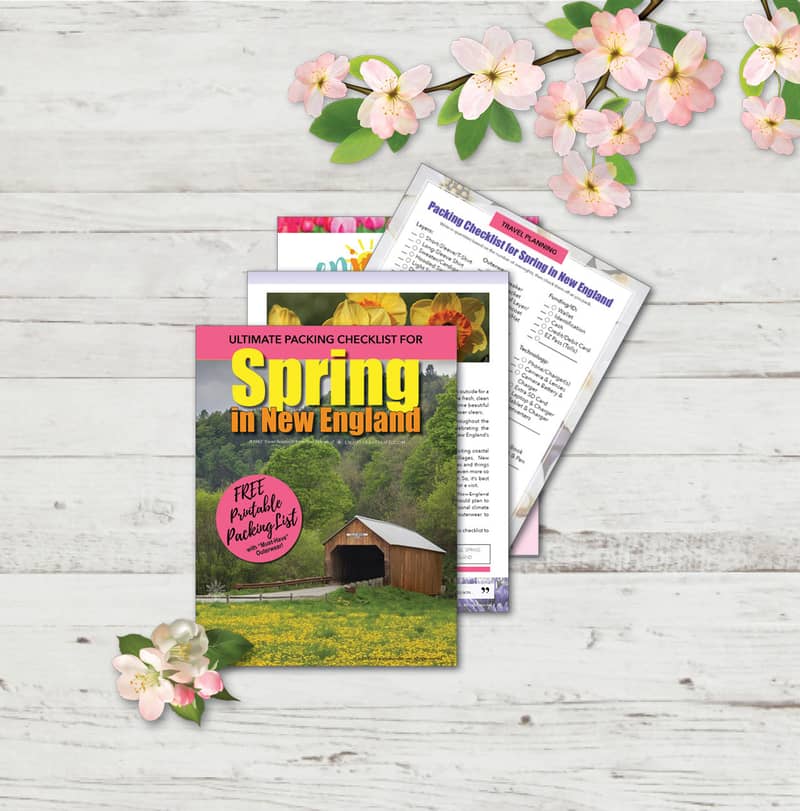 Pack so you're prepared for New England's unpredictable Spring weather.
Download your FREE Printable Today.