Where to go in Brunswick ME for Seafood
I love discovering great places to eat amidst a sea of overpriced dining and chain restaurants when I'm on the coast. There's a good selection of dining options in Brunswick, Maine's downtown. But we were looking for a hidden gem. And that's exactly what we found at Pepper's Landing. In fact, we may have found the best seafood restaurant in Brunswick Maine.
Named in honor of the owners' grandfather, Pepper Martin, Pepper's Landing offers a variety of fresh, locally harvested seafood. You may not expect much from outside appearances, as Pepper's Landing is tucked in a strip mall in Cook's Corner. 
But don't let that fool you.
I started off with a perfectly chilled, crisp Wither Hills Sauvignon Blanc while I browsed the extensive menu. I am particularly fond of New Zealand wines, and this was refreshing, light, and just what I had in mind.
Variety of Locally Sourced Seafood Dishes
You'll find the Pepper's Landing menu loaded with delicious-sounding seafood and other choices, all reasonably priced. I really struggled to pick with so many good selections. So did my mom and son.
Here's why:
You'll find tons of creative lobster dishes, varied seafood options, burgers and sandwiches at Pepper's Landing. They even offer a tasty cocktail menu.
For instance, you can order a Lobster Roll prepared six different ways to suit your taste. You might choose the more traditional "Martin," mixed with mayo and iceberg lettuce, Or, pick the "Kennebunkport." It's mixed with cilantro lime aioli with red pepper pickled cabbage, Pico de Gallo, and cajun seasoning.
TIP: If you're a real lobster-lover, you can look at this website for delicious lobster delivery options.
You'll also find Crab, Shrimp, Clam, and Scallop Rolls on the menu.
Steamed Lobsters range from 1-1/4 pounds to Twin. Fried Dinner Baskets include lightly battered seafood or chicken. Either dish arrives with french fries or house-made potato chips and coleslaw.
And then there are the specialties of the house.
They include favorites such as Lobster Mac and Cheese, the Catch of the Day freshly grilled, and the Pan-seared Steak Tips and Sauteed peppers. You can make the steak dish a Surf-and-Turf by adding Char-grilled Lobster Tail.
The list continues.
Do you now see the dilemma this seafood-lover faced at Pepper's Landing?
Download your FREE New England Packing Guide below
so you know how to pack right for the season!
---
---
What We Decided to Order at Pepper's Landing
We each began with cups of Lobster & Shrimp Chowder, which had a sweet, delicate flavor with plenty of hearty potatoes.
For main dishes, we opted for:
Blackened Haddock Tacos (a special)
Crabmeat Quesadillas
Smoked Bluefish Plate
Our knowledgeable server, Daniel, brought our dinners freshly made and piping hot—except for my smoked bluefish. That's served chilled.
If you are adventurous as I am, I suggest you try the Smoked Blue Fish Plate. According to the restaurant's story on their website, Pepper Martin was an expert at "the art of creating fantastic smoked fish."
I wasn't 100% sure about ordering it.
But once Daniel described the nuances to me, I was all in. Its flavor reminds me of a flaky ham and it's paired with toasted crostini, fresh capers, cornichon pickles, and horseradish.
Clearly, Pepper Martin passed his preparation secrets down to the chef. I highly recommend trying the Smoked Blue Fish Plate.
My dining mates shared a few bites of their delicious Blackened Haddock Tacos and Crabmeat Quesadillas with me. To be honest, it was a bit of a feeding frenzy!
The Verdict
Each dish at Pepper's Landing was well-crafted, delicious, and generous.
The restaurant itself is spotless, with a cool bar and industrial feel.
There's nice patio seating, as well.
And it was priced right.
My assessment? Pepper's Landing may just be the best seafood restaurant in Brunswick, Maine.
It's open daily from 11 AM – 10 PM, with a location in Rochester, New Hampshire. too.
All I can say is, get yourself down there before everyone else finds out about it.
Pepper's Landing
147 Bath Road
Brunswick Maine
207-844-8847
https://www.pepperslanding.com
"Spring in New England" Packing Checklist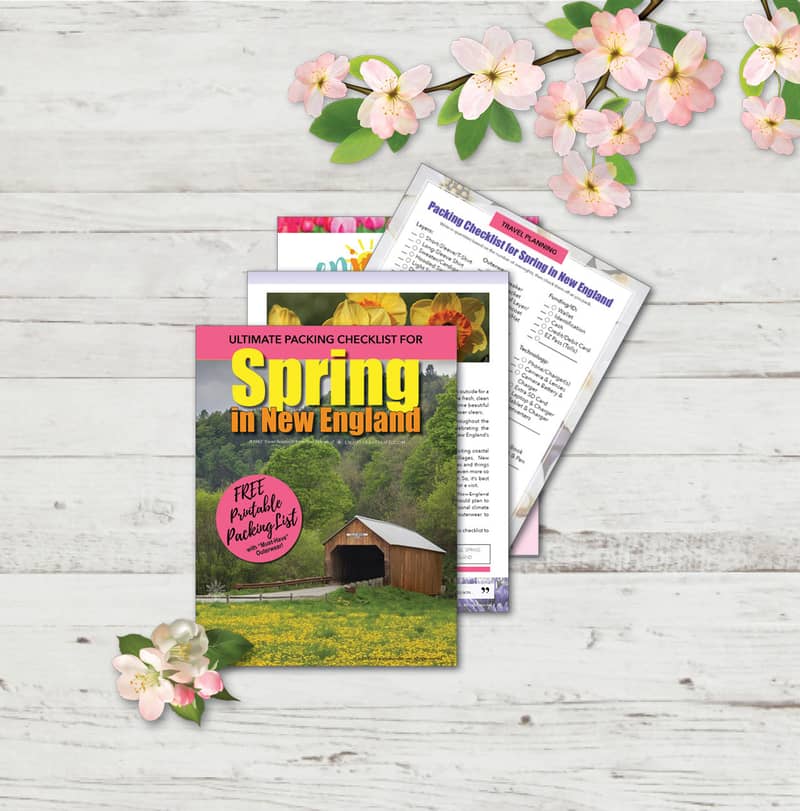 Pack so you're prepared for New England's unpredictable Spring weather.
Download your FREE Printable Today.