Planning a luxury vacation can be a great escape rom your daily work routines.
It gives you something to look forward to, knowing you can indulge in the finer things during your time off.
Of course, you certainly don't want to be disappointed by your trip.
That's why it's important to plan your luxury trips with these essentials in mind. Then, you'll know you and your family will enjoy only the best experiences.
Here's what you need to know.
CONTENTS – In this article, we will help you with plan a luxury vacation in 5 easy steps, including:
Essential Ingredients for the Perfect Luxury Holiday
1. Pick the Right Destination
2. Go at the Best Time of Year
3. Travel in Style & Comfort
4. Choose Posh Accommodation
5. Select the Best Activities
Final Thoughts on Making Your Vacations Luxe
Next Steps
The Ingredients For the Perfect Luxury Holiday 
Working hard and reaching your goals is important in life, but we all need a little time out now and again. A luxury vacation could be just the thing you need to reset and unwind.
But what are the key ingredients to planning your perfect luxury holiday?
Continue reading below to learn the essentials that will make your vacation super luxury and beyond your expectations.
---
Download your FREE Guide to Getting Cheap Flights (below)
so you start saving money today!
27+ Best Online Resources for finding CHEAP FLIGHTS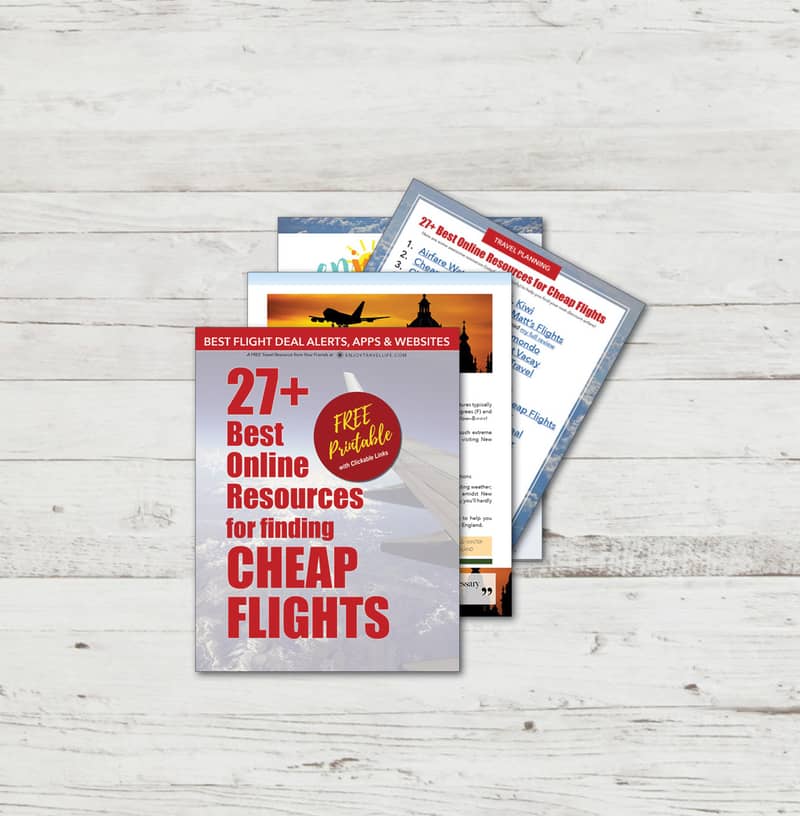 Discover the BEST Online Resources expert travelers use when searching for cheap flights. Download your FREE Guide today!
---
1. Pick the Right Destination
Choosing the perfect location is vital to the planning a luxury vacation.
To do this, you'll need to think about why it is you want to travel and what you're looking for.
Do you want to forget all your worries and lie back on a secluded beach with white sand and crystal clear waters?
If so, the Caribbean could be the ideal destination for you.
Or do you want to see new sights, experience a different culture and taste new foods?
Then why not consider Hawaii or Bali?
If you're looking for non-stop adventure and thrills, an African safari trip might be the perfect vacation spot.
Or if nightlife is more your scene, you could take a trip to San Juan in Puerto Rico.
Think about how long you're going to stay as this will influence how far you will want to travel.
2. Go at The Best Time of Year
As part of planning a luxury vacation, it's important to go at the best time of year.
Once you've settled on the perfect destination, be sure to check what the weather will be like when you arrive.
Different countries have different seasons, for example, Bali has a dry season (April to October) and a wet season (November through March).
When visiting the Caribbean, travelers also need to be aware of the risk of tropical storms. However, some Caribbean islands are low-risk for hurricanes.
If you are interested or planning to visit South or South east Asian beaches, then Maldives, Sri Lanka, and Thailand are a great fit.
Each of these destinations have beautiful beaches and splendid tourism spots which will make your trip memorable.
Related: Benefits of Shoulder Season Travel
3. Travel in Style & Comfort
The next step in planning your perfect luxury holiday is to consider how you'll get there.
Of course, you'll want to allow in style and comfort!
You can choose from many methods of travel available, but for most luxury vacation spots, air travel will be required from the US.
For the ultimate luxury, private jet travel offers many benefits over commercial air travel.
Not only will you avoid long queues and potential delays or cancellations but it also means you can relax and start enjoying your vacation right from the moment you board the plane.
Traveling by private jet also offers you a wider range of destinations, with a far greater number of airports from which to choose.
If you want a relaxing start to your vacation, consider looking at empty leg flights. These offer an alternative way to fly to your destination without the stress of commercial airline travel.
4. Choose Posh Accommodation
The accommodations you choose will make all the difference to your trip.
After all, it will likely be your home base for the duration of your trip, so you want it to be posh with all the creature comforts.
A good way to find the best accommodations when planning a luxury vacation is to make a list of your must-haves. This will help you narrow down your search for the right place to stay.
If you're looking for privacy and want to do things on your own schedule, renting a private villa is a popular option.
These typically come fully equipped with everything you'd expect. Many include top-of-the-line kitchen equipment and a high-end finish for that real home-from-home feel.
Most luxury villas will also have the benefit of a private pool and a cleaning service.
Alternatively, you might want to book into a luxury hotel with the highest level of service.
There, you can order room service and indulge in extras like spa treatments or use the gym facilities. At the best hotels, your every need will be anticipated.
No matter what accommodation you choose, location and reputation are key.
With that in mind, be sure that it's within easy reach of any beaches or sights you want to visit.
Always check online reviews to see if previous holiday makers have been happy with their stay.
Once you find your ideal accommodations, arrange your stay well prior to arriving to your holidays destination.
Not only will that save you a handsome amount of time and guarantee your reservations, but you will likely also save some extra money.
5. Select the Best Activities
Unless you're planning to spend every day on the beach or by the pool (which is totally up to you!) then you'll want to plan some activities during your trip.
This can help you really make the most of your time.
And, when your vacation comes to an end, you'll take special memories home with you.
Depending on your destination, you might want to try water sports such as:
Kayaking
Sailing
Snorkelling
Paddle boarding
Other than this you can also plan for beach volley ball or rugby, as both involve more than two players. Opting for these two beach sports options can add more fun to your activities during the vacations.
Another fun activity could be going pony trekking or joining a guided hike.
For something a little more low-key, you could indulge in gentler activities such as:
Wine-tasting
Yoga classes
Take a cruise on a yacht
No matter what activities you choose when planning your luxury vacation, make sure they cater to your interests.
If simply reading a book poolside, with drinks on demand is your idea of a good time, so be it!
Final Thoughts on Planning a Luxury Vacation
In planning a luxury vacation, follow the guidelines above.
That way, your holiday has the potential to create some of the most beautiful memories of your life.
The most rewarding part of planning a great trip is the joy you and your family will have when the plan comes together perfectly.
Next Steps
Now that you know the steps for planning a luxury vacation, read these helpful trip planning posts next:
When to Visit 36 Dreamy Destinations
You will instantly receive the FREE Month-by-Month Destination Guide