A honeymoon in Miami, also known as the "Magic City," is not just a destination; it's a dream. If you're envisioning the perfect honeymoon in the US, Miami is the place to be!
When you follow this easy guide to planning your Miami honeymoon, you will learn the most important aspects of organizing your romantic getaway. From stunning beaches to vibrant nightlife, culinary delights to cultural experiences, Miami has it all.
So, read more below and embark on a journey of love and adventure together in beautiful Miami, Florida.
CONTENTS – In this article, you will learn what you need to know about planning an amazing honeymoon in Miami, Florida, including:
Planning a Honeymoon in Miami: Simple Tricks for a Memorable Experience
Miami is the perfect honeymoon location because of its magnificent beaches, exciting culture, and warm weather all year round.
The city has something for every couple, whether you want to unwind on the fine dunes, explore the city's various neighborhoods, or indulge in the finest food.
You'll want to plan beforehand if you want your romantic getaway in Miami to be absolutely unforgettable.
So, let's walk you through a few easy tips that will help you create a once-in-a-lifetime Florida honeymoon!
Choosing the Perfect Time for Your Miami Honeymoon
The first step in organizing a romantic weekend in Florida is to decide on the best time to go.
Based on tradition, you might schedule your honeymoon right after your wedding.
But you don't have to.
In fact, more and more newlyweds are delaying their honeymoon trip to take advantage of the best times to travel to their honeymoon destination.
Like most destinations, there are better times to plan a honeymoon trip to Miami.
The dry season, which lasts from November to April, is the finest time to visit Miami. That's because of its tropical environment, which brings pleasant temperatures all year round.
You can ensure that you have sunny days for trips to the beach and outdoor activities by avoiding the wet season.
In addition, art lovers should not miss Miami's renowned Art Basel, which takes place in December.
The dry season is ideal for those looking for a more private, relaxed, and luxurious experience because it offers both beautiful weather and fewer tourists.
51 Steamy Romance Package Ideas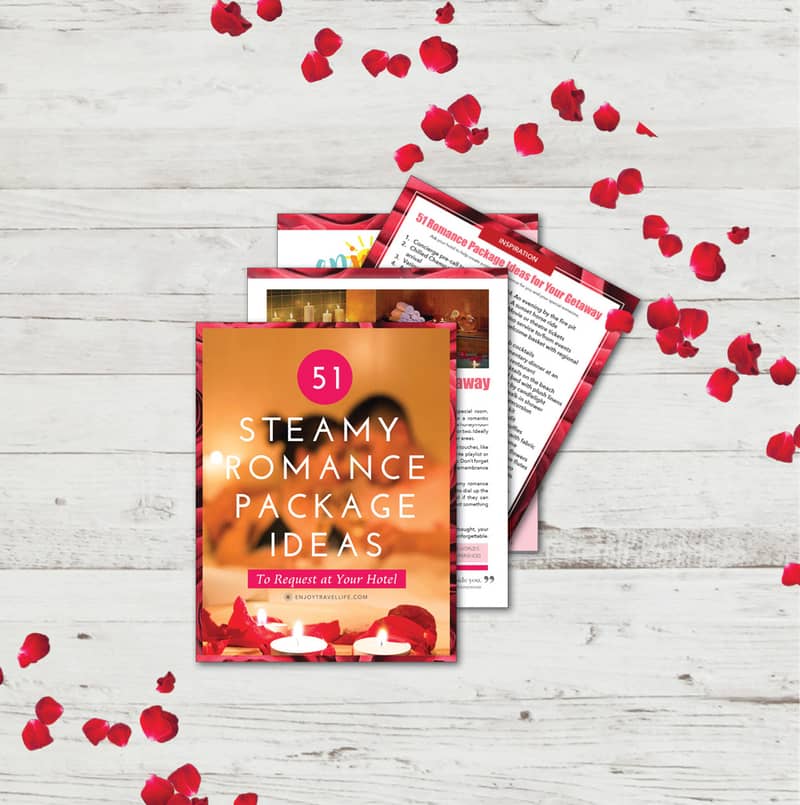 WARNING! These 51 Steamy Romance Package Ideas from top hotels may inspire you to spice up your romantic getaway. (Don't say we didn't warn you!)
Download your FREE Printable Today.
Beach Bliss: Sun, Sand, and Surf
No vacation in Miami would be complete without a trip to one of the renowned beaches.
You'll discover miles of immaculate coastline, each with its unique personality, in the city.
The lively atmosphere and recognizable lifeguard platforms painted in pastel colors make South Beach famous.
Or, visit Bill Baggs Cape Florida State Park or Crandon Park Beach on Key Biscayne for a more sedate experience.
Miami's beaches provide the ideal setting for romance, whether you choose to unwind under an umbrella or engage in water sports.
Beyond swimming and tanning, these beaches make the ideal location for picnics, beachfront yoga classes, or even a passionate round of beach volleyball!
Accommodations: Finding the Best Rentals
To make the most of your honeymoon in Miami, plan to stay in accommodations that provide comfort, solitude, and a hint of elegance. That way, you can enjoy your Miami honeymoon to the fullest.
The ideal combination of these components is offered by premium apartment rentals in the area. They allow you to unwind in a home away from home with these roomy, fully furnished homes.
From chic downtown lofts to beachside condos, choose from the many alternatives available. Each promises special experiences and amenities.
If you want to be close to the activity, consider renting a property in the energetic South Beach neighborhood. Alternatively, you can choose a peaceful residence in Coconut Grove for a more private getaway.
Exploring Miami's Diverse Neighborhoods
Miami is a diverse city, and each area has a special charm of its own.
Spend some time exploring the many neighborhoods, from Wynwood's bohemian ambiance to South Beach's brilliant Art Deco architecture.
In Little Havana, you will be immersed in Cuban culture, and the Design District, you can treat yourself to upscale food and shopping.
One of the best ways to explore the various neighborhoods' hidden jewels is to take a leisurely stroll or rent a bike. It's a great way to make lovely memories together!
By getting to know local areas, you can develop a closer relationship with the city and gain insight into the rich cultural diversity that gives Miami its distinctive character.
Culinary Adventures in the City
The culinary culture of Florida is a fusion of flavors from Latin American, Caribbean, and other world cuisines.
On your honeymoon in Miami, be sure to indulge in the city's culinary delights.
Here's what a perfect foodie day might look like:
Start your day by enjoying Cuban coffee and pastries
Savor fresh seafood at a seaside restaurant at lunchtime
Discover the exciting street food scene, sampling savory snacks and regional flavors
Finally, book a seat at one of Miami's renowned restaurants for a special dinner where you may dine by candlelight and take in breathtaking views of the city after dark
The varied food culture goes beyond dining establishments, too. So, don't pass up the chance to explore regional markets and food festivals to sample genuine flavors and learn about distinctive culinary customs from throughout the world.
Explore the Natural Beauty
Miami is renowned for its thriving city life. But it also has a wide range of breathtaking natural attractions that make for an amazing honeymoon.
Look into options for airboat rides and wildlife encounters in the nearby Everglades, a distinctive wetland ecosystem.
For a tranquil and romantic day out, you may also go to Fairchild Tropical Botanic Garden and spend your day surrounded by lush vegetation and exotic flowers.
By exploring the natural splendor of Miami, you'll disconnect from the city's bustle and re-establish a connection with the outdoors. Whether you're strolling in a serene garden or birdwatching in the Everglades, these experiences imbue your honeymoon with a sense of tranquility.
Nightlife and Entertainment
Miami's nightlife comes to life as the sun sets.
To enjoy your evenings, the city has a wide range of entertainment possibilities!
You can dance the night away at one of South Beach's hip nightclubs or take in a jazz club performance. Or, indulge in a romantic and peaceful experience when you embark on a nighttime sail along Biscayne Bay.
Regardless of your preferences, the local nightlife is certain to spice up your vacation.
As diverse as its culture, Miami's nightlife offers everything from salsa dance to rooftop bars with breathtaking views. To take full advantage of this thriving nightlife scene, be sure to schedule your evenings in advance.
Capture Memories and Cherish Moments
Throughout your holiday, don't forget to document all the memorable moments.
The scenic landscape, vibrant street art, and breathtaking sunsets of Miami make it the ideal setting for romantic photographs.
You'll remember your trip for years to come when you preserve these memories, whether you choose a professional photographer for a couples' session or just use your smartphone.
A good way to preserve cherished memories from your honeymoon in Miami is to create a scrapbook or digital photo album. These tangible mementos will act as a lovely testiment of your time spent together in this alluring city.
No doubt, your keepsake will remind you of fond memories for many years to come!
Final Thoughts on Honeymoon in Miami
Organizing a honeymoon in Miami is an enjoyable affair full of limitless options.
You can make treasured memories that will last a lifetime with the help of some easy hacks and pointers. They will make your Florida vacation an occasion that you'll never forget.
Your honeymoon in Miami promises to be an extraordinary adventure filled with love, laughter, and unforgettable memories.
Whether you're relaxing on the beach, exploring the vibrant culture, or enjoying the lively nightlife, Miami has something to offer every couple in love.
So, start planning your dream getaway to this magical city, and let your love story unfold amidst the beauty of Miami!
Next Steps
​For more about romantic travel tips and advice, read these articles next:
When to Visit 36 Dreamy Destinations
You will instantly receive the FREE Month-by-Month Destination Guide