You'll want to visit these awesome breweries in Cape Cod when you visit. After all, what's better on a hot summer day that a cold brew? You could even try a new one each day you're vacationing on the Cape. With that in mind, check out our top picks, below.
CONTENTS: In this article, you will learn the essentials terms for becoming a better beer aficionado and discover 10 amazing Cape Cod breweries. This includes:
Essential Beer Terms
Boston is one of the top 10 cities for beer lovers, according to this study. Since many Bostonians summer in Cape Cod, you might guess beer in Cape Cod is held to the same high standard.
But beer is beer, right?
Well, not exactly.
So before we get too deep into sharing the best Cape Cod breweries with you, let's make sure you understand some of the essential beer-tasting terms.
That way, you'll be ahead of the game when it comes to touring breweries on Cape Cod, such as "flights," "beer garden," and "tap room."
Beer Garden
Beer gardens are usually outdoor spaces where beer, food, and sometimes music is served up. Some have shared tables to encourage socializing with new friends in a relaxing space. Some beer gardens allow you to bring your own food.
Brewery
A brewery is any place or company where beer is made. This could be a giant commercial brewer like the giant Anheuser-Busch Company or a smaller organization.
Brewpub
A brew pub is part restaurant, part brewery. The beer they make on the premises is largely for sale at the restaurant. Technically, a brewpub must serve 25% of its beer onsite, along with a significant amount of food sales.
Cicerone ("sis-uh-rohn")
A cicerone is a hospitality professional who specializes in selecting, serving and knowledge of beers; a beer sommelier. They range from first-level to Master Cicerone.
Craft Beer
Craft beer is a beer that has been made (crafted) by an independent brewer in small batches. They often use locally sourced ingredients or unusual, innovative, limited edition batches. It usually has a higher alcohol content than mass produced beer. The emphasis in drinking craft beer is on appreciating the nuances and flavors of a craft beer over quantity.
Download your FREE New England Packing Guide below
so you know how to pack right for the season!
---
---
Craft Brewery
A craft brewery is a brewery that makes craft beer.
Crowler
A crowler is a half-growler in an aluminum can. This storage method removes all oxygen from the vessel.
Flight of Beer
A flight of beer is a sampling of a variety of craft beers. You can select several small glasses of beer, usually 4-5 glasses. They are usually served together in a row on a block of wood. Each glass is usually from 3 to 6 oz, so it's the equivalent of one to two full-sized beers.
If you have a range of beers from light to dark body and flavor, some recommend beginning with the lightest beer first to appreciate the subtle flavors.
Growler
A growler is a 64-oz air-tight jug of beer, usually made of dark brown glass with a handle. This vessel originated in the late 1800s, when patrons would carry beer home from the pubs. The sloshing would often cause carbon-dioxide to escape, creating a "growling" sound.
Nowadays, you can find high-quality Growlers from Growlerwerks with Stonex.
Howler
A howler is like a growler but smaller. This "half-growler" holds about 32-oz of beer. It's the equivalent of about 2-pint glasses of beer.
Microbrewery
A microbrewery is so-called because it makes less than 15,000 barrels of beer in a year. 75% of that beer must be sold off-site. The beer they sell may be considered craft beer, but not necessarily.
Tap Room
A tap room is a place, like a bar in an inn or hotel, where beer on tap and other alcoholic drinks are served. It's different from a bar in that it usually requires a different liquor license that allows brewers to sell their beers and introduce new flavors and craft beers.
Ok, feel like you're better schooled in the brewing department? Then let's begin our tour.
Top 10 Cape Cod Breweries
Drinking beer on Cape Cod is a lovely experience that comes with a thrill.
Cape Cod is a popular vacation spot in Massachusetts, with 15 towns and villages to explore. Each Cape Cod town offers a unique charm of its own.
You'll find elegant Cape Cod bed & breakfasts, waterfront cottages, and plenty of New England history to make your trip to Cape Cod more memorable.
This world-famous tourist destination offers so much. You'll discover everything from Cape Cod's beautiful beaches to trails and woodlands suitable for hiking. Feast on the freshest seafood, and yes – you'll find breweries.
Tourists, youngsters, and people interested in enjoying themselves with beer will enjoy several worthwhile stops in Cape Cod. We recommend these top-rating breweries on Cape Cod. Each one offers excellent service and unique style sense. And of course, great beer!
Read on to learn which breweries are our top picks.
1. Bad Martha Farmer's Brewery in East Falmouth 
Suppose you like being surrounded by nature. Or, you find relaxation easy in areas covered with greeneries.
In that case, Bad Martha Farmer's Brewery (East Falmouth) is the perfect brewery for you!
It can literally be described as a "beer paradise" with its many features.
You can enjoy free samples of award-winning and seasonal varieties freshly brewed on site with local ingredients from surrounding farms and makers. They have about 16 brews on tap.
They brew all of their beer with hand-picked wild grape leaves grown on Martha's Vineyard, along with local fruits and berries, organic honey, roasted coffee beans and chocolate. 
Bad Martha's new Mischievous Mermaid IPA introduces a brand new style of beer called Cape Cod Style IPA.
They sell beers by the glass, flight paddles, and you can take home growlers, crowlers, and cans of delicious beer.
While enjoying your drinks, you can eat a Brick kiln-fired pizza, play lawn games, and vibe to local music, too.
Once you experience Bad Martha's for yourself, there will be no surprise why it's award-winning. It's a two-time winner of the Best Brewery and Distillery on Cape Cod & the Islands, awarded by Cape Cod Life.
If you happen to venture over to Martha's Vineyard, you'll also find Bad Martha Farmer's Brewery in Edgartown.
Getting married on Cape Cod? This brewery is an excellent choice to host your bachelorette party, too!
2. Cape Cod Beer in Hyannis
As the name implies, Cape Cod Beer (Hyannis) is a drinking spot that is famous for…Cape Cod beer. In fact, we know them as "Cape Cod's original craft beer."
But Cape Cod Beer offers so much more.
For one, this brewery is popularly known for the events they host. On Saturday nights, you'll usually happen upon live music in the beer garden. It's an ideal way to cool off after a day at the beach.
Cape Cod Beer features a variety of beer brands so you can pick any one of them that suits your preference. And if you're more of a mixed-drinks person, you'll be happy to know they offer some really creative twists on cocktails, Try the "Beermosas" and "Brewdrivers."
And if you want to augment your drink with a meal, Cape Cod Beer often features local food trucks. Or you can eat at one of the local eateries nearby. Hyannis is a hopping town!
3. Devil's Purse Brewing Company in South Dennis
Devil's Purse Brewing Company is in South Dennis.
This Cape Cod brewing company sells retail kegs of beer and brew beers that are mostly European inspired. Opt for a refreshing Kolsch, Rye Lager, Spiced Ale, Table Beer, or other craft brews.
In addition to selling brewed beers, you'll discover other unique features at Devil's Purse Brewing Company. One example is that you can purchase certain relics or artifacts relating to brewer's history and even a portrait of Emperor Ming of the famous Ming Dynasty.
You'll definitely want to check out their merch, apparel, and one-of-a-kind art painting online or when you visit.
Related: If you're looking for a family-friendly place to stay in Dennis, click here to read our review of the Sesuit Harbor Inn.
4. Naukabout Brewery and Taproom in Mashpee
Naukabout Brewery (Mashpee) specializes in producing freshly made beers.
They, too, have an outdoor beer garden for different activities, which can range from food service to outdoor gaming.
Another unique feature of this brewery is that is collaborates with other excellent restaurants in the area, such as the Lobster Trap and Bay End Farm. The main aim of this collaboration is to sell locally produced meals along with the beers they sell. 
It just goes to show how much of a supportive community Cape Cod can be!
5. Offshore Ale Company in Oak Bluffs, Martha's Vineyard
Offshore Ale Company (Oak Bluffs) is a brewpub that makes beer and other related drinks.
Also, it is a full-blown restaurant in every sense of the word.
They offer cooked meals such as burgers, pizza, milkshakes, and so much more.
If you're on the Vineyard, Offshore Ale Company is the perfect spot. This is true even if you are looking to go out with someone who does not drink alcohol-based drinks.
Offshore Ale company also has a beautiful outdoor garden just waiting for you to come sit and relax. 
Related: Click to read more about the best things to do when you visit Martha's Vineyard.
6. Hog Island Beer Company in Orleans
Suppose you are looking for a brewery in Cape Cod that will give you a homey feeling in a pleasant environment.
In that case, Hog Island Beer Company (Orleans) awaits!
At this brewery, you'll find a lawn and picnic tables where you can drink beers or other beverages like you're at home. You'll also discover some delicious beers, like Outermost IPA, White Shark Wheat, and Nauset Haze.
If you are thinking of visiting with families and friends, you can easily arrange for a picnic because the yard has rows of picnic tables. Some of are even covered with tents. You might also see if you can arrange for a tour to round out your fun.
And if you are looking for a great place to stay when you're in Orleans visiting Hog Island Beer Company, click here to read my review of The Parsonage Inn. (Spoiler alert: we loved it!)
7. Cisco Brewers in South Yarmouth
Cisco Brewers (South Yarmouth) is a brewery spot that is well known for its party-like vibes. It originated in Nantucket, and has spread throughout New England and the northeastern United States.
Not only can you get craft beer there, but you'll find spirits and wine crafted by Cisco Brewery as well. That's because three entities make up the company of Cisco Brewers Inc.:
Triple Eight Distillery
Nantucket Vineyard
Cisco Brewers
So, you can enjoy a tasty Pale Ale like Whale's Tale, savor a tasty cocktail concocted with their cranberry vodka, or sip a chilled glass of world-class wine from their New England Winery.
A visit to Cisco Brewery when you're down the Cape is perfect for a vacation outing or if you are with friends and want to have a good time!
8. Finn's Craft Beer Tap House in Hyannis
Finn's Craft Beer Tap House (Hyannis) is an all-service restaurant.
They are a brewery spot that also sells non-alcoholic related drinks and meals.
One notable thing Finn's Craft Beer Tap House is known for besides its brews are delicious pub fare. These classic bar meals have earned the praises of frequent customers. Popular dishes include:
Tap House Wings
Beef Sliders
Nachos
House Made Potato Chips
Their beer flights are generous, with five 5-oz beer samples. They have 32 local beers on tap to choose from!
Along with great meals and craft brews, you'll enjoy a variety of local beers, seltzer, cider, wine, and spirits.
If you want to visit a brewpub in Cape Cod that will suit different members of your family, Finn's Craft Beer Tap House should be on your list. 
9. Nor'East Beer Garden in Provincetown
The Nor'East Beer Garden (Provincetown) is a seasonal restaurant that specializes in handmade and from-scratch offerings.
Most of the meals produced in this restaurant have roots in New England. Their talented Executive Chef and resident Chefs prepare a delicious menu.
It is also a brewery that specializes in a selection of fine craft beers and garden-inspired cocktails.
When you visit, you'll find an outdoor garden in which customers relax and enjoy their meals.
Nor'East Beer Garden works closely with farmers and fishermen in the surrounding area to serve only the best quality produce, meat, and beer.
So, if you want freshly cooked organic meals with your cold one, Nor'East Beer Garden should be on your radar. 
To give you an idea of how good Nor'East Beer Garden is, Boston Magazine called it "The best bar on Cape Cod."
So, trust us when we say you won't want to miss this one when you're down the Cape!
10. Barnstable Brewing in Hyannis
You'll find Barnstable Brewing in Hyannis, and quintessentially Cape Cod.
This family-run brewery blossomed when the brewers won the Samuel Adams "Come Brew With Us" contest. Their craft beers are nothing short of amazing.
You can try a variety of tasty beers produced by Barnstable Brewing using only the freshest ingredients. Their brews range from Amerihop, Cape Crusher and Cranberry Dub to Jesuit Juice. You can even order their beers and merch for curbside or on-site pickup.
And if you've got your pooch with you, Barnstable Brewing's patio is dog-friendly.
Final Thoughts on Breweries in Cape Cod
Cape Cod is a beautiful place to visit for so many good reasons. While you are there, be sure not to overlook these fantastic breweries. You'll want to be sure one or more of these top breweries in Cape Cod make it into your itinerary.
Still planning your trip to the Cape? Click here to find out which Cape Cod towns are right for your vacation.
Related: What you should pack for Summer in New England.
Related: 8 Best European Beer Tour Locations with Outstanding Craft Beer
Resource List – Cape Cod Breweries Contact Info
Bad Martha Farmer's Brewery
876 E Falmouth Hwy.
Falmouth, MA 02536
tel:+1 (508) 372-6740 | website | email
Barnstable Brewing
485 West Main St.
Hyannis, MA 02601
tel: +1 774-470-6989 | website | email
Cape Cod Beer
1336 Phinney's Lane
Hyannis, MA 02601
tel:+1 508-790-4200 | website | email
Cisco Brewers
23 Whites Path
South Yarmouth, MA  02664
tel: +1 508-694-6020 | website | contact page
Devil's Purse Brewing Company
120 Great Western Rd. #3715
South Dennis, MA 02660
tel:+1 508-694-7171 | website | email
Finn's Craft Beer Tap House
16 Barnstable Rd.
Hyannis, MA 02601
tel: +1 508-534-9756 | website
Hog Island Beer Company
28 West Rd.
Orleans, MA 02653
tel:+1508-255-2337 | website | email (sales)
Naukabout Brewery and Taproom
13 Lake Ave.
Mashpee, MA 02649
tel:+1 508-444-9822 | website | contact page
Nor'East Beer Garden
206 Commercial St.
Provincetown, MA 02657
tel:+1 508 487-2337 | website
Offshore Ale Company
30 Kennebec Ave
Oak Bluffs, MA 02557
tel:+1 508-693-2626 | website
Don't forget to save this article on Pinterest for your future reference!

Feature photo: Free-Photos (Pixabay)
Author Bio: Eliza Sadler is a professional journalist and freelance writer that offers essay writing services. She focuses on writing original, quality work that meets a high standard. You can reach her by email at [email protected].
"Spring in New England" Packing Checklist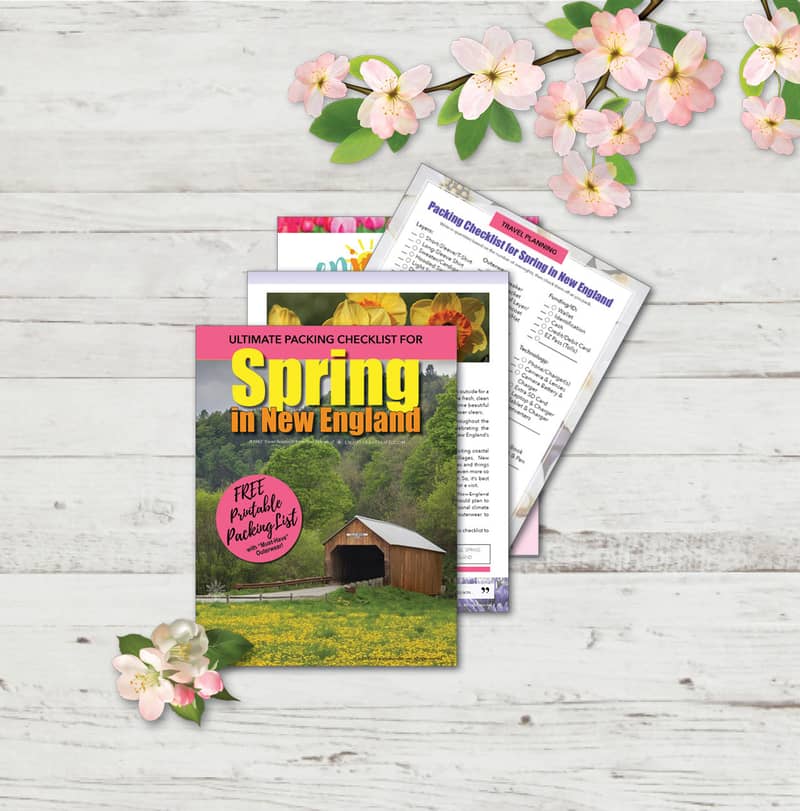 Pack so you're prepared for New England's unpredictable Spring weather.
Download your FREE Printable Today.