Spring in New England presents the opportunity to experience all four seasons in one day. So how do you pack for a visit? It's easy–that is, if you know what to expect.
That's why we've put together this easy packing checklist to help you plan what to pack. Read on to learn what to pack for spring in New England from a seasoned New Englander.
This post may contain affiliate links. Please see my disclosure for more information. As an affiliate, I earn a small commission every time you make a qualifying purchase through one of my affiliate links (if applicable) at no additional cost to you.
What Should You Pack for Spring in New England?
While the flowers begin to bloom across the region, and earliest spring-flowering trees turn the land into botanical bliss, the warm air and sunshine aren't necessarily here to stay. 
New England is famous for its unpredictable weather, and spring is no exception.
When is Spring in New England?
Technically, springtime in the region begins with the vernal equinox around March 20th and ends June 20th. However, there's no telling what Mother Nature might have in mind in between. 
What's a New England Spring Like?
Spring temperatures in New England can range from a chilly 30℉ (-1℃) to a warm, 67℉ (20℃), with a mix of wet and dry days.
The further north you go, the cooler it will be. You may even still find snow on the ground (and in that case, you might want to review our Packing Checklist for Winter in New England.) Likewise, locations toward the coastline will often be cooler, given the ocean breezes.
When you visit New England in spring, be forewarned: the weather can change from rain to shine—then to sleet and even to snow—in the blink of an eye. You can certainly say that there is nothing quite like springtime in New England.
But it's absolutely beautiful, especially as spring gardens get ready to bloom!
What To Do in New England in Spring?
Even with such unpredictable weather, spring is a great time to get back outside for a nature walk or hike and enjoy the fresh, clean air. If you're lucky, you'll catch some beautiful rainbows when a spring rain shower clears! 
You'll find plenty of festivals throughout the region during the season, celebrating the arts, nature, daffodil days, and New England's rich history. 
Of course, New England has some of the best art museums, including the Norman Rockwell Museum in Stockbridge, Massachusetts.
There's also a slew of flower shows and botanical gardens that take full advantage of New England's beautiful spring flower displays. It all seems to "pop" at once!
What's more, spring in New England can be fleeting, with just a brief transition between the coldest days and hot, humid summers. But if you time it right, spring is one of the best times to visit New England.
Whether you are planning on visiting coastal towns or quaint mountain villages, New England is bursting with activities and things to do during the spring season.
You just want to be dressed right for it.
So, it's best to be prepared when you pack for a visit. Any time you're planning a trip to New England (but especially in spring) you should:
Plan to dress in layers for your own personal climate control – THIS IS KEY!
Bring a variety of outerwear to adjust to the variations in weather
Have rain and cold-weather gear on hand, just in case
Pack footwear and clothing suited to your activities
That's the general idea. To make it easier for you to plan, here is our FREE printable checklist to help you pack for spring in New England. You'll find a very detailed listing of exactly what to bring to New England when you visit in spring right in the packing checklist.
"Spring in New England" Packing Checklist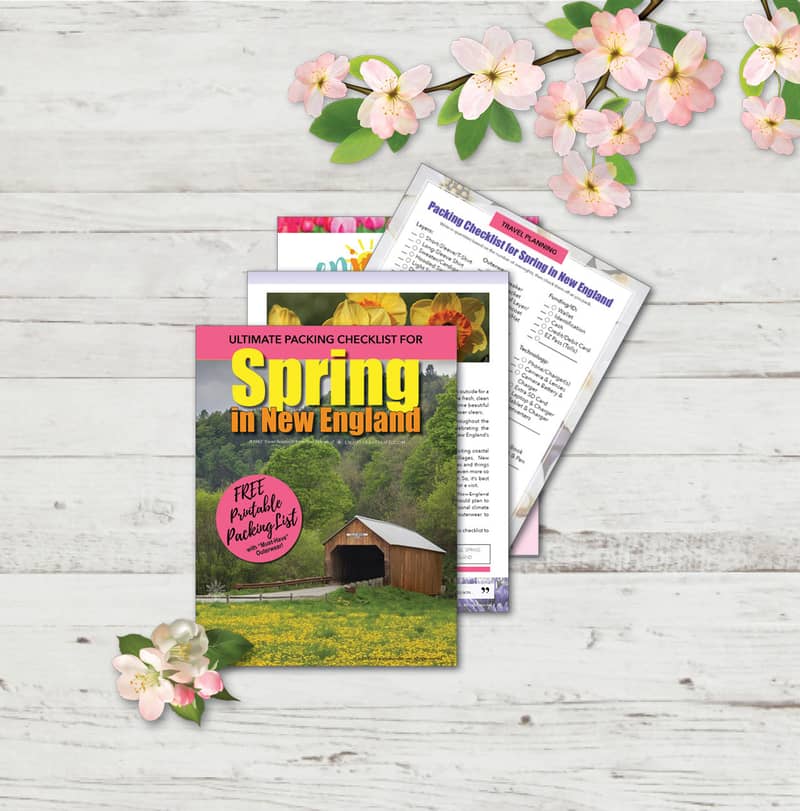 Pack so you're prepared for New England's unpredictable Spring weather.
Download your FREE Printable Today.
Final Thoughts on Packing for New England in Spring
Now that you've downloaded the packing checklist, you're ready to begin enjoying some springtime fun in New England!
If you're looking for some travel inspiration, you can browse our New England travel coverage and reviews here.
Don't forget to save this article on Pinterest for later!
When to Visit 36 Dreamy Destinations
You will instantly receive the FREE Month-by-Month Destination Guide