Think of clusters of tomatoes heavy on the vine, glossy green peppers reflecting the sun, cucumbers, crunchy and cold. With planning and–OK, a bit of dirt under the fingernails–a harvest of lush vegetables from your backyard vegetable garden is yours to create. Whether you've got some time between your travel plans or are home for the foreseeable future, learn how to plan a backyard vegetable garden with these easy steps.
CONTENTS: In this article, you will learn vegetable garden basics including:
The Garden Site: Where to Plant a Vegetable Garden
A new garden begins by finding the best location. In most cases, a south- or -southeast facing spot on a very slight incline in full sun is ideal when you plan a backyard vegetable garden.
However, a site with good drainage that receives six to eight hours of sun will suffice. 
It's best to avoid northern exposures, which have a tendency to be windy. Also, remember to choose a location convenient to both a water source and your home to make maintenance easier. 
The size of your garden may be limited only by the amount of space available. Whether your garden is large or small, make a realistic assessment of your commitment to gardening; every foot of garden equates to another foot of soil preparation, sowing, fertilizing, watering, weeding pest managing, harvesting, and preserving. 
Sometimes, a small, well-tended garden often produces as well or better than a large, neglected one.
What Vegetables to Plant in Your Garden?
Now that the confines of the garden have been defined, let common-sense guide you in determining which vegetables you'll grow when you plan a backyard vegetable garden.
Select those things you like to eat when making your choices. This may sound obvious, but glossy catalog photos have a tendency to be persuasive. Focus on vegetables and herbs that will be put to good use, particularly if they are higher-priced or hard to find and local markets.
Conversely, you might want to expand your taste by growing something new and different. If you usually grow only tomatoes and peppers year after year, try your hand at green beans. How about growing an "unusual" vegetable, like artichokes, or blue potatoes? 
By including new vegetables, your garden will provide a conversation piece in addition to a crop.  But restraint is key. A good rule is to limit experimental choices to one or two.
How Much is Enough to Plant?
While the yield of each crop depends largely upon the specific variety and growing conditions, be practical when deciding quantities. This takes some fine-tuning when you plan a backyard vegetable garden.
If you've gardened in the past, consider how past-years' crops measured up to your expectations. Did your entire crop of peas amount to a measly handful? Or did you share a bumper crop of zucchini with the entire neighborhood? Are you a real foodie who loves to cook world dishes? Adjust your quantities accordingly. 
If this is your first garden, look ahead to harvest time. Note the quantities you'll need in relative terms, such as "a little, some, lot." Make the quantities more specific as your garden plan solidifies.
Whether you're a novice or seasoned gardener, factor storage considerations into quantities. Some vegetables store well by freezing or canning, while others store poorly. For instance, radishes are easy and abundant to grow but get spongy after just a day or two in the refrigerator.
3 Garden Design Options (and Benefits) to Help Plan Your Backyard Vegetable Garden
Long before your shovel touches the soil, it's important to plan the layout of your garden on graph paper. That is the time to consider and plot the various garden designs–or some combination thereof–as the groundwork for a productive garden. 
Here are three popular garden design options to consider:
Traditional Rows

Growing vegetables in traditional rows offers the simplest approach for planning and sowing purposes. Simply traverse the length of your garden with neat rows of vegetables, following spacing guidelines for plants and rows as directed.

Raised Beds

A design that maximizes crop yields, raised beds are particularly effective when working with small spaces. Plants are densely sown in nutrient-enriched soil, sometimes in "square foot" groupings.

This layout, thickly packed with crops minus long rows of wasted space, is conducive to water conservation. Although establishing the raised beds themselves takes some effort, on-going maintenance efforts are reduced.

(And if your carrots grow stubby and forked, the loose soil of a raised bed may also provide the solution.)

Depending on the height of the beds, it's also easier on the knees.

Container Gardens

If you avoid planting herbs because of their invasive nature, try planting them, container and all, in your garden.

The container will help keep herbs under control, so long as an inch of the pot remains above the soil level to keep roots and runners from spreading.

Actually, containers make a nice option for decks or even as a general alternative. Just make sure they are super-sized and be sure not to let them dry out.
Do You Know What Companion Planting Is?
Companion planting is an approach in which the special properties of one plant are used to benefit another. Some suggestions include:
Use corn as a shady support for peas
Repel cutworms from tomatoes with dill
Sow fast-growing radishes with carrots aid in their thinning
Whether based in science or garden folklore, companion planting often makes good old-fashioned sense.
Why You Should Rotate Your Crops
Many pests and diseases affect vegetables belonging to the same botanical family. For a healthier garden, rotate the location of crop families each year to minimize the threat of pests and diseases wintering over. Crop rotation is very important to consider when you plan a backyard vegetable garden.
For instance, since tomatoes and peppers both belong to the family Solanaceae, they are subject to the same fungal enemies. Plant vegetables from another family, such as beans (Leguminosae), where the tomatoes grew last year.
Rotate the vegetables within the garden from year to year to help reduce the recurrence of pests and diseases that strike vegetables by Botanical family.
Plants in the Tomato Family (Solanaceae)
Eggplant 
Pepper
Potato
Tomato
 Plants in the Cabbage Family (Cruciferae)
Broccoli
Brussel Sprouts
Cabbage
Cauliflower
Kale
Radish
Turnip
Plants in the Squash Family (Cucurbitaceae)
Cucumber
Melon
Squash
Pumpkin
Watermelon
Plants in the Pea Family (Leguminosae)
Bean
Pea
Peanut
Lily Family (Liliaceae)
Plants in the Carrot Family (Umbelliferae)
Carrot
Celery
Cilantro
Dill
Parsley
Parsnip
Plants in the Grass Family (Gramineae)
Corn
Lettuce Family (Compositae)
Artichoke
Endive
Lettuce
Is it Too Late to Plant a Vegetable Garden?
It's never too late to plant a garden, especially when you practice succession planting. Most people think you have to plant your garden in the spring.
But there is always something you can grow! Even if you've got a late start, you can always plant more mature plants from nursery stock, or start planning ahead for the next season's harvest.
What is Succession Planting? 
Another consideration when you plan a backyard vegetable garden is succession planting. With succession planting, you plant according to the season and reuse garden space once a crop is harvested.
For instance, a cool-weather crop, such as lettuce, leaves free space in the garden after it has been harvested in late spring. You can reuse the garden space by following with a warm-weather crop, such as tomatoes. 
Make the best use of your garden space by following cool-season crops with warm-season crops. Ambitious gardeners can even sow a second cool-season crop following warm-season crops for a fall harvest.
In that way, productivity (and yield) is maximized since any vacant plots in the garden are re-used.
Cool-Season Crops
Asparagus
Beets*
Broccoli
Cabbage
Carrots*
Chard*
Lettuce
Onion
Potatoes*
Peas
Radishes
Rhubarb
Spinach
Turnips 
*Hardy. Plant 2 to 4 weeks before the frost-free date
Warm Season Crops
Beans, Lima*
Beans, Snap
Corn
Cucumber*
Eggplant*
Okra
Peppers*
Pumpkins
Squash
Sweet potatoes*
Tomatoes
Where To Buy Seeds and Seedlings for Your Garden
Local nurseries and garden stores usually carry the most common vegetables, but a phone call in spring will confirm their plans to offer a specific, less common vegetable. 
For hard-to-find or specialty items not locally available, consider mail order and internet sources. Once your vegetable garden is planned on paper, it's not too soon to think about the harder stuff – preparing the soil, fertilizer, managing pests and special tools. But keep your eyes on the prize at the end. 
 *Needs hot weather. Plant 1 week or more after frost-free date
Final Thoughts
A backyard vegetable garden can be one of the most welcoming parts of returning home from vacation. With careful planning and regular water and care, it will reward you with a bountiful harvest, season after season.
Let me know in the comments, what is your favorite thing about backyard gardening?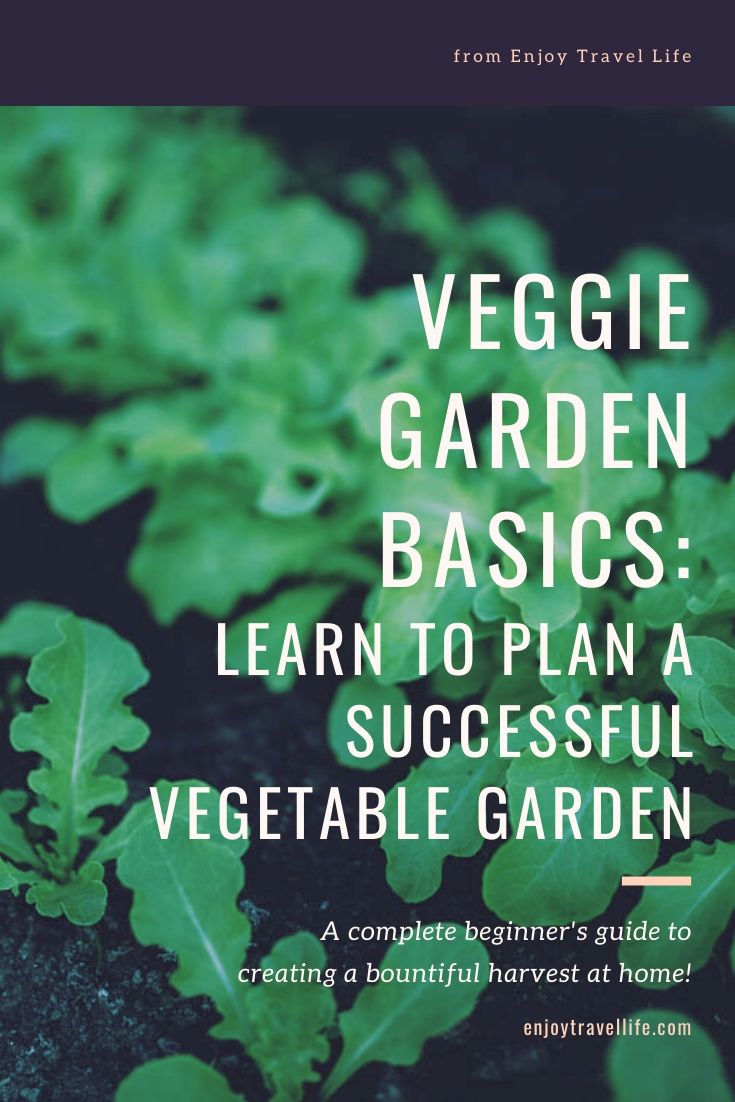 ---
This article is may contain affiliate links. As always, all opinions expressed are my own. For more information, please see the following Disclosure. It originally appeared in print in The Patriot Ledger newspaper titled "Inch by Inch, Row by Row" by Jackie Gately.
When to Visit 36 Dreamy Destinations
You will instantly receive the FREE Month-by-Month Destination Guide