These home security tips and tricks might  be the last thing you're on your mind as you embark on a new chapter in your life. After all, becoming an empty-nester gives a person a lot to think about. But protecting your property is essential.
Your home is probably vacant now more than it used to be — which is exactly why these home security measures matter. Keep reading to find out what you can do to keep your home safe.  
CONTENTS – In this article, you will learn 3 important security tips you should think about if you're an empty nester, related to:
Should You Do A Home Security Check as an Empty-Nester?
Becoming an empty-nester can be a bit of a relief for many people after years of raising children. For others, it can be a period of loneliness and intense longing for how life used to be. For most, it's some combination of the two.
But one element cuts across both divides: security. 
When you become an empty-nester, your security is more important now than ever. As one of 22.5 million empty-nesters in the US, you should perform a basic home security check – especially if you'll be traveling. 
Follow these 3 helpful security tips, below.
1. Reassess Home Security When Downsizing
You don't need as much living space now the kids have moved out. Therefore, you may feel the pressing need to downsize your home and begin to live for yourself. 
While downsizing has many benefits, make sure you consider new security for a smaller house. Perhaps there might be differences in the kind of security options you go with this time around.
Indeed, a downsized home may not necessarily need the security elements that a larger property requires. 
Furthermore, you'll want to factor in the cost. In other words, the more security features you sign up for, the higher the cost. A home security company you have used previously may even consider offering you a discount when you're downsizing. 
As a tip, it would be worth your financial resources to get a security evaluation of the home before investing.
Related Article: Learn the pros and cons of downsizing your home here.
2. Use Monitored Alarms
Now that it's just you and your partner (if you have one) at home, you may not have the luxury of your older children looking after the home when you're away. 
The feeling is even more intense if you don't feel comfortable letting neighbors know you're away. 
This is especially troublesome when you're away on long trips. You cannot help but think about the safety and security of your empty  home! 
To avoid the discomforts and inconveniences that come with being a security-conscious empty-nester, you can try using monitored alarm systems.
Apart from the peace of mind you get from using these high-tech security elements, they are reliable and controllable. Depending on the brand you opt for, it might be a costly investment, but the benefits far outweigh the price. 
Even better, monitored home alarms are easy to access on smartphones. Therefore, no matter where you are in the world, it is a convenient tool to use. You can find some excellent home security systems UK or in the US.
Additionally, you can call the police to check your home if there has been an attempted intrusion.
Related Article: Here are 9 ways to protect your home from burglary when you're on vacation.
3. Always Have an Idea of Who has Access to Your Property
This is where a patented lock system comes into the picture. With a lock design protected by a patent, there is no way anyone can make copies of the key. 
This way, only the people you trust have patent lock keys in their possession. Of course, you can give keys to your adult children who moved out of the nest, but beyond that, be very selective.
By limiting the number of people who have keyed access to your home, you'll reduce the risk of unauthorized home invasions. 
Thankfully, a patented lock system doesn't cost a fortune. This makes it a cost-effective way to protect your property.
Last but not least, now is not the time to attempt DIY fixes for any security issues with your doors and windows. Your best option is to hire experienced professionals to take care of security-related repair work around the home.
That way, you know it's done right.
Related Article: Hire out these professional services before you move into your home.
Final Thoughts on Home Security Tips and Tricks for Empty-Nesters
Being an empty-nester means your home will not be occupied when you're away. And while that calls for a little more preparation to make sure your empty home is secure, it also means you're free to travel more. That alone is cause to celebrate!
Next Steps
Check out these 9 Must-Follow Steps for the Perfect Home Security Checklist.
Ultimate Checklist for Winterizing Your Home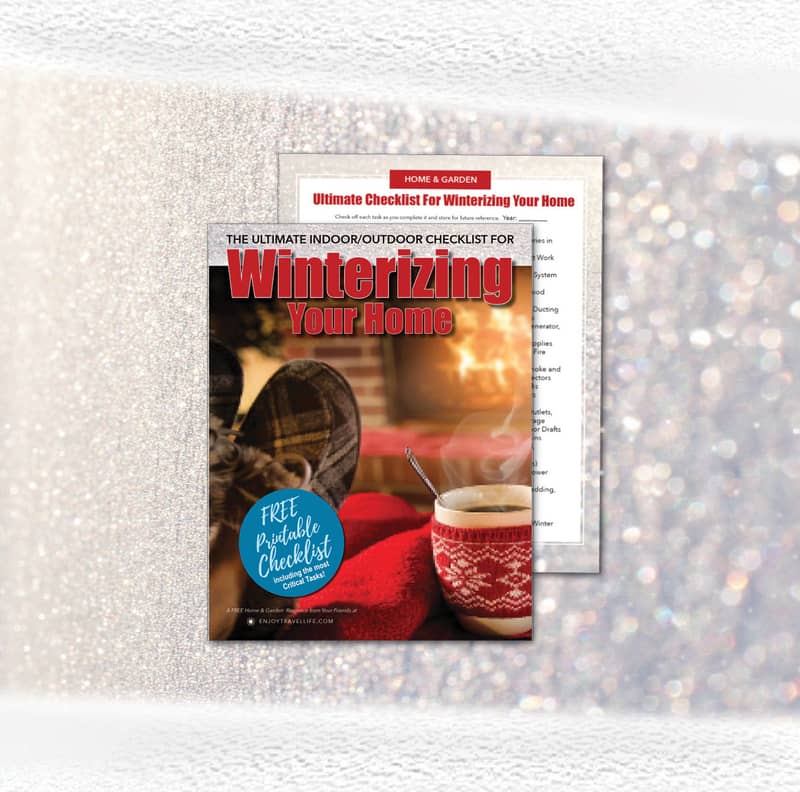 Prepare your home for winter using this comprehensive checklist covering both indoor and outdoor tasks that will make your home cozy and warm!
Download your FREE Printable Today.