When you get the chance to visit this Portsmouth NH boutique hotel, you'll discover why it's such a great place to stay. 
Located just a short walk from the lively waterfront and historic downtown of Portsmouth, New Hampshire, The AC Hotel Portsmouth ticks all the boxes for me.
Below, you'll find out more about my experience, and what you can expect when you choose to stay at this lovely, comfortable hotel, too.
CONTENTS – In this article, you will learn all about this Portsmouth NH boutique hotel, including:
The AC Hotel Portsmouth Overview
Let's just start with this: I loved staying at the AC Hotel Portsmouth.
I was invited to experience the hotel's offerings on a 3-day getaway to Portsmouth, New Hampshire, and thoroughly enjoyed my stay and local attractions.
Portsmouth is the only seaport in New Hampshire, situated on the banks of the Piscatagua River.
It is a New England travel destination with a rich history, a wealth of cultural attractions, and shopping opportunities, as well.
In fact, it's the oldest city in the Granite State, and was once the capital. Portsmouth a great place to visit for any season in New England.
Download your FREE New England Packing Guide below
so you know how to pack right for the season!
---
The AC Hotel Portsmouth was an ideal location to further explore this beautiful, walkable city. I traveled solo and felt very safe exploring on my own here.
My room on the 4th floor was elegant, modern, and spacious. It offered a lovely view of the sparkling Envio Rooftop Bar and the bridge and water scenes beyond. I was thrilled to enjoy prime seats to the sunset!
But before I tell you more about my room, let me give you some general insights to the AC Hotel Portsmouth.
If you're wondering what the "AC" in the name stands for, it's the initials of Antonio Catalan, president of AC Hotels and former owner of the property.
This Portsmouth NH boutique hotels is now in the Marriott Portfolio and part of their "Distinctive" brand of hotels. That makes AC Hotel Portsmouth especially well-suited to business and leisure travelers.
When you book a stay at AC Hotel Portsmouth, you'll be able to choose from 156 guest rooms (9 suites) within this modern 5-story hotel. And, if you're traveling for business, you'll be happy to know the hotel has 11 well-equipped private conference rooms, too.
Both the rooms and common spaces throughout have a clean, innovative design that created an upscale experience.
Built in 2019, you'll be happy to know AC Hotel Portsmouth is 100% smoke free and has a distinctly urban vibe you'll love as much as I did.
Overview of AC Hotel Portsmouth Features
There were several features at the AC Hotel that I really liked.
From a security standpoint, you'll be greeted by porters and a 24-hour reception at the desk.
And, the elevators, gym, and guest rooms all operate on a digital key pass.
If you'd just as soon keep to yourself, you can take advantage of the digital check in and express checkout, which are all easily managed online. 
As a guest, you'll enjoy free high-speed internet both in your room and in other places throughout the hotel. In today's ever increasing need for connectivity, this was a treat.
Another convenience at the AC Hotel are the water stations on each floor. There, you can refill your own portable water bottles before heading out for the day, or stock up on fresh ice for an evening in.
I was also delighted by the chilled cucumber water dispensers during the day in the lobby, and plenty of good coffee in the morning.
Hotel Check in is at 4pm and check out at 11.
That said, you can request and early check-in or a late check out as I did, and if the hotel can accommodate you, they will. I was pleased to be able to extend both times during my stay at the AC Hotel Portsmouth.
The decor featured beautiful wall art throughout. I particularly liked a very creative and tasteful display of old skeleton keys on display on my floor. The hotel clearly takes every opportunity to please guests, right down to with every design detail.
And if you forgot to pack something, you'll find a selection of small sundries available for purchase in the lobby. From a toothbrush and pain relievers, to tasty snacks and personal sized ice cream, the AC Hotel Portsmouth has you covered.
Beautiful Lobby Space
Long before you get to your room or saunter the art galleried in the halls, you'll be taken with the beautiful lobby space at this Portsmouth NH boutique hotel.
Black leather high-back chairs flank the elegant lobby entrance leading up to the reception desk.
Around the corner, you'll find an inviting seating area with a welcoming gas fireplace, couches, and coffee tables. This is a suitable spot for cozy conversation or to work on your laptop with the free wifi.
It's both comfortable and swanky.
And, the AC Lounge is on the other side of the fireplace. It has limited hours, but if you happen to find yourself here at the right time, you'll enjoy delicious tapas and cocktails.
AC Hotel Portsmouth Room Tour
So, now that we've explored some of the highlights of the first floor, let's me tell you about my room.
I stayed in a spacious king non-smoking room. (Thankfully, all the rooms are non-smoking.)
Once you swipe your digital pass key, you'll find a generous entry space before you. 
To the right is:
A personal safe for valuables (in addition to the safe at reception)
Small refrigerator with complimentary water bottles and glasses
A shelf and hanging rack for clothing
Coffee maker with all the fixings for coffee in bed
Elegant Bathroom with Rainfall Shower
To the left of the entrance is a large, elegant bathroom, outfitted with a frosted glass door.
Here you'll find a spacious walk-in shower with a rainfall shower head and eco-conscious toiletry dispensers. 
The sink provides ample counter space, a large mirror, and plenty of towels.
For added convenience, you'll find a blow dryer and a collection of personal toiletries to enhance your stay.
And of course, a sparkling clean toilet.
This bathroom space is immaculate and well-lit, too.
Open Living & Sleeping Spaces
Once you pass through the entry space and bathroom, you can put your luggage down on the luggage bench to the right.
Then, you'll step into a large and lovely open concept living area.
This includes space for sleeping, working, and relaxing. And certainly for enjoying the view.
In the sleeping area, you'll find a large king-sized bed, which is comfortable and clean. It's dressed with a soft white comforter and plenty of pillows for a great night's sleep.
To each side are bed tables with adjustable reading lamps, extra outlets, and even USB slots. Extra amenities include a land-line phone for local calls and to reach the desk, and pen and paper. (Yes, there is room service.)
Opposite the bed is a large flat screen TV with premium cable channels. Beneath it, a leather-style bench and additional table space which is perfect for organizing your belongings.
Further into the room is a writing desk and chair, with additional lighting and outlets/USBs.
And, a comfortable couch and side chair complete the living space.
Perhaps my favorite feature of the room is the large bank of windows with a lovely view of the rooftop bar, the bridge, and the water.
As you may expect from the description, the room is well-lit, with task lighting, adjustable reading lamps, floor lamps, and natural light.
But, the windows have room darkening shades and sheers for privacy whenever you'd like it.
Dining Options
You'll be delighted to know you have several delicious dining options when you stay at the AC Hotel Portsmouth. You can enjoy breakfast, lunch, dinner, and cocktails just steps from your room. Choose from the AC Kitchen, AC Lounge, and rooftop dining at The Envio.
Extraordinary Breakfast at The AC Kitchen
Start your day in the AC Kitchen and dining area, which serves a buffet and à la carte breakfast weekdays from 6am to 10am, and weekends from 7am-11am.
You'll have access to an extensive European-inspired buffet which includes delicacies like:
A variety of cheese
Iberico prosciutto (Spanish ham)
Spanish Egg Tarts, both savory and sweet
Espresso and cappuccino
A variety of juices
Bread, bagel, and jams
Fresh baked pastry
and more!
This really is a treat and you'll be spoilt for choice with just the buffet choices before you at this Portsmouth NH boutique hotel.
It's not complimentary, but well worth the $18 per person price.
And for no additional cost, you can order from the à la carte menu. Select from several offerings cooked to order to accompany your buffet menu or stand alone.
I highly recommend starting your day with breakfast at the AC Kitchen!
Elegant Lobby Bar – The AC Lounge
Later in the day, stop into the AC Lounge, where you'll enjoy delicious tapas, craft beers, and signature cocktails.
Unfortunately, I couldn't seem to quite time it right with my itinerary. But you'll want to experience this casual lounge for yourself. It's a great place to relax and mingle with other guests, if you so choose.
The AC Lounge is open Monday through Thursday from 4pm to 10pm, and Friday and Saturday, 4-11.
Rooftop Dining at The Envio
Then, for dinner, head over to the Rooftop at The Envio.
This elegant space on the top floor of AC Hotel Portsmouth is equally suited for hosting events and for a romantic dinner for two.
You'll want to indulge in the fabulous hand-crafted cocktails and dinner options, a short but well-curated list of dishes. Each plate is expertly prepared in-house.
The rooftop restaurant bar is wonderful space for entertaining a group or just enjoying all to yourself, as I did.
As you might imagine, the view is great. 
Choose to eat inside or outside – either way, you'll have a great view. Or, you can tuck yourselves away into one of the intimate conversation areas throughout the restaurant.
I enjoyed a delicious Caesar Salad with generous portions of fresh lobster meet, a tasty cocktail, and an amazing home-made strawberry shortcake for dessert.
My dinner and dining experience was exquisite, and made all the better by the decorative tea lights and sunset view over Portsmouth.
Other Amenities at AC Hotel Portsmouth
The AC Hotel Portsmouth provides a 24-hour Gym to guests, so you can work out whenever your schedule permits.
The hotel is pet-friendly and designed with accessibility in mind. Call for all the details when you book your room.
You can also rent free bikes from the hotel, and use the valet parking ($40/night). Alternatively, you can park at the meters or a local parking lot just .3 mi. away. But of course, onsite parking is the most convenient option.
Green Hotel Policies
If you're eco-conscious (as we all should be), you'll be happy to know that AC Hotel Portsmouth is, too.
That's why you'll find charging stations for electric vehicles, room cleaning service once per stay, and reusable toiletry bottles in shower.
Rest assured, AC Hotel Portsmouth has your carbon footprint and theirs in mind.
Elegant Conference Rooms at the AC Hotel Portsmouth
If you're looking for a meeting space for your business or entertaining, AC Hotel Portsmouth makes a great venue.
You'll find 11 elegant conference rooms, a ballroom, and terrace at your service to acommodate from 4 to 300 guests. Just check with the front desk for rates and reservations, and learn more about catering options.
Downtown Waterfront Location
Perhaps one of the best things about staying at this Portsmouth NH boutique hotel is the location.
You'll find it right in the Portsmouth City Center. Plus, it's a short walk to the waterfront and historic downtown. There, you'll discover shopping, galleries, market square, and other worthwhile venues to suit your pleasure.
If you like the beach, two options that are nearby include:
Wallis Sands State Beach, which is under 5 miles away, a 10 minutes drive
Lon Sand Beach, about 12 miles away, a 17 minute drive
These are beautiful New England beaches where you can dip your toes into the Atlantic Ocean, season depending.
The AC Hotel Portsmouth is also only 16 miles to Ogunquit, Maine, and Kittery, Maine is just across the river.
In Kittery, you'll want to check out the Kittery Outlets and the Chauncey Creek Lobster Pier, where you can pick a fresh lobster cooked to order. (It's BYOB, so grab a beverage on the way.)
In the warm season, you could also head to the Isle of Shoals on a Boat Tour, or go kayaking or paddleboarding.
The best thing is that the charming seaside town of Portsmouth is just 1 hour north of Boston and 1 hour south of Portland ME. It's also about 1 hour (48 mi) from Manchester airport (MHT), for those who might prefer to fly into a smaller airport.
Rates & Availability
To stay at the AC Hotel, Standard rooms are generally under $200 with a few exceptions out of season as low as $135.
You can check the current rates and availability for AC Hotel Portmouth here.
Portsmouth Area Attractions
While I was in Portsmouth NH for 3 days, I discovered quite a few local gems. Here are some of places you might want to check out while your in the Portsmouth are:
Best Dining in Portsmouth
Sol Southern Kitchen and Lounge – Enjoy Southern hospitality, ambiance, and seven distinct styles of southern food
Rio Tequila Cantina – Stop in for waterfront dining, tasty cocktails, and incredible Mexican-inspired dishes
Fresh Press – Try a gluten-free and dairy-free smoothy, bowl, greens, or grains
Popovers On The Square – "Must try" breakfast and lunch popovers and delectable bakery goods
Cure – Experience epscale, American comfort food with a focus on exceptional protein plates
Great Entertainment Venues in Portsmouth
The Music Hall – Take in live concerts and theater events in a venue in service since 1878
Jimmy's Jazz & Blues Club – Enjoy lively Jazz, blues, and cuisine including Sunday Jazz Brunch!
Historic & Cultural Attractions in Portsmouth
Warner House – Tour this beautifully preserved residence of Capt. Archibald Macpheadris, built in 1716; visit during special events for an exceptional experience.
Prescott Park – Stroll the lovely waterfront green space and scultpural elements; seasonally hosts art festivals
Strawberry Banke Museum – Explore this 10-acre outdoor history museum featuring historic homes, costumed roleplayers, traditional crafts, and seasonal events and activitiesNorth Cemetery (signers) – historic burial grounds established in 1753, on of six historic cemeteries in Porstmouth, features shipbuilders, military heroes, signer of the Declaration (Whipple), and many other significant people and beautiful stones.
Portsmouth Brewery – Take a brewery tour and sample beer from New Hampshire's original craft brewery; great food, too!
To help you plan your trip, look to my full coverage of amazing Portsmouth NH attractions.
Final Thoughts about this Portsmouth NH Boutique Hotel
Though you'll find quite a selection of hotels in Portsmouth NH, the AC Hotel Portsmouth provides a delightful experience at an affordable rate.
So much so, that you might just feel like you're at a more upscale resort, enjoying an elevated experience in Portsmouth NH – for an incredible value.
It's definitely worth a visit. 
If you're ready to visit, you can book your room at AC Hotel Porstmouth here today.
---
Don't forget to save this article to Pinterest for later!
Next Steps
For more about New England travel, attractions, and hotels, read these articles next:
"Spring in New England" Packing Checklist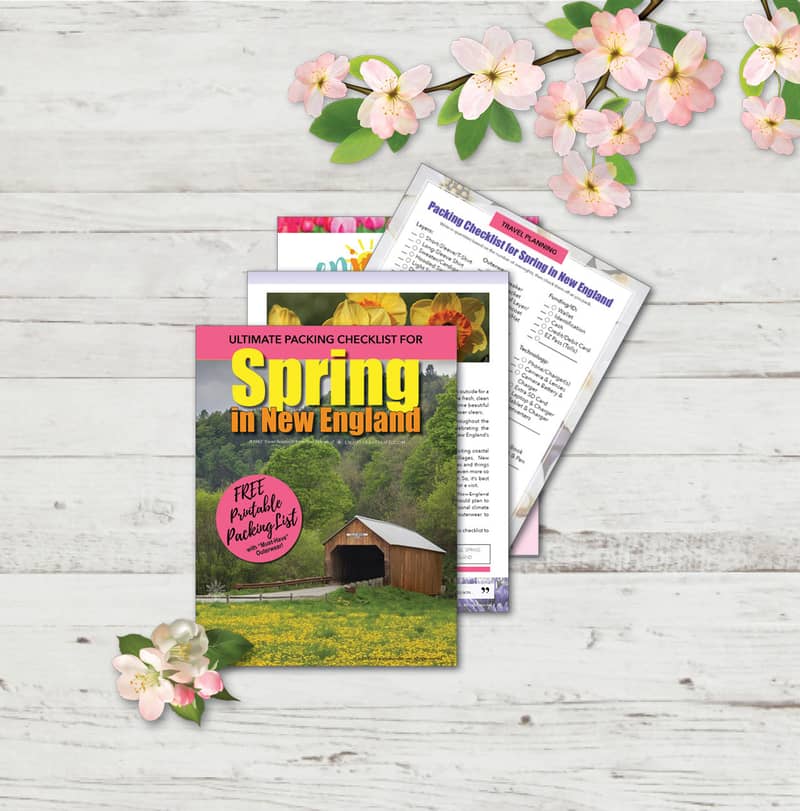 Pack so you're prepared for New England's unpredictable Spring weather.
Download your FREE Printable Today.