Free travel Opportunities are out there, if you know where to find them. And you're about to find out.
With some smart strategies and careful planning, you can travel the world for free or at least significantly reduce your expenses.
In this article, Michael Wigge shares his best advice for something he's personally mastered: free travel, especially in Asia. You'll find six ways to easily achieve your dream of free travel and cost savings, below. From bartering to volunteer work, these tips will open up a world of possibilities for you!
CONTENTS — In this article, you will learn about where to find free travel opportunities, including:
A Budget Travel Guide for Empty Nesters in Asia
Hello fellow empty nesters!
Are you interested in a story of an incredible journey of traveling the world for free that will inspire you to embark on your budget-friendly adventures in Asia?
You will discover various techniques that will allow you to explore the world without breaking the bank, shared by someone who understands the constraints of a limited budget.
Through bartering for free food, hitchhiking, offering street stunts, Couchsurfing, working on cargo ships, and biking, you can turn your dreams into reality and travel from Berlin, Germany to Antarctica for free.
To be fair, you'll most likely be "paying" for travel expenses with an exchange of your time and service. But it's still free in the traditional sense of forking over cash.
So, let's dive into the details of these free travel opportunities. You'll learn how to make your travel dreams come true while traveling light on your wallet.
---
Download your FREE Guide to Getting Cheap Flights (below)
so you start saving money today!
27+ Best Online Resources for finding CHEAP FLIGHTS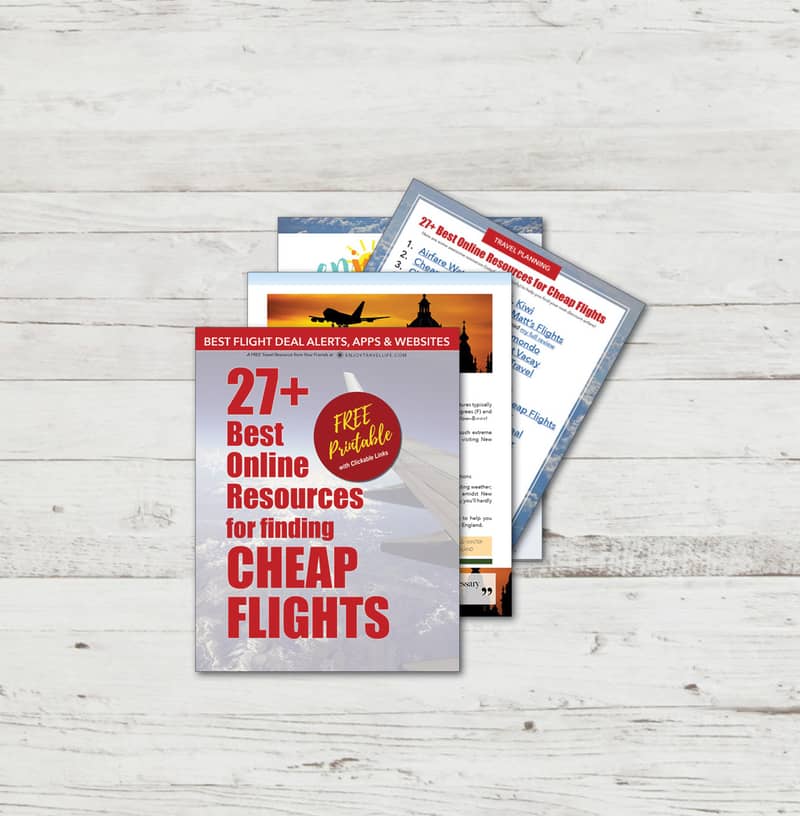 Discover the BEST Online Resources expert travelers use when searching for cheap flights. Download your FREE Guide today!
---
1. Bartering for Free Food
When you want to save money on food when you travel, bartering is an excellent technique.
While traveling in Asia, local markets can be treasure troves for exchanging skills and services for a delicious meal.
Teaching English, giving cooking lessons, or even providing photography sessions just a few of the ways you can barter for meals.
This not only helps you save money, but it will also allow you to connect with locals and experience the culture firsthand.
Here are some pointers for bartering in exchange for meals.
Embrace the "Eat Like a Local" Mentality – Eating like a local is a cultural experience and a good way to save money and find free travel opportunities.

You'll want to avoid touristy areas and opt instead for local eateries and restaurants the locals frequent. These establishments often offer authentic and affordable meals compared to tourist-oriented restaurants.

So, ask locals for recommendations or use online platforms to discover hidden culinary gems.
Opt for Set Meals and Lunch Specials – Many restaurants and eateries in Asia offer set meals and lunch specials at discounted prices. These meals often provide you with a complete and filling dining experience at a fraction of the cost.

That's why it's best to take advantage of these offers. That way, you'll enjoy a satisfying meal without overspending.
Be Open to Local Street Snacks – Asia is known for its wide range of street snacks and quick bites. Instead of sitting down for a full meal, try local snacks and treats from street vendors. These snacks are usually inexpensive and allow you to sample different flavors and textures while on the go.
2. Hitchhiking
Hitchhiking is an adventurous and cost-effective way to get around in Asia. It's a free travel opportunity hiding in plane sight.
That said, it definitely requires caution and research, especially if you're a solo female traveler. But, it offers incredible opportunities to meet locals and discover hidden gems while your minding your budget.
Before embarking on a hitchhiking adventure, you need to learn about safe practices, identify the well-traveled routes, and utilize reliable online platforms to connect with potential rides.
The experiences and connections you'll make through hitchhiking will be genuinely priceless.
Here are some helpful resources for more safely evaluating your hitchhiking options:
Hitchwiki – A collaborative website with information and tips on hitchhiking worldwide, including Asia.
Trustroots – A hospitality exchange platform focused on hitchhikers, where you can connect with locals offering a place to stay or ride-sharing opportunities.
3. Offering Fun Street Stunts
Unleashing your creativity and offering street stunts can be an exciting way to gather funds for your travels. Effectively, the money you earn procures your free travel opportunities.
Here are some ideas that will catch the attention of passersby.
Performing magic tricks
Playing an instrument
Showcasing your artistic talents
However, be sure you obtain any necessary permits or permissions required by local authorities. This is essential to ensure a smooth experience.
And don't forget to leave a tip jar out to collect the spendable signs of praise.
4. Couchsurfing
Couchsurfing has become a go-to option for finding free accommodation and connecting with locals for many travelers. You'll find numerous online platforms that connect you with hosts willing to offer a spare couch or room.
This is one of the free travel opportunities you may have heard about. In the best circumstances, it will fully cover your lodging fees.
By creating a compelling profile highlighting your life experiences and your desire to engage with the local community, you can find incredible hosts. They'll provide a place to stay and share their knowledge and insights about the destination.
Here's where you find some of these opportunties:
Couchsurfing – One of the most popular platforms for connecting travelers all ages with local hosts who offer free accommodation and cultural experiences.
BeWelcome – A non-profit hospitality exchange platform where you can find hosts in Asia willing to welcome travelers into their homes.
Low-budget Hostel Guide – A comprehensive platform for finding and booking budget accommodations in Asia and worldwide, including hostels.
You'll also find resources on Facebook, like the Host A Sister group for women travelers.
Like hitchhiking, you'll want to vet out the host on any of these platforms and trust your instincts when it comes to safety.
 5. Working on Ships
If you decide to work on cargo ships, it will definitely add a unique twist to your travels. Some shipping companies offer opportunities for passengers to join their crew in exchange for free passage. What amazing free travel opportunities that presents!
This type of arrangement will allow you to experience life on the high seas while avoiding the hefty costs of traditional flights or cruises.
Sound interesting?
Here are som e cruise ship work opportunities you might want to consider.
All Cruise Jobs – A leading online job board focused on cruise ship employment opportunities across various departments and positions.
Cruise Ship Jobs – A platform that lists current job vacancies on cruise ships, including hospitality, entertainment, and more positions.
Jobs on Ships – An online resource for finding job opportunities on cruise ships, providing information on different positions and how to apply.
You'll want to research the reputable shipping companies and inquire about any available positions for passengers well in advance.
6. Biking
If you love biking, it can be an inexpensive mode of transportation throughout the world. Plus, it is environmentally friendly and also allows you to immerse yourself in the local environment and explore at your own pace.
Asia offers breathtaking landscapes and vibrant cities that are perfect for your cycling adventures. Renting or purchasing a bicycle and planning your routes can allow you to experience the destination in a unique and budget-friendly way.
If you own the bike, this makes it one of the best free travel opportunities because you won't need to cover expensive ground transportation costs.
Moreover, biking promotes a healthy lifestyle and provides you with ample opportunities to interact with locals.
Look to these resources when it comes time to plan your trip on bike.
Bikepacking.com – A wide range of bikepacking routes and resources, including several routes in Asia. It provides detailed information on road conditions, camping options, and points of interest along the routes.
Cycling About – Comprehensive guides and resources for bicycle touring and bike-packing, including destinations in Asia. They offer information on routes, road conditions, visas, gear, and more.
Final Thoughts on Free Travel Opportunities [2023]
Traveling the world for free as an empty nester in Asia can be a life-changing experience.
You can fulfill your travel dreams without straining your budget by employing techniques such as bartering for food, hitchhiking, offering street stunts, couchsurfing, working on cargo ships, and biking. These are free travel opportunities you'll want to consider to save on–or eliminate–your travel costs.
Remember, research and planning are key to a successful budget travel experience.
Stay open to new opportunities, embrace the local culture, and be prepared for unforgettable adventures. As an empty nester, this is your chance to explore the world on your terms and create memories that will last a lifetime.
Traveling the world for free is an exciting prospect that is within reach if you employ the right strategies.
You can also consider leveraging airline miles, house sitting and home exchange programs, volunteering abroad, teaching English, becoming a travel blogger or influencer, or working remotely.
It will take some careful planning, resourcefulness, and a willingness to step out of your comfort zone. But trust that where there's a will, there's a way you can make your travel dreams a reality.
Bon Voyage!
---
About the Author
Speaker and Challenge Seeker Michael Wigge:
Award-winning motivational speaker Michael Wigge specializes in documenting incredible stories about achieving victory over challenges. 'How to Travel the World for Free', 'How to Barter for Paradise' (where he turned an apple into a Hawaiian dream home through his skills in bartering for bigger, better things), and 'How to Travel Europe Blindfolded' are just three of his seven travel shows. He shared his amazing success stories on The Tonight Show with Jay Leno (alongside co-guest Katy Perry) and the Today Show. His TV programs and books have been broadcast and published internationally.
Based on his incredible experiences overcoming challenges, Wigge began performing motivational speaking engagements and started CMW Coaching & Speaking. His most successful corporate keynotes are Challenge-4-Change Leadership Success and Challenge-4-Change Sales Success. He currently delivers presentations in the corporate arena as a speaker in Germany and as a motivational speaker in the US.
---
Next Steps
For more ideas about budget travel, read these articles next:
When to Visit 36 Dreamy Destinations
You will instantly receive the FREE Month-by-Month Destination Guide