Business class flying is a luxurious way to travel that turns your entire experience into an extravagant one.
You'll enjoy extra space, full meals, a variety of alcoholic and non-alcoholic drinks, and even a lie-down bed. And that's just for starters.
However, the exorbitant cost of this lavish trip often makes it a privilege that not everyone can afford. For those who dream of enjoying the perks of business class without the high price tag, we have good news.
If you've indulged in a flight with business class privileges, here's everything you need to know to get the most out of your lavish experience.
Read more below to learn 9 important tips you need to know.
CONTENTS – In this article, we will tell you about a super experience of business class flying, including:
Flying Business Class: Top Tricks to Elevate Your Experience
Flying business class is by far one of the best ways to travel, as it will turn the whole experience into a luxurious one.
You can get many amenities, such as extra space, full meals, a range of alcoholic and non-alcoholic drinks, and even a lie-down bed. It sounds great, but this is often a privilege.
Not everyone can afford the exorbitant cost of this lavish trip.
While many dream of relaxing on the airplane while drinking champagne, it can be incredibly frustrating to realize that this is something out of your budget. 
Well, we've got some good news: you don't have to break the bank for it – this is how to get cheaper business class tickets and enjoy the perks of your flight.
However, besides getting your tickets at a reasonable price, there are other things you can do to get the most out of your business class experience.
Read our top 9 tips on how to do so.
---
Download your FREE Guide to Getting Cheap Flights (below)
so you start saving money today!
27+ Best Online Resources for finding CHEAP FLIGHTS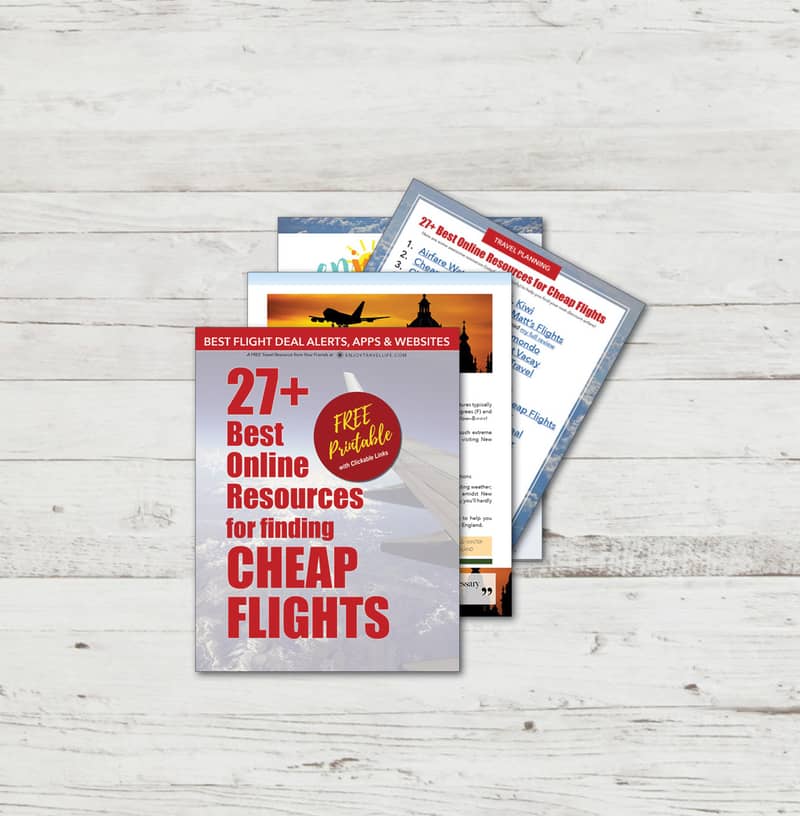 Discover the BEST Online Resources expert travelers use when searching for cheap flights. Download your FREE Guide today!
---
What To Know Before Flying Business Class
Here are 9 things you should know before you fly business class to maximize your experience.
1. What Makes Business Class Better?
There are several reasons why business class is better than economy class. First, the extra space provides you greater comfort and you can stretch out and relax during the flight.
Secondly, the fully-reclining seats or lie-flat beds will let you get a good night's sleep when you're flighting overnight. This ensures you'll arrive at your destination feeling rested and refreshed after a long-haul flight.
And then there's the upgraded dining options.
Business class provides you with a wider selection of plated, curated meals and beverages. You'll also find the service is more attentive.
When you fly business class, your airport experience will be better, too.
You'll get access to airport lounges and priority check-in and boarding, with expedited security checkpoint lines. And, you'll often be able to bring additional baggage. Better yet, you'll be the first to board and disembark the plane.
Lastly, some airlines offer an upgraded amenities kit. These generous packs include a variety of toiletries and gifts, from skincare products, eye masks, earplugs, mouthwash, a toothbrush, travel socks, to discount cards, and more.
All of these perks of flying business class will make your overall travel experience more seamless and stress-free.
2. Pick The Right Seat in Advance
You should take the time to research the aircraft you've chosen for your business class trip, as not all carriers have the same cabin layout. And, seat configurations may be different for outbound and inbound flights, depending on the type of aircraft.
Moreover, business class seats can have distinct designs, so you want to make a decision based on your needs and preferences.
For instance, if you're traveling a longer route, lie-flat beds are a suitable option. On the other hand, solo travellers may prefer window seats or the middle seats, which are more sociable.
Some airlines even provide a Business Class suite, which ensures a first-class experience by offering you the privacy and comfort you need. 
3. Get Rest Prior To The Trip
If you want your trip to be a micro-break from all your worries and responsibilities, make sure to get enough rest before the flight.
Since you're flying business class, make the most of your journey! There will be entertainment, delicious food, hot and cold beverages, and spectacular views from your window.
You'll want to enjoy them all fully, so it's important to be well-rested.
4. Take Advantage of The Exclusive Lounge
You'll discover a dedicated check-in for business class passengers. It's a smart move to figure out where you can find it before you get to the terminal.
The earlier you show up at the airport, the better it will be, helping you prevent delays.
Arriving earlier also means you can maximize the time you spend at the exclusive lounge and take advantage of everything it has to offer. Besides snacks, beverages and entertainment, some lounges even provide spa treatments or exercise equipment.
Just remember to check the services beforehand, as lounge quality varies depending on the airport. 
5. Dress Comfortably for Your Business Class Flight
Whether you fly business class or not, deciding what to wear during your flight can be such a headache! Should you go for a chic style or prioritise comfort?
This is ultimately your choice, but we recommend avoiding clothes that cause overheating or crease excessively. Instead, it's best to wear breathable and loose-fitting clothing items.
For instance, a light baggy top and casual tracksuit bottoms are ideal if you plan to sleep during your flight. Don't buy into the myth of dressing to impress – the only thing that matters is to feel good during the trip.
Related: 7 Important Things to Do on Long Flights You Need to Know
6. Pre-Order Your (Delicious) Meal
Business class flying comes with another great benefit: you can order your meal before getting on the airplane. By doing so, you can get a more varied meal choice selection.
Plus, some airlines may only have a limited stock of portions per flight, so pre-ordering can help prevent disappointment if nothing is left.
And if you have specific dietary requirements, ordering your meal in advance is always a wise decision. At the same time, it reduces food waste, which is a great way to protect the environment.
7. Don't Hesitate to Ask For Amenities
During a long-haul flight, you'll also be provided with an appealing amenity travel bag which may contain moisturizing cream, eye mask, earplugs – even fragrance, depending on the airline.
These bags have become pretty incredible recently, as designer brands have aimed to produce practicable and desirable kits for top airlines.
While these amenities will probably meet you at your seat, remember that you can always ask if you specifically need something.
Suppose you fly frequently and already have gotten a similar kit on your last flight; in this case, you can simply ask for a different design.
8. Take Steps to Reduce Jet Lag
Jet lag means your body's internal clock is misaligned due to flying through multiple time zones. And while you can't completely prevent it, there are some things you can do to lower its effects on any flight, including business class flying.
Symptoms of jet lag may include:
Disturbed sleep
Daytime sleepiness
Stomach issues
Impaired thinking
And other symptoms
To combat these unpleasant effects, make sure to get quality sleep prior to the flight or adjust your sleep schedule based on the time zone of the destination you're traveling to.
However, if you're only staying three days at the place, it's best not to make any major changes in your actual sleep cycle. You'll only have to do it again once you get back home!
So, stay hydrated during the trip, and limit your caffeine and alcohol intake. Also, avoid eating fat-heavy meals and opt for something light and healthy instead.
9. Find Out If There's a Car Service
When booking your business class ticket, check the details carefully. Some airlines offer complimentary chauffeur service.
If this perk is included, make sure to use it!
It will eliminate a lot of stress, as a driver will wait for you at the airport to pick you up and take you to your accommodations.
All you have to do is settle into your seat and relax in the vehicle's interior. Just remember to book ahead of time, as this service is limited for some airlines.
Final Thoughts on Business Class Flying
Flying business class is indeed an unparalleled experience, as you get to enjoy so many perks, including an exclusive lounge, a swanky travel kit with all you need during your flight, and more.
However, it's essential to prepare for the trip effectively.
When you do, it will help ensure you arrive at your destination refreshed and in comfort! That's what business class flying is all about.
Related: Flying Experience Gift and Other Unique Gifts for Travelers!
Next Steps
For more airlines, flights, and flying, read the articles below, next:
When to Visit 36 Dreamy Destinations
You will instantly receive the FREE Month-by-Month Destination Guide